Mauritius – Once a French Colony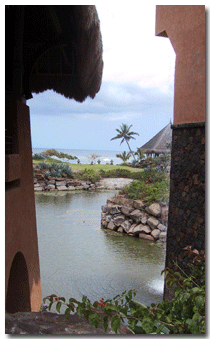 Everybody knows that the best place to buy a baguette is France, and the second best place is one of her colonial outposts. But have you been to a former French colony where you can get a really good croissant – and a really good cup of tea? Welcome to Mauritius! This small island in the Indian Ocean has such a checkered past that its ethnic mix is like nowhere else in the world. Once known as Ile de France, Mauritius remains so Francophile that the preferred language of everyday conversation is French. However, the island, which gained independence in 1968, is part of the British Commonwealth. They grow tea here, and imbibing the brew is a legacy of English occupation. It also has been a Dutch colony and, before that, a stopover for Arab and Portuguese sailors. In addition, there are the descendants of African slaves and indentured servants from India. All combine with the handfuls of European expats to create a nation of 1.2 million that's unusually exotic. I was continually startled when dark-eyed women in brightly colored saris would greet me with a musical bonjour! The island does have one big claim to fame. Remember the dodo bird? This is where it was driven into extinction – not so much by the European settlers, but by the housecats they brought with them (what carnivore could resist pouncing on a bird that didn't fly away?). Although centuries of sailors (and pirates) had made note of the island, it seems there was no indigenous human population at the time of the Dutch arrival in 1598. True royalists, they named it for the Prince of Orange, their own Maurice of Nassau. The Dutch harvested ebony wood, but lost interest in the island in 1710. Five years later, the French arrived. The island was under the supervision of the Compagnie des Indes from 1715 to 1764. While nearby Ile de Réunion flourished as a coffee plantation, development on Ile de France languished until the arrival of François Mahé de la Bourdonnais as governor in 1735. He laid out the town of Port Louis and created the island's first sugar estates. The French ceded the island to England in 1810, and sugar production continued to increase. By 1858, there were 259 factories in operation. The French had imported slaves from East Africa and Madagascar to work the sugar plantations they established on Mauritius, but the British outlawed slavery in the 1830s. They imported their labor in the form of indentured servants from India until 1909. When Mauritius gained independence in 1968, it remained with the British Commonwealth. Although English is the official language, most everyday conversation is in French (albeit with a Creole lilt). One terrific reason to visit Mauritius is the opportunity to step out of the ordinary. Instead of deadlines and traffic, there's leisure and tranquility. The warm breezes carry the scent of flowers. Tropical birds flit among the palms, and frogs fill the twilight with their deep-throated croaks. The Oberoi Mauritius is all about retreating from reality. I was lucky enough to stay at this luxurious resort on the Baie aux Tortues. Just three years old, the resort is on the un-touristy northwest corner of the island. Spread across its 20 acres, there are 76 separate villas – sort of like guesthouses in a private paradise on the beach. Guests with a yen for complete seclusion can claim one of the villas with its own swimming pool enclosed in a walled garden, order room service and never venture out to mingle with the hoi polloi. I relished sampling the varied and inventive cuisine drawn from all the cultures of Mauritius served in its open-air restaurant overlooking the ocean. A fire at a neighboring resort spread to some of the resort's rooftops last December, but the damage has been repaired and everything's back to normal (although everything at the Oberoi Mauritius remains far above ordinary). When I was there, I chose the option of breakfast in my room, or, rather, on my private patio. The island abounds with brightly colored birds I'd never seen before, but they're obviously used to visitors. Each morning, I had to defend my breadbasket from a couple of red, black and white feathered would-be thieves. Flowers are everywhere: frangipani, bougainvillea, jacaranda, orchids, hibiscus, anthurium. Every time I returned to my room, the maid had rearranged the towels and folded the clothing I'd discarded on the rattan couch – then carefully placed fresh flower blossoms in the folds. The large marble bathroom, freshly flower-strewn each day, has a sunken tub and a shower. The tub has a clear glass wall separating it from a personal garden, but the shower has a separate door so you can step outside – or back into the bathroom. If you can rouse yourself to leave the resort, expeditions around the island are many and varied. I enjoyed an afternoon at Pamplemousses gardens, had lunch barbecued by my captain on a boat trip to a picturesque cove, drove a bit along the Tea Route, visited a former sugar plantation and took an underwater trip on a mini submarine. The island is volcanic, so the topography is varied. There are steep jagged peaks inland with waterfalls plummeting off cliffs into deep rocky valleys. At Black River Gorge National Park, the resident monkeys begged treats from visitors. I marveled at the seven-colored earth of Chamarel – if I could only remember my geology classes I'd know what caused the colors of the rainbow-hued volcanic dunes. The 62 acres of the Jardins de Pamplemousses were first laid out in the 1700s by de la Bourdonnais, who built his house there. Later, Pierre Poivre, a French noble determined to grow spices on the island, bought the land. In a quest to figure out what grew best, he collected specimens for the gardens from around the world: laurel from the Caribbean, camphor from China, breadroot from the Philippines and litchi from Indochina. After he returned to France, Nicolas Céré, a botanist, continued its development. These days, the gardens are an outstanding collection of exotic plants and trees — including a Talipot Palm that flowers just once every 60 years (but not while I was there). I picked up an inexpensive self-guided tour booklet (in English) when I entered the Sir Seewoosagur Ramgoolam Botanical Garden (its official name since 1988), and…
SUBSCRIBE
ALREADY SUBSCRIBED?
BECOME A BONJOUR PARIS MEMBER

Gain full access to our collection of over 5,000 articles and bring the City of Light into your life. Just 60 USD per year.

Find out why you should become a member here.

Sign in

Fill in your credentials below.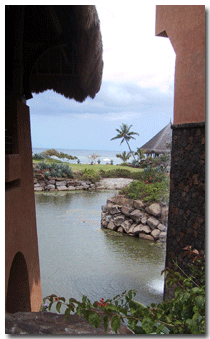 Everybody
knows that the best place to buy a baguette is France, and the second
best place is one of her colonial outposts. But have you been to a
former French colony where you can get a really good croissant – and a
really good cup of tea?
This
small island in the Indian Ocean has such a checkered past that its
ethnic mix is like nowhere else in the world. Once known as Ile de
France, Mauritius remains so Francophile that the preferred language of
everyday conversation is French. However, the island, which gained
independence in 1968, is part of the British Commonwealth. They grow
tea here, and imbibing the brew is a legacy of English occupation.
It
also has been a Dutch colony and, before that, a stopover for Arab and
Portuguese sailors. In addition, there are the descendants of African
slaves and indentured servants from India. All combine with the
handfuls of European expats to create a nation of 1.2 million that's
unusually exotic. I was continually startled when dark-eyed women in
brightly colored saris would greet me with a musical bonjour!
The
island does have one big claim to fame. Remember the dodo bird? This is
where it was driven into extinction – not so much by the European
settlers, but by the housecats they brought with them (what carnivore
could resist pouncing on a bird that didn't fly away?).
Although
centuries of sailors (and pirates) had made note of the island, it
seems there was no indigenous human population at the time of the Dutch
arrival in 1598. True royalists, they named it for the Prince of
Orange, their own Maurice of Nassau.
The Dutch harvested ebony wood, but lost interest in the island in 1710. Five years later, the French arrived.
The
island was under the supervision of the Compagnie des Indes from 1715
to 1764. While nearby Ile de Réunion flourished as a coffee plantation,
development on Ile de France languished until the arrival of François
Mahé de la Bourdonnais as governor in 1735. He laid out the town of
Port Louis and created the island's first sugar estates.
The
French ceded the island to England in 1810, and sugar production
continued to increase. By 1858, there were 259 factories in operation.
The French had imported slaves from East Africa and Madagascar to work
the sugar plantations they established on Mauritius, but the British
outlawed slavery in the 1830s. They imported their labor in the form of
indentured servants from India until 1909.
When
Mauritius gained independence in 1968, it remained with the British
Commonwealth. Although English is the official language, most everyday
conversation is in French (albeit with a Creole lilt).
One
terrific reason to visit Mauritius is the opportunity to step out of
the ordinary. Instead of deadlines and traffic, there's leisure and
tranquility. The warm breezes carry the scent of flowers. Tropical
birds flit among the palms, and frogs fill the twilight with their
deep-throated croaks.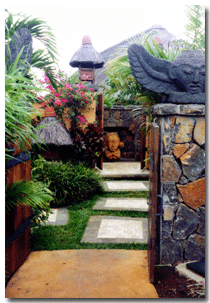 The
Oberoi Mauritius is all about retreating from reality. I was lucky
enough to stay at this luxurious resort on the Baie aux Tortues. Just
three years old, the resort is on the un-touristy northwest corner of
the island. Spread across its 20 acres, there are 76 separate villas –
sort of like guesthouses in a private paradise on the beach. Guests
with a yen for complete seclusion can claim one of the villas with its
own swimming pool enclosed in a walled garden, order room service and
never venture out to mingle with the hoi polloi. I relished sampling
the varied and inventive cuisine drawn from all the cultures of
Mauritius served in its open-air restaurant overlooking the ocean.
A
fire at a neighboring resort spread to some of the resort's rooftops
last December, but the damage has been repaired and everything's back
to normal (although everything at the Oberoi Mauritius remains far
above ordinary).
When I was
there, I chose the option of breakfast in my room, or, rather, on my
private patio. The island abounds with brightly colored birds I'd never
seen before, but they're obviously used to visitors. Each morning, I
had to defend my breadbasket from a couple of red, black and white
feathered would-be thieves.
Flowers
are everywhere: frangipani, bougainvillea, jacaranda, orchids,
hibiscus, anthurium. Every time I returned to my room, the maid had
rearranged the towels and folded the clothing I'd discarded on the
rattan couch – then carefully placed fresh flower blossoms in the folds.
The
large marble bathroom, freshly flower-strewn each day, has a sunken tub
and a shower. The tub has a clear glass wall separating it from a
personal garden, but the shower has a separate door so you can step
outside – or back into the bathroom.
If
you can rouse yourself to leave the resort, expeditions around the
island are many and varied. I enjoyed an afternoon at Pamplemousses
gardens, had lunch barbecued by my captain on a boat trip to a
picturesque cove, drove a bit along the Tea Route, visited a former
sugar plantation and took an underwater trip on a mini submarine.
The
island is volcanic, so the topography is varied. There are steep jagged
peaks inland with waterfalls plummeting off cliffs into deep rocky
valleys. At Black River Gorge National Park, the resident monkeys
begged treats from visitors. I marveled at the seven-colored earth of
Chamarel – if I could only remember my geology classes I'd know what
caused the colors of the rainbow-hued volcanic dunes.
The
62 acres of the Jardins de Pamplemousses were first laid out in the
1700s by de la Bourdonnais, who built his house there. Later, Pierre
Poivre, a French noble determined to grow spices on the island, bought
the land. In a quest to figure out what grew best, he collected
specimens for the gardens from around the world: laurel from the
Caribbean, camphor from China, breadroot from the Philippines and
litchi from Indochina.
After he
returned to France, Nicolas Céré, a botanist, continued its
development. These days, the gardens are an outstanding collection of
exotic plants and trees — including a Talipot Palm that flowers just
once every 60 years (but not while I was there).
I
picked up an inexpensive self-guided tour booklet (in English) when I
entered the Sir Seewoosagur Ramgoolam Botanical Garden (its official
name since 1988), and wandered from spectacular plant to fantastic
tree. Don't miss the banyans, water lilies or lotus.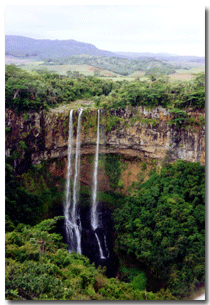 At
Bois Chéri, a tea plantation and factory that welcomes visitors, I
watched the processing and learned that the locals prefer their tea
scented with vanilla.
L'Aventure
du Sucre, a sugar factory no longer in production, has been turned into
a terrific museum. Displays show not only how the cane is grown,
processed and turned into sugar and rum, but also outline the entire
history of Mauritius. The visit ends (of course) in the gift shop with
tastings of sugar with varying degrees of molasses and, finally, rum.
Yum!
A ride on the Blue Safari
submarine ride took me not as far as 2000 leagues under the sea, but at
35 meters beneath the surface we were eyeball-to-eyeball with tropical
fish I'd only seen in tanks. In a leisurely journey of almost an hour,
we circled a shipwreck and surveyed the diversity of corals before
surfacing again.
The biggest
town on the island is Port Louis, and I spent a wonderful afternoon
wandering the local market; when you have a population that's Indian,
Chinese, African, Creole and European, the spices, fruits and
vegetables are many and varied. The dried fish looked positively
prehistoric, and the herbal medicine stands were a wonder to behold.
The
Central Market in Port Louis is open daily from dawn to dusk between
Farquhar and Queen streets. When you're tired of the real thing, you
can go across the street to Caudan Waterfront, a shopping center. A
hint: all that "brand name" merchandise isn't what it seems. (I could
go into a long discussion about trademark laws on the island – but I'll
spare you. Suffice it to say, Ralph Lauren isn't.)
The
sunsets over the Indian Ocean each evening were symphonies of pastels.
My only disappointment was the night sky. There was a full moon while I
was on Mauritius, and its light was bright enough to keep me from
spotting the Southern Cross or any other unfamiliar constellation of
stars.
I have fond memories of
my visit to the Oberoi's spa, and an appointment with someone whose
only job is to pamper body and soul is a joy beyond measure. I selected
the Paillasson massage, and it sent me into delicious dreams filled
with cart-wheeling chocolate chip cookies, apple tarts and crème brûlée.
I
had fallen asleep as my petite masseuse used up an entire coconut –
first, a full-body scrub with the husk, then a peeling with the soft,
white interior and finally, a rub with scented oil. After a blissful
hour of indulgence, I ended up covered with curly white aromatic
shavings like a giant macaroon. They told me "paillasson" means coconut
in Creole. I'd go back to Mauritius just for that.
Besides,
there's nothing like watching the expressions on people's faces when
you say you've been to Mauritius. Umm, where's that?
Have
your travel agent include a stopover in Paris! Get to France however
you prefer, and then switch to Air Mauritius for the flight to the
island.
PHOTOS (top to bottom; all photos by Susan McKee)
As you arrive at the Oberoi Resort on Mauritius, you catch a glimpse of the gardens and the beach beyond. (Photo by Susan McKee)
Fanciful sculpture decorates the walkway to your own private villa at the Oberoi Mauritius.
A trio of waterfalls cascade into an abyss at Black River Gorge on Mauritius. (Photo by Susan McKee)
---
Susan
McKee's journalism career began in college when she got a job setting
type for the Daily Bruin (she soon became a staff reporter for the
paper, and a copy editor for the UCLA yearbook). Susan earned her first
freelance writing checks with chapters in an old Simon and Schuster
guidebook series, Where the Fun Is USA. She has a BA in Near Eastern
History from the University of California at Los Angeles and an MA in
American Studies from Purdue University, plus decades of experience as
a general assignment reporter for The Indianapolis Star and as a
freelance writer. Specializing in culture and travel, her tearsheets
number in the thousands.
---
---