Marseille, Bouillabaisse, and the Off Season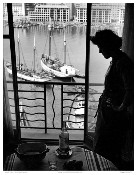 During Julia Child's early era in France it took days or weeks, depending on one's sense of urgency, to trundle down from Paris to the port city of Marseille. Of course this didn't stop Julia, who lived here post World War II for a time. Her indomitable adventuresome spirit is why I love that woman and in one of her final books, My Life in France, a picture shows the tall, distinguished Child gazing from an apartment overlooking the picturesque "Vieux Port". Yes, Julia found the fabulous in all corners of France. Even in this city too often bypassed for its surly criminal reputation, she waxed poetic about La Belle France and also experimented with recipes for the famed bouillabaisse. Her final rendition can be found in Volume 1 of Mastering the Art of French Cooking. To honor her memory, and to experience the place firsthand, my husband and I took to the rails to discover the land of the French national anthem, "La Marseillaise". Based on our experience, I might recommend that you consider a journey here too. Today's TGV fast train gets you there in three hours, and by purchasing tickets on the Internet, two people can snag first class seats for under 300 euros round trip. Along the way France's heartland stretches in all directions and, should you be so inclined, you can order up a four-course luncheon served at your window seat. My husband chose to indulge and enjoyed a sumptuous and simple tuna, garlic mayonnaise, bread, and carrots hachées with mousse au chocolat that filled him sufficiently before he dozed off. We landed three hours later pile (exactly) at the Gare St. Charles, which fortunately is centrally located, so no need for taxi or car if you intend on sticking to the city proper. By our 4 p.m. arrival, the dry and sunny March temperatures hovered around 75 degrees. Off-season travelers, we usually don't book in advance but chance what I consider the best way to enjoy a voyage–the happenstance of asking around for local opinion which, thus far, has never steered us wrong. We landed at the
Hôtel Saint Ferreol
, located in the shopping district of the same name a few minutes' walk from the Old Port. The husband and wife owners, as well as the accommodations, were as chaleureux as you can get. The couple took more time than we anticipated answering my questions and advising on how to make the most of our two days. We followed tour guide books and did most of our discovery on foot, feasting in this city of a multitude of nationalities and, as my French girlfriend says, "Le seuil de l'Afrique du Nord" (the gateway to North Africa). We fussed and rummaged around an Arab flea market, took in the Panier (Marseille's oldest city section), paid homage to Yves Montand and Maurice Chevalier at the location of the former night club the Alcazar, tripped up to the Notre Dame de la Garde Cathedral, from whose heights stretch breathtaking views of the Mediterranean Sea. We also caught the morning fish market along the Old Port, so popular for its colorful wares and even more colorful fishermen and women. Our primary reason for choosing Marseille, aside from my attempts to dazzle in souvenirs of Julia Child's dynamism, was to eat a genuine bouillabaisse. There are several restaurants at the Old Port, institutions the French call them, with long reputations for bouillabaisse, and I cannot in all honesty say how worthwhile or not they are. However, our happy owner-couple at the Saint Ferreol frowned upon them, noting that they have fallen in quality and reputation. Instead, they steered us to the tiny nearby port of Vallon des Auffes where the restaurant L'Epuisette opens its doors for most of the year—except during August! Yes, make note, summer and winter season travelers, this gem hearkens largely to the off-season experience! We strolled towards the village, winding past and around massive stone viaducts to eventually find
L'Epuisette
, whose unassuming water's-edge exterior belies the elegant interior. Floor-to-ceiling windows in the spacious main dining room offered stunning romantic views of the Mediterranean, including the lit-up Château d'If of Count of Monte Cristo fame. Even the restrooms enchant, which you access via a winding marble staircase to the underground level. A massive, ingeniously lit aquarium built into the walls spirals down with you, the colorful tank fish easing in and around large stones and through man-made bridges and tunnels. A Jacques Cousteau adventure on your way to the "loo"! The major fish ingredients of bouillabaisse are: the St. Pierre (John Dory), chapon (scorpion), vive (sting fish), galinette (rouget grondin or red mullet), congre (eel) and sometimes the lotte (burbot). Contrary to popular legend, shellfish do not make up the classic dish, at least not in the Marseille version. The ceremony of this dish comprises a large part of why you want to find an establishment with aplomb. Our starter consommé, which would also dress up our main course, was saffron-spiked and served with garlic croutons. Dished from silver ladle and soupière, the gallantry and style of the serve alone might lend itself towards overwhelm, but stay the course—you're just beginning! Our meal was, in a word, superb, from the fish to the dainty between-course amuse-bouches to the chocolate tumble-down flourless cake dessert. They even had a selection of 25-year-old Armagnacs, my preferred over Cognac. Rather than take a cab, we ambled along soft-lit side streets back to the Old Port and our hotel, relishing a satiated-but-not-stuffed feeling that fueled another store of memories of a town that honors all that made Julia smile, is a place to mark on your must-see list, and to where we will, indeed, one (off-season) day return!   Kathleen Comstock is a writer and lover of France, who lives in Massachusetts and Paris. She recently published a…
SUBSCRIBE
ALREADY SUBSCRIBED?
BECOME A BONJOUR PARIS MEMBER

Gain full access to our collection of over 5,000 articles and bring the City of Light into your life. Just 60 USD per year.

Find out why you should become a member here.

Sign in

Fill in your credentials below.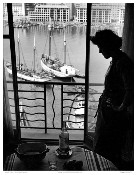 During Julia Child's early era in France it took days or weeks, depending on one's sense of urgency, to trundle down from Paris to the port city of Marseille. Of course this didn't stop Julia, who lived here post World War II for a time. Her indomitable adventuresome spirit is why I love that woman and in one of her final books, My Life in France, a picture shows the tall, distinguished Child gazing from an apartment overlooking the picturesque "Vieux Port". Yes, Julia found the fabulous in all corners of France. Even in this city too often bypassed for its surly criminal reputation, she waxed poetic about La Belle France and also experimented with recipes for the famed bouillabaisse. Her final rendition can be found in Volume 1 of Mastering the Art of French Cooking. To honor her memory, and to experience the place firsthand, my husband and I took to the rails to discover the land of the French national anthem, "La Marseillaise". Based on our experience, I might recommend that you consider a journey here too.
Today's TGV fast train gets you there in three hours, and by purchasing tickets on the Internet, two people can snag first class seats for under 300 euros round trip. Along the way France's heartland stretches in all directions and, should you be so inclined, you can order up a four-course luncheon served at your window seat. My husband chose to indulge and enjoyed a sumptuous and simple tuna, garlic mayonnaise, bread, and carrots hachées with mousse au chocolat that filled him sufficiently before he dozed off. We landed three hours later pile (exactly) at the Gare St. Charles, which fortunately is centrally located, so no need for taxi or car if you intend on sticking to the city proper.
By our 4 p.m. arrival, the dry and sunny March temperatures hovered around 75 degrees. Off-season travelers, we usually don't book in advance but chance what I consider the best way to enjoy a voyage–the happenstance of asking around for local opinion which, thus far, has never steered us wrong. We landed at the Hôtel Saint Ferreol, located in the shopping district of the same name a few minutes' walk from the Old Port. The husband and wife owners, as well as the accommodations, were as chaleureux as you can get. The couple took more time than we anticipated answering my questions and advising on how to make the most of our two days.
We followed tour guide books and did most of our discovery on foot, feasting in this city of a multitude of nationalities and, as my French girlfriend says, "Le seuil de l'Afrique du Nord" (the gateway to North Africa). We fussed and rummaged around an Arab flea market, took in the Panier (Marseille's oldest city section), paid homage to Yves Montand and Maurice Chevalier at the location of the former night club the Alcazar, tripped up to the Notre Dame de la Garde Cathedral, from whose heights stretch breathtaking views of the Mediterranean Sea. We also caught the morning fish market along the Old Port, so popular for its colorful wares and even more colorful fishermen and women.
Our primary reason for choosing Marseille, aside from my attempts to dazzle in souvenirs of Julia Child's dynamism, was to eat a genuine bouillabaisse. There are several restaurants at the Old Port, institutions the French call them, with long reputations for bouillabaisse, and I cannot in all honesty say how worthwhile or not they are. However, our happy owner-couple at the Saint Ferreol frowned upon them, noting that they have fallen in quality and reputation. Instead, they steered us to the tiny nearby port of Vallon des Auffes where the restaurant L'Epuisette opens its doors for most of the year—except during August! Yes, make note, summer and winter season travelers, this gem hearkens largely to the off-season experience!
We strolled towards the village, winding past and around massive stone viaducts to eventually find L'Epuisette, whose unassuming water's-edge exterior belies the elegant interior. Floor-to-ceiling windows in the spacious main dining room offered stunning romantic views of the Mediterranean, including the lit-up Château d'If of Count of Monte Cristo fame. Even the restrooms enchant, which you access via a winding marble staircase to the underground level. A massive, ingeniously lit aquarium built into the walls spirals down with you, the colorful tank fish easing in and around large stones and through man-made bridges and tunnels. A Jacques Cousteau adventure on your way to the "loo"!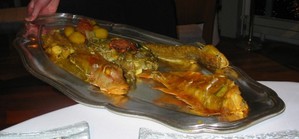 The major fish ingredients of bouillabaisse are: the St. Pierre (John Dory), chapon (scorpion), vive (sting fish), galinette (rouget grondin or red mullet), congre (eel) and sometimes the lotte (burbot). Contrary to popular legend, shellfish do not make up the classic dish, at least not in the Marseille version. The ceremony of this dish comprises a large part of why you want to find an establishment with aplomb. Our starter consommé, which would also dress up our main course, was saffron-spiked and served with garlic croutons. Dished from silver ladle and soupière, the gallantry and style of the serve alone might lend itself towards overwhelm, but stay the course—you're just beginning!
Our meal was, in a word, superb, from the fish to the dainty between-course amuse-bouches to the chocolate tumble-down flourless cake dessert. They even had a selection of 25-year-old Armagnacs, my preferred over Cognac. Rather than take a cab, we ambled along soft-lit side streets back to the Old Port and our hotel, relishing a satiated-but-not-stuffed feeling that fueled another store of memories of a town that honors all that made Julia smile, is a place to mark on your must-see list, and to where we will, indeed, one (off-season) day return!
Kathleen Comstock is a writer and lover of France, who lives in Massachusetts and Paris. She recently published a collection of shorts called Vieilles Filles and Other Stories from France.
If you're coming to France (or for that matter anywhere) you can reserve your hotel here. To rent a car, Bonjour Paris recommends Auto Europe.
More in France cuisine, France restaurants, France travel, French food
---
---