Mama Shelter is the story of a new concept and also the complicity of a brilliant team of visionary men, read tribe attitude. CEO Serge Trigano gathered together his sons Benjamin and Jeramie, designer Philippe Starck, philosopher Cyril Aouizerate, architect Roland Castro and super-chef Alain Senderens. With difficulty they acquired a 7-story graffiti-covered disused car-park in a grungy part of town and got to work. "So many sleepless nights", the papas recall. "Getting financing was a nightmare until a guy at Caisse d'Epargne 'got it' and we got the money", confides Trigano.
Mama Shelter launched in September 2008 with 172 "digital"  rooms, 5 colour schemes and Starck's unmistakable signature. On arrival choose automatic check-in or help from multi-lingual staff dressed by couturier Anne Gelbard and trained by Jean-Claude Elgaire, former chief concierge at The Plaza Athénée.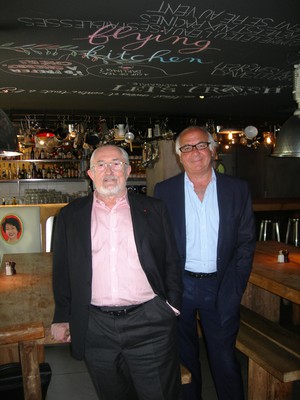 Rooms have 24-inch Apple iMac TVs, Skype, and Internet access. Expect 100% satin cotton sheets, coffee machines, microwaves, and Kiehl's products. Daily events noted on whiteboards are located by the lifts. Meditate in the Yoga Room or rent electric scooters, motorbikes, Fiats and Smarts. The 76 bus stops outside and goes to the Louvre via the Bastille.
On street level, you'll find an outsize BabyFoot, built-in TV monitors and the long olive tree-lined terrace. The I-Booth system allows visitors to take instant photos which can be relayed all over the hotel. Pick a prêt-à-manger snack from cold cabinets or eat in the hip ground-floor "canteen" or the Pizza-Parlour space where pizza prices start at 3€.
The menu's by super-chef Alain Senderens, who tests every dish every Monday. There's a daily Plat du Jour (16€) and a formula at 19€. A La Carte dishes include 7-hour cooked Quasi de Veau, Club Sandwich, Dos de Cabillaud, Salads and Desserts de la Mama. Drink white Pinot Grigio 2007 from Francis Ford Coppola's vineyards, whicih somehow seems appropriate (38€), or an organic red Alamos-Malbec from Nicolas Catena, Argentine. They're all chosen by Senderens, so you can shut your eyes and point at the wine card.  Then party at La Flèche d'Or bar opposite; the former Charonne railway station now hosts indie-electro-rock concerts.
"When we began this project people thought we were mad; now the Mayors of every city in France are coming to us sayng, 'We want a Mama Shelter'", says Trigano. There are plans to open in Marseilles, Lyon, Istanbul and maybe Bordeaux, LA and London. "We don't want to become a chain or franchise—we'll keep our Mamas managable," he promises.
109 rue de Bagnolet, 20th,
Metro: Gambetta
T : 01 43 48 48 48
Rooms from 79-299€
Lunch & Dinner average spend about 38€ + wine
Sunday Brunch 39€ (do book)
Private Car-Park
International shoe designer Patrick Cox has always had a passion for fashion, but "shoes don't make me happy anymore". So when his friend Elizabeth Hurley introduced him to master patissier Brittany-born Eric Lanlard, the new best friends decided to open a bakery like no other, choosing for the location Soho, the multicultural area of London known for its sex shops, night life, jazz and music clubs, pubs, record shops and dozens of businesses thriving on the pink pound.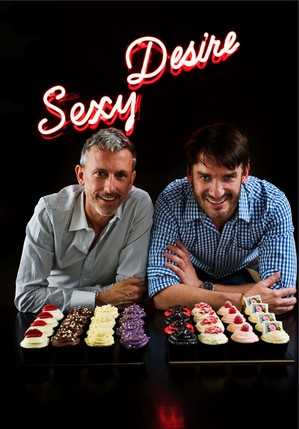 The inspiration behind Cox's move from the world of fashion came from memories of baking with his mother Maureen every Saturday morning. "She cooked—I licked the bowls". Mum continued to send large parcels of baked goodies from Canada long after Patrick left home. Many of her recipes will feature on the bakery menu including her Nanaimo Bars made from coconut chocolate biscuit with a layer of custard vanilla butter cream coated in melted dark chocolate.
Cox and Lanlard say their creative vision is a chic, sexy spin on London traditions, the corner cake shop meets the Soho hotspot, with glossy black floor and shimmering disco-inspired walls. Straddling the worlds of old and new Soho, suggestive and sweet, Cox Cookies & Cake will be the place to head for a sensational culinary experience. Better than sex? "Depends on the sex", winks Cox.
13 Brewer Street, London W.1
Open – 11am-11pm
If you're coming to France (or for that matter anywhere) you can reserve your hotel here. To rent a car, Bonjour Paris recommends Auto Europe.