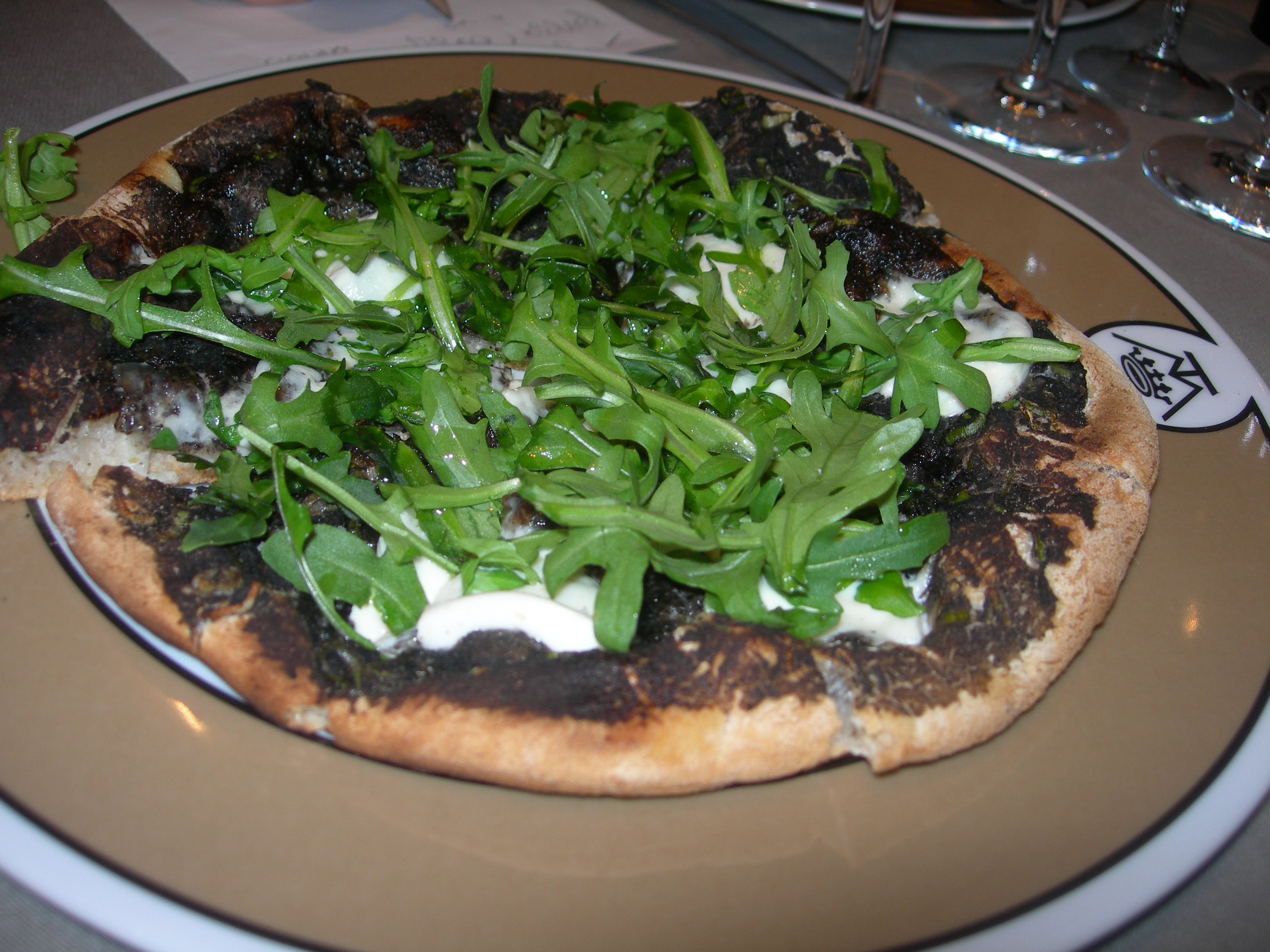 Do you think the French are sexy? What turns them on, the First Lady naked, Arielle Dombasle at The Crazy Horse? Not really, more likely to be Tuber Melanosporum; truffles titillate year round. The perfumed diamond, the black pearl wins out every time.
"Pick them up, give them a long sniff," suggests Cyril Dulary, thrusting a large pot of truffles my way from behind a high glass counter. Dulary acquires all the truffles at Maison de la Truffe, located at the heart of Le Triangle d'Or, just off the Champs Elysées, in the former Vignon Epicerie store: there's been a MDLT since 1932 on Place Madeleine. The new address has cutting-edge décor by Thomas Urquijo, brasserie-style banquettes, and titillating truffle art work (by photographer Arturo Zaval) sharpens the appetite. A couple sit in the corner by the window, napkins tucked into their necks, ready for some sex on a plate.
He's beginning with Pizza à la Truffe Noire Mélanosporum, Mozza & Roquette (24€). Madame Truffe goes for the Omelette à la Truffe de Saison et Salade Verte (24€). They could stop there and with a glass of champagne not spend beyond their means; luxury doesn't have to burn the Centurion. But he's helpless at the thought of a plate of Boudin Blanc truffé et purée de Truffe Noire Melanosporum (39€) and she's going weak at the knees ordering Tagliatelles à la Truffe de Saison et crème trufée (42€). They drink a bottle of Sancerre La Gravelière 2008 from J. Mellot 39€ (9€ a glass). He's going for the Assortiment de Fromage Truffé (18€) Brie, Chèvre, Millefeuille de Coulommiers. And Madame's tempted by Truffled Crème Brulée.
Chef Loic Paquaux (ex-Ducasse) says he can't bake his Black Truffle Pizzas (see photo) fast enough; someone wanted twenty to take away the other day. And Cyril Dulary was excited when a well-heeled woman arrived with a basket brimming over with black pearls. Apparently they were all over the place at her country home and she was fed up with the mess. Go to Maison de la Truffe (privately owned by a Spanish family) and talk to Dulary, who buys about 4,000 kilos a year and says he'll never stop learning about this incredible product. No need to ask what he has for breakfast. Nice one!
14 rue Marbeuf, 8th
T: 01 53 57 41 00
Metro: Franklin D. Roosevelt
Open 7/7
Valet Parking
Lunch Formula 2 courses 39€
A La Carte from 42€-140€
Join the queue at Le Grenier à Pain des Abbesses, 38 rue des Abbesses 18th. They just won the 15th Prix de la Meilleure Baguette de Paris. They sell 1,800 (1€10) and that's just on Sundays. Shut Tuesday and Wednesday, but rumour has it they deliver daily to the Elysée. Asked how he does it, baker Djbril Bodian said: "It's a no-brainer, just follow the recipe, no short cuts; the secret's knowing how long to leave the yeast to rise."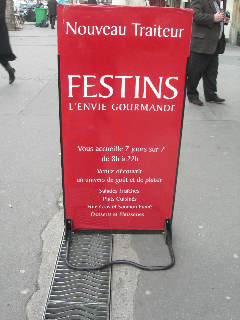 Sometimes it's fun to stay home, watch the match, and have a fabulous lunch/dinner/picnic which Festins prepares to order in one of their two Paris boutiques or delivers chez vous. Festins Grand Armée boutique opened last October in the former Lenôtre. "We're 30% cheaper; we studied the market carefully. Lenôtre had about 2 clients per day where we have 200 at lunchtime," says their spokesperson Patrick Cirotte (ex-Taillevent, Guy Savoy, Roger Vergé at the Moulin de Mougins, Troisgros, Le Grenadin). Cirotte decided he'd had enough of the monk-like life of cheffing, always in the kitchen, and decided he would join Didier Chapuis and Florent Racot and follow the "Life is a Festival" style with Festins, which translates as Feasts.
Festins' menus are comprehensive from mouthwatering cocktails, buffets and picnics to formal meals. Le Bouquet is the vegetarian 3-course lunch/dinner at 22€50. Le Plateau du chef is the dish of the day, 3 courses just as you'd have in a restaurant (22.50€). The dishes, beautifully presented, are based on traditional gastronomic French recipes with excellent wines. Try the Festins Champagne Brut Rosé (26€.50). So you could have an amazing feast delivered and say, "yes, of course I made it."
61 Avenue de la Grande Armée, 16th
T: 01 45 00 12 10
Metro: Argentine
Open 7/7
And at:
211 Avenue Daumesnil, 12
T: 01 43 44 86 36
Moléculaire maven Thierry Marx (Michelin 2-star) of Chateau Cordeillan Bages, Pauillac, will head the kitchens of Mandarin Oriental, the Jean-Michel Wilmotte-designed hotel opening on rue Saint Honoré Spring 2011. Marx says he didn't take the decision to become an up-town boy easily. "I've been preparing my successor for a year," he confides.
If you're coming to France (or for that matter anywhere) you can reserve your hotel here. To rent a car, Bonjour Paris recommends Auto Europe.
Please post your comments or questions and let them flow. Register HERE to do so if you need a Bonjour Paris user name and password.