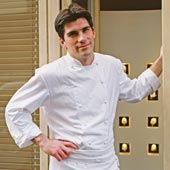 Michelin star chef Gael Orieux calls his left-bank restaurant Auguste, a tribute to Auguste Escoffier. He could have called it Yannick, he was trained by Y. Alleno (and Bocuse, Senderens, Taillevent). Located near the Assemblée Nationale, you'll recognise the clientele if you follow French politics. Great address if you're visiting the gorgeous Musée Rodin
The welcome's warm, and even if Marie has not arrived they bring you warm snacks, a bottle of Badoit, the menu; little things mean a lot. Waiting for Marie, you note the wine list's a tour de France of lovely stuff: White Pessac Leognan, Les Hauts de Smith, D. Cathiard. 52€. Chateau Maucaillou red Moulis 2002 50€ or Chasse Spleen, Haut Medoc 2005 (45€). Marie arrives, so let the show begin. 
The lunch menu changes daily, two starters, say, Cappuccino de petits pois, poached egg topped with frothy sesame cream. Light and lovely, served in a deep glass bowl. Two mains: the Berix is interesting, Orieux's big on fish, will talk for hours about how our generation may be the last to enjoy wild poisson. He has the 10 Commandments of ethical fishing pinned up in the kitchen. Orieux cooks his Berix "en viennoise", read golden and breaded, delicious with jus d'homard and mint spiked fregola sarda, a type of Sardinian cous-cous. Two desserts, Caillé de Brebis au pollen, parfait au caramel, honey ice cream or spiced pineapple confit. Home made caramels to finish. And yes Orieux was in Montreal recently, guest chef at the sparkling Montreal High Lights Festival.
Auguste,
54 rue Bourgogne, 7th (Metro: Varenne)
T: 01 45 51 61 09
Mark Williamson came to Paris in 1975 as a trainee chef, "and never left", he smiles. A cool Englishman, who speaks perfect French à la Jane Birkin, "I felt the French needed me and Her Maj wanted me to stay and agitate." Opening Willi's Wine Bar in 1980, he says, "there was nothing like it then". To-day Willi's (named after Mr Willi, one of Colette's lovers) a meeting place with special atmosphere and impressive choice of wines. Williamson also created a Willi's poster collection, adding a new one annually, in the spirit of the artists of the turn of the 19th century, "to showcase the joy of an urban city", he explains. When he was offered the Michelin One-star Mercure Galant restaurant, a few doors along from Willi's, he decided to accept the challenge. A magnificent space, with ceiling mouldings, huge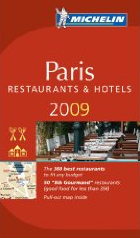 mirrors and outsize palms, Williamson re-named it Maceo, after his favourite jazz musician, Maceo Parker. 
In the kitchens, more or less since the start, chef Thierry Bourdonnais changes his menus daily, and for the ladies who do, his Menu Vert is a veggie delight. 
"I try to annoy the chefs in the kitchen as much as possible, and I choose all the wines", admits Williamson when asked how he runs his establishments. This week he's ecstatic about a Pibarnon Blanc 2008 (45€), "they have Marie Rose advising them, a talented winemaker, who worked with me at Willi's". And Domaine Anjou, 2007 Cuvée Pompois (32€). Williamson chats in between answering the phone, tasting a wine brought to him by a sommelier from Will's, "yuk, open another bottle this is disgusting", he's also talking to Elyane Lèbre a chic blonde "coach anti-age" who just published a little bible on anti-aging, "La Dietique Anti-Age". 
There's a buzz at Maceo, terrific atmosphere, laid-back but not "up your arse" like some establishments that take themselves too seriously. Why Maceo hasn't got a Michelin star is a mystery: it does have a Bib Gourmand, and Williamson dedicates a menu to it: "Le Mois Gourmand du Guide Rouge" (46€). "You know I've been here for 30 years", he reflects. "You don't have to be mad – but it helps!".  
Maceo,
15 rue des Petits Champs 1st
Metro: Palais Royal Musee du Louvre
T: 01 42 96 37 47
If you're visiting the Lake District UK check out http://www.elh.co.uk/hotels/storrshall/picnic.aspx
Head Chef Will Jones has some cute country life ideas – no credit crunch up North love.