Long Live the Oyster Workers!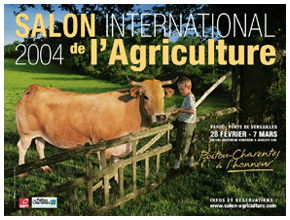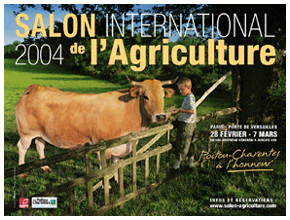 If there's one thing that makes me really, really happy, it's amassing free goods. And if there's anything I like most about writing this column, it's about pointing out the kookier side of France. Combine these two loves and what do you get? A whole lotta trips to Paris' various
fairs
and
expositions
.
My most recent trip was to the Salon de l'agriculture (Agricultural Expo), which brought out 700,000 Frenchies passionate about cows and curd to Paris' periphery for nine days of poking, prodding, and tasting.
Now let's get things straight right from the start: I can barely tell a cow from a chicken, and I clearly did not head all the way out to Porte de Versailles in chilly March weather to marvel at the difference in hind length between a Normandy Steinbreker Feldenkrais heifer and an Aborigine Muskrat Pompidou bull. No, no, dear friend: I was looking to score copious quantities of free wine and cheese, as well as perhaps a cheap promotional bag or two.
Perhaps it was a mistake, then, to begin in the livestock hall, where it took a good 20 minutes to stroll past bovine butts and hear agricultural nerds appraise the teats of other men's cows: "That one's gotta a real rack on her, n'est-ce pas Jean-François?"
Yes, yes the Trekkies of the agricultural world were out in full force, wearing special hats and buttons designating their affiliation to one particular milk-producing region or another.
We looked to exit the bovine section as soon as possible and made our way to the end of the hall, where we joined a crowd gathered around a bearded old man. He was smoking a pipe and caressing a pile of oysters and seemed not to notice the camera lights shining upon him—or the TV cooking show host bombarding him with questions. In fact, it was only when the host, tired of fielding the old man's terse responses, moved on to the subject of oyster preparation that the Oyster Man suddenly snapped out of his meditative act and shouted accusingly, "Let's recognize the workers who make these oysters possible! They are the real heroes of the oyster!"
No one had expected the cooking show to turn into a demonstration on behalf of oyster workers, and the spectators glanced about in embarrassment. Even the cows nearby fell silent. But the Oyster Man was already back in his own oyster-petting world, leaving the host to mumble an explanation to the viewers at home.
We made a quick exit, passing into a new hall dedicated to food and drink. At the entrance Latin and African music bombarded us from all sides, while dancers shimmied above a stage. Such a convivial atmosphere did not mean free caipirinhas and mojitos, however, and we were forced to continue on to the section highlighting France's regional specialties. Here, I was sure, we would hit pay dirt, and I wet my lips thinking about the loads of Comté and wine that I was about to be offered.
Alas, the dearth of samples in the French section was so great that the most desperate of us were willing to line up whenever any sample was spotted. To illustrate: hundreds of us waited 20 minutes to snatch up such un-extraordinary samples as a tiny cup of coffee and a mini-cup of fat-free sugarless yogurt from Carrefour. Oh, and let's not forget the pièce de résistance—grass!—which turned more than one sweet grandmother into a cold, calculating machine willing to push little children (and this well-intentioned journalist) to the side in a rush to grab the precious plant.
Bruised and discouraged, I then tried avoiding these "big" samples in favor of the lower-key booths found in the international section. Unfortunately, my bounty was far from impressive: a sliver of nougat from a lady wearing a Swiss Miss outfit, a packet of fennel, and a cup of Korean tea designed to reduce cellulite. (I didn't know whether to slap or thank the vendor when he chose that special blend for me.)
Clearly, this was not the fabulous giveaway bonanza I had hoped for. But while everyone appeared a bit disappointed with the samples, the salon nevertheless seemed to be a crowd-pleaser. And I certainly had my fun getting glimpses of a hectic fish auction, a breed of chickens resembling aliens, and hippies hawking maté tea from Argentina (note to self for future company: hippies do not make the best salespeople).
Still, next year I think I'll skip the Salon de l'Agriculture and just go spend the 11-Euro entrance fee at the corner store. It's no less an authentic French experience than fighting over grass and oyster workers' rights, and it's much, much tastier.
---

After working as a reporter and translator in New York, Spain, and Portugal, Jessica Powell moved to Paris to become the editor of an intellectual property magazine. She spends most of her free time trying to make the perfect chocolate dessert.
Leave a reply
Your email address will not be published. Required fields are marked *