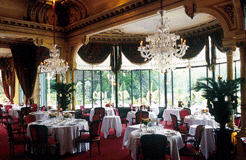 Have you noted that the Bois de Boulogne is not in Boulogne, but eight minutes from the Arc de Triomphe? From the vast glass pavilion of Le Grande Cascade the view is not only of the bucolic bois, but also of the Longchamp Race Track.  In the background, the music of the Grand Cascade, the magnificent waterfall: rainforest in plein Paris. No wonder Sting, Bono and Madonna love this place.
Here is Paris's most romantic terrace, an inspiration to scribblers and poets alike. Grande Cascade, built in 1850 by Napoleon III as a "not much but it's home" pad, was a halt on his way to Paris, a place to keep mistresses, artwork, wines, you get the picture. The Cascade became a restaurant in 1900 at the time of the Great Exposition, when it was chic to go for a ride in the Bois, showing off one's latest carriage. It still is, judging by the Lambos, Ferarris, and Rolls-Royces in the parking.
The Belle Époque aspect has been given a facelift, but discreet, only the best surgeons let loose on such a beautiful woman; retro-metro.
Book the Grande Cascade and you're buying a history lesson, which you'll realise as you swish around the revolving doors, nimbly manoeuvred by liveried valets. There are valets everywhere, as in "How Green was My…" Colour Cascade green, but also all the colours that are seasonal.  Imagine a country weekend, and you've only been there two hours.
There can't be anywhere else like this in the world: it's a three star, but of course it's only got one. Ridiculous!
So what about the food?
In the kitchens is Richard Mebkhout (ex-Chapel, Bocuse). When a chef tells you he comes from Lyon, you can be guaranteed a good meal, n'est ce pas? The classics of the Cascade are perfect cylinders of macaroni with black truffles, foie gras and celery, jus de porto. Try and resist the bread basket, by Jean-Luc Poujarin, which he's only doing for restaurants and private orders these days (since being robbed of his name, but that's another story for another time). Meanwhile back to the specials, well, everything's special, made with TLC by Mebkhout and his army of cuisiniers. Try Homard bleu à la vanille, mangue au thyme citron or stop that Pigeon à la broche, les cuisses farcis d'abattis, legumes et fruits de saison grilles, un jus gras.
Cabillaud en cocotte lutée et bouillon safrané, poivron doux, oignons tige, jambon Serrano et ail confit can be matched with a
Blanc Vacqueryas 2002 Domaine de Monardiere or a red Coteaux de Languedoc 2001. Chateau gets Saint Paul, "Cuvee Antonin". The wine "book" will give you tennis elbow, since it's 30 pages long. Better put your trust in the genial wine wizard, Pierre Ouardes.
The triple cheese chariots from Alain Quatrehomme deserve *** unique (only the *** Grand Vefour can compare). Desserts include soufflé chocolat with sorbet cacao, compoté d'agrumes et crumble, meringue vanillée. The Grande Cascade is under the baton of George Menut, around whom an unchanging, enthusiastic équipe react with musical precision.
Pavillon de la Grande Cascade,
Allée de Longchamp, (metro: Porte Maillot + taxi)
T: 01 45 27 33 51
Open 7/7
Lunch: 70€: Tasting menu: 165€: A la Carte: 160€
Copyright © M Kemp