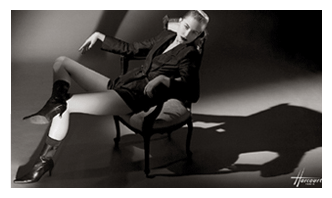 With
the rebirth of the mythical Studio Harcourt, Paris, there's excitement
in the air among French photo afficionadoes. It confirms the current
craze for everything vintage, from fashion to photography. Harcourt,
official photographers to the legends of yesteryear, are the classic
retro black and white photos; the sitter, wearing a half-smile, is
surrounded by a sculptural halo of light. The look fits perfectly with
the zeitgeist of current neo-chic designers such as Jean Desses, Madame
Schiaperelli and Halston.


"In
its hey-day, an invitation to be captured on camera by one of the
Harcourt dream-team of photographers was an honour," explains
Christopher Mauberret, Artistic Director at The French Ministry of
Culture Archives, owners of the original 5 million negatives, bought at
auction in 1990. "Only one signature appears on the portraits, "Studio
Harcourt," in the lower right-hand corner, confirming you'd made it big
time. In his book "Mythologies," philospoher Roland Barthes compares
the honour of the Harcourt experience to receiving an English
knighthood. There's never been anything like it before, or since,",
adds Mauberret.


That
is, until style guru and visionary Armand Hadida decided he wanted a
touch of Harcourt glamour. Hadida is creator of L'Eclaireur, the iconic
Paris-based avant-garde boutiques (one of which is so hard to find, you
need a map) where "the customer is definitely not king". Until he knows
the rules, Hadida's rules. Woe betide the punter who refuses to switch
off his cell phone, or talks too loudly within his conceptual spaces.
"Ah Harcourt, a dream, we're in total harmony," Hadida sighs, one
afternoon this week, sitting on a vast designer sofa in his rue Herold
boutique (converted 17th century stables; enter by pushing a bell from
which zen-electronic notes emanate). "I identify with them. They dared
in the 30s, I dare in the 00s."


For
the next three months, each L'Eclaireur is dedicated to Harcourt, with
outsize black and white photos punctuating boutique walls, each with a
different theme—Beauty and the Beast featuring, say, Barbie wearing
Westwood in rue Herold; Dance, with the Crazy Horse Saloon, in rue
Malher; and Fashion, Design and Literature at the Palais Royale
boutique.


Hadida
says his clients want the extraordinary, not only for themselves but as
gifts; he has created his own Harcourt moment. Suddenly the most
coveted gift in town is "The Black Room," a limited edition plexiglass
box containing a Venetian glass faux camera plus an invitation to a
photo session at Studio Harcourt. "It's a chance to realise the dream
of a lifetime," says Hadida. For Mother's Day (5th June) as part of
"Les Journees Harcourt" get Ma a booking (450€ instead of 1,600€; you
can't afford not to). Same deal for Father's Day (19th June) and for
Saint Valentine 2005.


Founded
in 1934 by Cosette Harcourt, financed by French publishers the Lacroix
brothers, and Robert, Nina Ricci's son, the original concept was to
photograph the rich and famous, thus filling the pages of Lacroix's
publications "Hello!" for the French intelligentsia. The mansion on
avenue Iéna, in the 16th arrondissement, where Harcourt held court,
quickly became the chic Parisian location in which to be photographed.
Marlene Dietrich, Jean Gabin, Edith Piaf, Maurice Chevalier, Josephine
Baker, Coco Chanel—all passed through the handsome portals.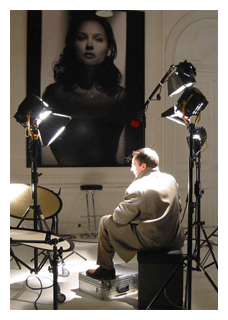 With
regret, Harcourt closed the doors in the 60s, put out of business by
new photographic styles, a clientele demanding to be photographed at
home, on location, away from anywhere that resembled a conventional
studio. "They were so short-sighted, they killed the goose that laid
the golden egg," reflects Pierre-Anthony Allard, art director and
snapper at Harcourt for twenty-three years. "And with the innovation of
the flash, the magic and mystery of the studio disappeared. Nobody
wanted black and white portraits anymore."


Nevertheless,
Allard wanted to continue le Style Harcourt. A portrait session uses 7
or 8 projectors; the equipment weighs about 400 kilos. "Taking a
portrait is like setting up a stage or film production: I help my
clients make their own movies." No longer strictly studio based, "we've
moved with the times, now we cross oceans taking the studio to the
client," he says. As they did recently for Ted Turner. "He just laughed
when he saw our massive equipment, but he really liked the results,
even thought he only gave us one hour!"


The
powers that be at The Ritz, Paris, were pretty miffed when Chief Rani
turned up for his session in the Hemingway Bar. "Life is full of
photographic moments," observes Allard, whose inspiration comes from
Vermeer, de la Tour, Fellini, Kubrick and his favourite film, Citizen
Kane.


Go
back to 1992. Allard had salvaged what was left of the bankrupt
Harcourt studio with the intention of photographing the stars of the
French cinema, such as Bardot, Montand, Signoret, for posterity. Fast
forward to 2004, which focuses Allard as Artistic Director of the
recently re-launched Paris Studio. The new "Madame Harcourt" is the
seriously elegant Countess Anne-Marie de Montcalm, who has invested 7
million euros transforming a multi-story 18th century town house,
behind the Champs Elysées, to take Harcourt into the 21st century and
beyond. "Because it's worth it," she smiles graciously.


"The
Countess and I met at a dinner party, started to talk about light, and
we're still talking," explains Allard. The third new partner, Remi
Carlioz, took his fiancée to be photographed at Harcourt as a wedding
gift. "I liked the portrait so much, I bought the company," grins the
new Director General. "We have so much to give Harcourt: three totally
different characters, with a vision to globalise, to wake up a sleeping
beauty. Our sights are set on Hollywood, on the new contemporary
heroes." Not only that, there are plans for limited edition books, a
perfume and, next year, a Grand Ball, toasting 70 years of the Harcourt
Adventure. Meanwhile they'll get the bums on adjustable stools, in
front of the cameras, by charging from 1,600€ to clients who will live
out two hours of pure fantasy, and end up looking like a movie star;
stand aside, Catherine Deneuve.


And
not just the beautiful people—products can be stars too. Zippo, Peugeot
(the 106 Cabriolet) SFR, and recently SEB brought their cult
"Cocotte-Minute" pressure cooker to be snapped; celebrating 50 years
and still steaming. Swiss watchmakers Vacheron Constantin launched
"Egerie," the must-have collection of ladies' arm candy, chez Harcourt.
Not only was the mother of all parties taking place in the candle-lit
salon, the mile-high windows framed with crimson drapes, the air
fragrant with white lilies, but guests were photographed and presented
with their portraits as they left.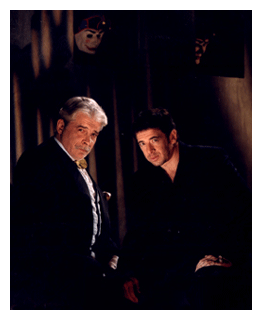 Clients
arriving for the two-hour photo session climb the plush red-carpeted
staircase and are greeted by an outsize portrait of actress Carole
Bouquet; the look, Mona Lisa with lots of cleavage. "This portrait took
five hours to perfect," confides Allard, a gregarious witness to three
generations of the rich and famous recorded by Harcourt. "A panorama of
history," he says. He points out the new Harcourt stars decorating the
wall:, Christian Lacroix, Cesar, Virginie Ledoyen, Emma de Caunes, Jean
Reno, Damon Hill, Michael Schumacher, Vanessa Paradis and HSH Prince
Albert of Monaco. They have all posed in the adjacent cavernous 480
square-meter studio housing Harcourt's unique "made in Hollywood"
equipment.


"I
want the feeling to be retro, like the 1930's, when stars were filmed
on the sets. The sessions unhurried, the lighting subtle, as Sacha
Guitry said, 'Even the ugliest woman looks great by candlelight'." But
she also needs as much help as she can get, the camera does not lie. Of
the baroque red, black and gold make-up studio, complete with washing
machine, power-shower and excellent facilities for your personal
trainer/hairdresser/shrink/make-up artist/significant other, he
explains, "We themed this space around Cocteau's Beauty and the Beast,
with a nod and a wink to John Boorman's Excalibur."


To
relax the sitter, there's champagne and music; don't forget, this is
the Haute Couture Central of photography. Tango Argentine for Jack
Lang, Frank Sinatra for musician Eve Ruggieri, Craig Armstrong for Elsa
Zylberstein, Michael Jackson for the beautiful 14-year old debutante
daughter of the billionaire American captain of industry, just arrived
in Paris on the family jet. "Music gives confidence. Everybody's always
worried about their look, their blemishes, where to put their hands,
their feet, which is their best side. And they're always delighted that
there's no flash!" he adds.


Allard
is self-taught, dreams of the day the French will accept photographs as
art, hang them on their chateau walls alongside the Matisses and
Picassos. Judging by the crowds at Paris Photo, the annual selling
exhibition held at The Carrousel du Louvre, that day may not be far
off. "In these days of instant digital gratification, photos sent by
e-mail, on mobile phones, 'le look Harcourt' remains the same: a
delicious retro-glamour," he smiles. Think vintage.


So
Monsieur Allard, how exactly can I prepare myself for the Harcourt
experience? "It's a game. Relax inside, have just a little a desire to
act; great photos are produced when the sitter has an interior light.
My iconic sitter is the late John Fitzgerald Kennedy—handsome, rich and
a fantastic smile. For me, Kennedy invented the smile on camera!"


10 rue Goujon, 75008. Paris.
Tel: +33 1 42 56 67 67
www.studio-harcourt.com


L'Eclaireur www.leclaireur.com






---
Born
in Britain and now based in Paris, Margaret Kemp graduated from The
Cordon Bleu and spent a year working and watching in the kitchens of
top chefs from Sydney, Australia via Bangkok, Hong Kong, California,
New York and France. Realising she would never win the coveted
3-Michelin stars, she decided to write about the people who do, the
"disciples of Escoffier."