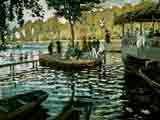 Alert readers already know about Les Etangs de Corot, the recently launched hotel/restaurant/ Caudalie spa, west of Paris, near Versailles. It's everything you want to eat, drink and chill. Owners Alice and Jerome Tourbier just added a sassy waterside restaurant to what they call our "well-being destination".
Talented young chef Benoit Bordier (ex-Jean Restaurant, Paris, trained with Michel del Burgo and Jean-Francois Rouquette) runs Les Etangs' three restos: Le Corot gastronomic. Le Café des Artistes, bistro dishes and tapas menu, under the vaulted ceilings of the cellar, dedicated to various personalities who frequented Ville-d'Avray. Always buzzing very gentlemens' club atmosphere, comfy leather sofas, walls lined with bottles (don't forget the owners are "Chateau Smith Lafitte, Bordeaux", they know a thing or two about wine darling). And, until September, bag a table as close to the water as possible at the wood-mounted guinguette, Les Paillottes. "It's important to preserve the guinguette attitude", insists Jerome Torbier.
What's a guinguette then?
Some say it's the name of a sharp wine once made near Argenteuil. Guinguettes were 18th century cafés, very animated, where folk would go before there was YouTube. They were located outside the city gates so owners escaped paying tax, were therefore able to serve drinks etc., at bargain prices. Later on guinguettes evolved into dancehalls along the Seine. To-day's concepts, like Les Paillottes, are a welcome evolution and it's worth noting La Maison Fournaise museum and restaurant keeping alive Guinguette atmosphere as painted by Monet and Renoir.www.grenouillere-museum.com "More than a concept, Les Etangs de Corot responds to a growing trend with chic Parisiens: rediscovering the world next door – the chance to get away without having to go anywhere", say the Torbiers.
Les Paillottes,
53-55 avenue de Versailles,
92410, Ville d'Avray,
T: 01 41 15 37 99
Average spend 40€ + wine
The Eiffel Tower is 120 years old, celebrations are taking place all over the city. Guy de Maupassant said he adored dining at the Eiffel Tower because it was one of the only places in Paris "where you can't see the ghastly place". To-day it's a global icon, one of the most recognisable and admired structures in the world.
A splendid spot to admire the Iron Lady is Café Branly, a museum café with great culinary attitude. This is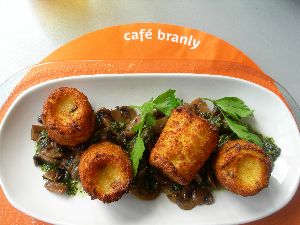 because of the enthusiasm and talent of Italian chef Francesco Ercoles (from Rimini) who trained with the great Louis Grondard chez Drouant. Whatever your budget Ercoles has something delicious for you. Tartines, with bread specially made for Branly by uber-baker Jean Luc Poujaran. Wonderful salads, say, Asiatique topped with a shower of vermicelli. Pizza Margherita, Cannelés de polenta croustillants à la noisette, a savoury version of Bordeauxs' speciality (SEE PHOTO) with crunchy salad. Cassolette de pétoncles pochées au lait safrané: Fusili au quinoa ragout de sanglier, sensational. Don't over order, helpings are huge. Save room for dessert: perhaps a café gourmand, with plenty of home made macarons. Or chefs' mums' tiramisu. There's smoothies, juices, home-made ice-creams, any time of the day you'll find a warm welcome, sit in the sun on the terrace, marvel at the Eiffel Tower, and wonder why de Maupassant was such a grumpy old man.
Café Branly,
27 quai Branly 7th
Metro: Alma Marceau: Bir Hakeim
Shut Mon – Closes at 8pm as does the museum
June 7th Fete des Meres 16€ 50 or A La Carte
Children's menu 10€
Breakfast formula 12€ Afternoon Tea 10€
Menu Jazz 16.50€
Average spend from 9-23€
T: 01 47 53 68 01
Le Reminet, located in a listed building just across from Notre-Dame, has re-launched with a new owner, chef and décor. Chef Eric Ponchet finally unpacked his suitcase after time spent in Japan, Madagascar, Polynesia, the Antilles, Saint-Martin, his dishes are sprinkled with aromatic herbs, oils, spices bits of boulgour, epeautre, quinoa. His blackboard changes

daily, "I cook what I like to eat, what I find in the market", he says. Interesting wines and aperitifs (Kir Normand, cassis, calvados, cidre fermier 6€) on the blackboard.
Frank Le Floch (owner) knows his wines, his list is a tour de France of the best. Chateau de Pez St. Estephe 2003 (68€) Chateau Haut Beau Sejour 2003 (63€) Want to splash out? Chateau Latour 1er Grand Cru Classé, Pauillac, 1928 (2690€). Maybe Le Floch will treat you to dinner if you order it?
You may find carpaccio of scallops and white leeks, argan oil dressing. Duck foie gras, roast pears, red wine and sechuan pepper, caramelized dry fruits and rocket salad, starters last week. Mains included roasted duck breast, sea bass or chunky veal medallion, salsify and bacon. Desserts are Ponchets' spin on smooth and crunchy flavours, he makes an excellent Cannelé with pineapple poached in a saffran syrup and rum raisin ganache. Good stuff!
Le Réminet,
3 rue des Grands Degrés, 5th
Lunch 14€ Dinner about 40€
Menu Gastronomic 55€ + wine
Metro: Cité,
T: 01 44 07 04 24