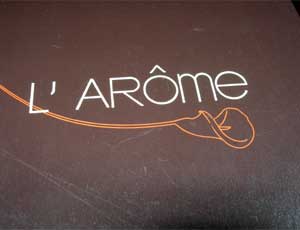 Eric Martins has worked with the greats, you name 'em Maxim's, Ledoyen, Arabian, Lucas Carton, Darroze, as Maitre d'Hotel. Remember him from the excellent L'Ami Marcel 15th, Martins recently launched L'Arome, behind the Champs Elysees (ex-Ksar). It's an airy two-story space  transformed by decorator Valerie Serin (ex-Jacques Garcia). Taupe walls, touches of orange, Murano chandeliers, big mirrors, fresh flowers, a chic et pas cher neo-bistro, buzzing with a young hip crowd.
Chef Thomas Boullault, still in his 20's, was at The Royal Monceau, George V hence the light talented touch. Tom comes from a family of chefs, says the first thing he remembers  from childhood is the sound of 2 Kenwoods beating up stuff in the family kitchens!
Martins and Thomas work in tandem, love truffles, truffle oils, fresh market produce. At present you can have truffles grated over everything (supplement 19€). Nice on the starter squid with different coloured beets from Joël Thiebault (join the line at the Marché avenue President Wilson Sat-Wed or order from www.lehautdupanier.com) Divine on Veal cheek with yuzu, sprouts and lemongrass or Venison with juniper berries, turnips and violet jelly. Would probably be fun to grate truffles on a dessert of Crepes Suzette? Mmm how about on the oven-baked Pomme Boskoop, with cider and Spéculoos. Fine wine cellar, try the Morgon 2005 (38€) Bien sur there's Pain Poujauruan, it's all good here, what else could you have with Marie-Anne Cantin's fromage darling? Accept no other.
If you haven't yet visited "the house that Jacques built" aka Le Musée du Quai Branly get yourself over there. There's nothing conventional about Jean Nouvel's $258 million museum complex and he said: "When you look at it, you may not know what it is – but you'll know it's not a social security-centre". Built to pull together France's collection of 300,000 artistic and culturel artifacts from Asia, the Americas, Africa and Oceania, its'  Jacques Chirac's legacy, he personally awarded the museum project to Nouvel in 1999. Patrick Blanc's "Vertical Garden" of plants sprouts from the walls of the office buildings. The museum is surrounded by a parkland, pools of water, its' Northern face, opposite the Seine, is shielded by a dramatic transparent glass screen.
On the roof, Les Ombres, where the view of the Eiffel Tower, Le Palais de Chaillot, Arc de Triomphe, your apartment, is awesome. (Note there is  Café Branly on the ground floor). In warm weather there's the large terrace, a zen river runs alongside the restaurant. The food at Les Ombres is divine. Arno Busquet (ex-Laurent, Robuchon) presents contemporary clean cut dishes, a perfect foil to the exhibitions below. Restaurant décor is by Nouvel: difficult not to slip a couple of plates or some cutlery into the Kelly.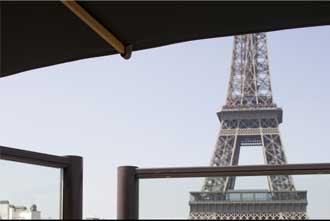 You'd expect fusion considering the theme of the Musée. Not really, a few oriental spices and products embellish certain dishes, but mostly it's French favourites: Creamy chestnut soup. Root vegetables on a beetroot jelly, very delicate. Juicy thick slice of turbot, on the bone, roasted with white beets and marrow. Lamb cutlets in a juniper berry crust.
Fun with a fruity Chateau Leoville Barton. Desserts are delicate: Coconut streusel with banana, mojito sorbet or, in hommage to the Iron Lady opposite – "La Grande Dame", Praline cream on a pastry base with lemon. Les Ombres means the shadows, the theme of shadow and sunlight plays tricks. Impossible not to melt as the Iron Light sparkles, sending shadows twinkling. C'est belle la vie.
Address Book: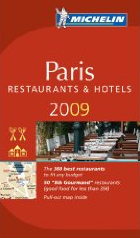 Les Ombres,
Portail Alma,
27 Quai Branly 7th (Metro: Pont de l'Alma)
T: 01 47 53 68 00
Closed Mon
Lunch 38€ Dinner A La Carte about 60€ + wine
19th Feb-11th May – Exhibition
Au Nord de Sumatra – Les Batak.
3 rue Saint Philippe de Roule 8th (Metro: Miromesnil)
T: 01 42 25 55 98
Lunch: Menu Changes Daily 27-34€
Dinner: Tasting Menu – 60€ + A La Carte
Closed Sat-Sun