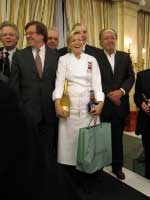 Just outside Paris the creators of Caudalie Vinotherapy Spas have launched Les Etangs de Corot. Taking a run-down hotel they've transformed it into a chic spa. Unless you were on another planet you'll know Caudalie are the revolutionary anti-aging products created in 1994 by Mathilde and Bertrand Cathiard Thomas, using grape pips from the family vineyards, Chateau Smith Lafitte, Bordeaux, much copied, never equalled.
In 1993, the Thomas' met an eminent professor from the Faculty of Pharmaceutics at Bordeaux University on the estate of Château Smith Haut Lafitte. The revelation he made would open the way to a new and exciting approach to skincare. Professor Vercauteren discovered that the grape seeds discarded at the end of the grape harvest contained powerful anti-aging properties. The grape seeds contain polyphenols which, once stabilized, have priceless benefits for the skin. The anti-oxidants contained in grape seed polyphenols have an incredible capacity to fight free radicals, and therefore fight skin aging. The free-radical protection from grape seed polyphenols is unequalled in the plant world. With the experience of wine making behind them and a patented, stabilized grape-seed polyphenol, Caudalie was born. (Source: The Caudalie Story)
It's the project of Alice and Jerome Torbier who fell in love with Les Etangs de Corot, with the beautiful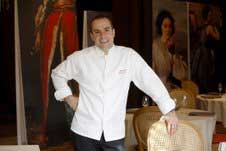 swan-lake, the bucolic peace, 10 minutes from Paris. "We feel it's a great opportunity for local clients, or visitors to Paris, who may not have time to get to Bordeaux", explained Alice.
Alice is the daughter of Florence and Daniel Cathiard, who have brought Chateau Smith Lafitte to the top of Robert Parker's Wine Advocate list. The 55- hectares of vineyards is the location of the original Sources de Caudalie Vinotherapy Spa; now they're worldwide, just open at The Plaza, New York after the $400 million facelift .
The red's a blend of 55% Cabernet Sauvignon 35% Merlot 10% Cabernet Franc. "A brilliant example of equilibrium and finesse with notes of tobacco, camphor, graphite, crème de cassis and liquorice", Parker gives the 2000 94/100. Buy from Berry Bros & Rudd www.bbr.com to drink between now and 2025.
Benoit Bordier, ex- Chez Jean, Paris is Executive Chef of Les Etangs' three restaurants. The informally chic Cafe des Artistes, lunch 37-49€€. Starter: Tartine de Boudin et sardine a la menthe, gambas: plat du jour, say, Roast Guinea fowl, leeks, cinnamon and lemon, and Chocolate crumble, star anise ice-cream. Les Pailottes, in warm weather, at the water's edge, you can feed the ducks see Camille Corot's villa. Corot (1796-1875) one of France's greatest landscape painters, a forerunner of the Impressionists, often painted the countryside surrounding the family pile at Ville d'Avray as in "Brume Matinal au Marais". See it in the Musee Marmottan www.marmottan.com
Bordier's Le Corot (he's going for the stars!) is an elegant airy space surrounded by trees, plants and birdsong. The chestnut/walnut colour decor features outsize screens decorated with figures taken from Corot's paintings. Stags and reindeer heads gaze from the walls, approving the young and innovative menu?
Get an idea of Bordier's bright talent with "Menu en 5 Seances" (85€). Ravioli of foie gras, with seaweed butter, soja and chestnut. Plump St. Jacques with vegetables, grain mustard, jus de haddock and curry. Main could be juicy chunk of sole on the bone with baby leeks, coconut, hazelnut, and puree of potatoes spiked with lime. Or, pink organic lamb sitting on a mousseline of spinach, a fragrant puddle of orange and cinnamon jus. Cheese is from Jean Yves Bordier (no relation: 9 rue Orme. St. Malo T : 02 99 40 88 79) Pudds are fruit fantasies, say, Pomme : Dacquoise of coconut, cider-baked apples and a sparkling glass of cider by uber-cider-maker Eric Bordelet. Or, La Poire: The Pineapple, Le Chocolat. All good, and all baked by BB.
Les Etangs de Corot
53 rue de Versailles, Ville d'Avray
T: 01 41 15 37 00
Getting there :
By train: Gare St. Lazare-Ville d'Avray Taxi from Paris about 35€
Les Etangs will send a car to collect from station or airport
Rooms & Suites from 185-320€ + breakfast 20€
Spa opens beginning December
2 night Spa & Gastronomie weekend 760€ per person
Includes breakfast – meals in Le Corot & Cafe des Artistes
Caudalie treatments
Cures of 2-6 days about 423€-1204€
Flora Mikula talented disciple of Alain Passard is Pudlo's Chef of the Year Paris 2009.
"Flora does not get enough recognition from our confreres", complains Pudlo. Soon available in English. BUZZ will tell you when.
Version Frenchie 18€50 Editions Michel Lafon
Rose and Jean-Charles Carrarini's Rose Bakery has a new address in the Marais, more a glass fronted concept store than a bakery. 30 rue Debelleyme 3rd (Metro: Filles de Calvaire) T: 01 49 96 54 01. Don't panic they're still at 46 rue des Martyrs, 9th. T: 01 42 82 12 80