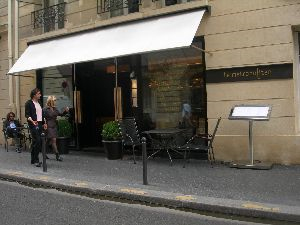 le metropolitan is chic central for the BCBG tribe of the tony 16th arrondissement. Launched recently it's the canteen of the edgy Hotel Le Metropolitan, recently transformed, located on the angle of Place Mexico and the buzzing rue des Belles Feuilles. Great location for flexing the Centurion: stay here and there are endless little boutiques and bars to satisfy the kvechiest of kvechers.
The initial journey into the restaurant can be a tad touchy; they're busy, probably understaffed, and the maitre d'hotel is sweating in his Hugo Boss. Not only was your reservation mislaid, so was everyone else's. Ignore. Once you are seated, the menu and wine list await on the table. And you can watch the theatre of the glass-panelled kitchen, with  talented David Gutman leading a team who look like they're having fun.
Go straight to the back of the menu and study the 26€ deal, "uniquement le midi"; you'll get starter, main and dessert. It changes daily, yesterday a really excellent leek vinaigrette with truffles, truffle pasta with sun-dried tomatoes and Terre de Bormane olive oil, and choice of three desserts. Don't try and change anything; Hugo Boss will not allow.
A glass of Domaine Adenis, La Mariole, Corbieres 2006 is 6€ or a bottle of white Domaine Roux, Bourgone Aligoté is 28€ or 7€ glass.
A la carte, try Fraicheur de Gambas, with romaine lettuce, tartare of avocado and grapefruit (13€) or, for the ladies who do, Burrata a la Truffe with three different types ot tomato (11€). Mains include Thon a La Plancha with cocotte of haricots de Paimpol and tomato (23€); Sole de Petit Bateaux with or without butter, confit of lemon, fresh spinach (32€); Filet de Boeuf, Black Angus Prime, chips and béarnaise (32€). Finish with Fontainebleau, a wonderful creamy soft whipped white cream cheese that Hugo Boss, who knows everything, says was invented by Monsieur Barthélémy, legendary affineur on rue de Grenelle, 7th. "He named it after his hometown. He's no longer with us, but his wife continues," confirms Hugo B. This ambrosia is served with an assortment of super-fresh plump raspberries and strawberries (10€). Le metropolitan is definitely worth the detour.
The Metropolitan Hotel has 38 rooms and 10 suites, 5 with stunning views of the Eiffel Tower. The signature Eiffel Suite on the 6th floor (665€ per night) has private access to the pool, Hammam and "Wellness Centre." The décor is by Francois Champsaur, who has found a cool balance between the 19th century Hausmann building and tomorrow's contemporary décor. The hotel's owned by the Dokhan family, experienced hoteliers who also have the excellent Le Dokhans, near Trocadero, on rue Lauriston.
le metropolitan
10, place de Mexico, 16th
Metro: Trocadero
T: 01 56 90 40 12
www.radissonblu.com/hotel-pariseiffel
Rooms & Suites from 295-715€
Open 7/7
Michelin's 2010 Guide to New York is released this week. Covering all five boroughs, new features this year include 109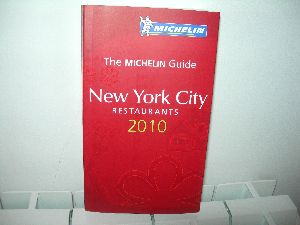 restos with meals under 25$ a nod to the crunch situation. The "Where to Stay" section is well illustrated and detailed. There's a "Small Plates" category featuring restos with a unique menu, ambiance or service style. There's now 5 x *** 6 ** 44 * star establishments.
Daniel Boulud's eponymous Daniel is the new 3-star alongside Jean Georges (although Jo-Jo is stripped to zero), Le Bernadin, Masa and Per Se. Corton enter the 2-star universe and Alto. Gilt, Gordon Ramsay at the London, Momofuku Ko and Picholine keep their two macarons.  New toques on the block Marea and SHO Shaun Hergatt only launched this summer – but have gained a * each. Alain Ducasse's Adour loses 1* as does Del Posto. Each restaurant has a detailed criticism and often a photo in fact it's a jolly good read. Maybe they'll put images of Mr Anonymous Inspector next!  Check out www.michelinguide.com/us/famously_anonymous/interview.html
An updated San Francisco guide comes out October 20th.
Price France 14€50
Please post your comments and let them flow. Register  HERE to do so if you need a user name and password.