Le Mas de Pierre, Saint Paul de Vence
The picture-postcard hillsides above Nice tell a long and winding tale. Everyone who visits, say, Saint Paul de Vence, originally built as a border fortification between Provence and Savoy, is seduced by its' timeless beauty. Through the years, from near or far, it is still one of the most beautiful perched villages in the South of France; read the world. Last week, on a warm spring evening, the air heady with the perfume of lavender and herbs, before cutting the ribbon to declare open his magnificent hotel, Le Mas de Pierre, owner Henri Chambon, told a brief history of Saint Paul de Vence whose light has inspired artists, writers and poets down the ages. Soutine, Renoir, Bonnard, Signac, Matisse, Chagall, Leger, Braque, Cocteau, Jacques Prévert, André Verdet, and also Yves Montand, Jean Marais, Lino Ventura, Michel Boujenah. And, recently, Rod Stewart and Penny Lancaster, shhhh…. the very first guests at the very amazing Le Mas de Pierre.  "If it were a book it would be a fairytale, if it were a dream it would be a suite with a terrace, fragrant with the aromas that are the South of France. If it were a voyage it would be to the Le Mas de Pierre", observed Rene Buron, Saint Paul de Vence's Mayor. Alright he does go on a bit, and what with the trumpets trumping and strumpets dancing Provence jigs, guests were chomping at the bit for a bit of champagne, a drop of local plonk, and some fat black olives. They were not disappointed, the buffet was epic, as was the soirée.  So where is it? Located at the foot of the St. Paul ramparts, on a former private estate, the owners have spared no expense to create a **** star hotel (architect Philippe Caron) with suites and apartments, choose discreet Provencal, romantic or colonial, décor by Patrick Ribes.  Balconies, loggias, patios, private pools; lush landscaped gardens, with grapefruit, lemon, fig, olive and
kumquat trees, created by garden guru Jean Mus. The greenhouse spills over with hundreds of orchids, in the midst of which is a reading space; very zen. Stroll over to the aviary, or play petanque before a visit to the spa, a massage and a session with your personal trainer. Seven designer mas (farmhouses), punctuate the grounds. Traditional slate roof tiles, wrought-iron railings, call and book Camille, Dominique, Estelle, Florian, Gregoire,  (then they'll know you know what it's all about Alfie) painted in Provencal primary colours, enough space to have your staff/children/chef. No, they're not saying which one Rod and Penny stayed in, that would be indiscreet n'est pas? How would you feel if……. Businessmen can book one, or all five, Meeting Lounges, with vast terraces overlooking the handsome hills. Director Olivier Pollard explains, "companies can take over the entire hotel, or hold small meetings. We have the facilities to deal with any requirements, plus sophisticated ultra-modern technology, unique on the Riviera". Whatever the size of the meeting/company/bash guests gather at "La Princesse" the bar/lounge with a grand piano, a roaring fire for cooler nights, house cocktails and an extensive library. Gucci shoes, Birken bags required. The airy restaurant, La Table de Pierre, in the main hotel, features local cuisine and "healthy rotisserie food" prepared by Alexis Mayroux (ex- Michel Guérard). "My concept is to create a family-home atmosphere, cook dishes with a local accent, using local products", explained Mayroux loftily. For lunch read meats, poultry, fish on the grill, the Molteni rotisserie, or à la plancha. At night expect light modern cuisine, say, Wok de Calamares tièdes à la Provencale, Asparagus vertes roties, Copeaux de Parmesan, emulsion aux eclats de noisette. Mains may be whole fresh rouget, cabillaud, veal, or from the grill, which works so hard there will soon be a demo for its' benefit! Delicious desserts include Millefeuille aux fraises and Ile flottante a l'Ancienne, Crème Anglaise. "Note, it's always seasonal produce, with matching local wines", insists Mayroux.  Wherever you decide to hang your sunhat you'll find impressive attention to detail, magnificent marble bathrooms (Anne Semonin freebie products), Wi-Fi, air-conditioning, plasma screen TV's, discreet staff. Dip into your own private pool or the infinity black pool with private Arabian nights tents to chill out before and after the swim.  And, don't miss the sunset, as the blazing red ball drops behind the mountains of Saint Jeannet, you'll be so glad you came here; looking for an excuse to return.Maybe you'll bag the gaff next to Rod the Mod. Le Mas de Pierre,Route des Serres, 06570 Saint-Paul-de-Vence
www.lemasdepierre.com
T: 04 93 59 00 10From 170€ – 600€ depending on the season+ Buffet Breakfast 27€ per day per person – Children up to 12 free breakfastFree parkingGroup rates on request
SUBSCRIBE
ALREADY SUBSCRIBED?
BECOME A BONJOUR PARIS MEMBER

Gain full access to our collection of over 5,000 articles and bring the City of Light into your life. Just 60 USD per year.

Find out why you should become a member here.

Sign in

Fill in your credentials below.
The picture-postcard hillsides above Nice tell a long and winding tale. Everyone who visits, say, Saint Paul de Vence, originally built as a border fortification between Provence and Savoy, is seduced by its' timeless beauty. Through the years, from near or far, it is still one of the most beautiful perched villages in the South of France; read the world.
 
Last week, on a warm spring evening, the air heady with the perfume of lavender and herbs, before cutting the ribbon to declare open his magnificent hotel, Le Mas de Pierre, owner Henri Chambon, told a brief history of Saint Paul de Vence whose light has inspired artists, writers and poets down the ages. Soutine, Renoir, Bonnard, Signac, Matisse, Chagall, Leger, Braque, Cocteau, Jacques Prévert, André Verdet, and also Yves Montand, Jean Marais, Lino Ventura, Michel Boujenah. And, recently, Rod Stewart and Penny Lancaster, shhhh…. the very first guests at the very amazing Le Mas de Pierre.
 
"If it were a book it would be a fairytale, if it were a dream it would be a suite with a terrace, fragrant with the aromas that are the South of France. If it were a voyage it would be to the Le Mas de Pierre", observed Rene Buron, Saint Paul de Vence's Mayor. Alright he does go on a bit, and what with the trumpets trumping and strumpets dancing Provence jigs, guests were chomping at the bit for a bit of champagne, a drop of local plonk, and some fat black olives. They were not disappointed, the buffet was epic, as was the soirée.
 
So where is it? Located at the foot of the St. Paul ramparts, on a former private estate, the owners have spared no expense to create a **** star hotel (architect Philippe Caron) with suites and apartments, choose discreet Provencal, romantic or colonial, décor by Patrick Ribes.  Balconies, loggias, patios, private pools; lush landscaped gardens, with grapefruit, lemon, fig, olive and
kumquat trees, created by garden guru Jean Mus. The greenhouse spills over with hundreds of orchids, in the midst of which is a reading space; very zen. Stroll over to the aviary, or play petanque before a visit to the spa, a massage and a session with your personal trainer.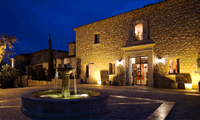 Seven designer mas (farmhouses), punctuate the grounds. Traditional slate roof tiles, wrought-iron railings, call and book Camille, Dominique, Estelle, Florian, Gregoire,  (then they'll know you know what it's all about Alfie) painted in Provencal primary colours, enough space to have your staff/children/chef. No, they're not saying which one Rod and Penny stayed in, that would be indiscreet n'est pas? How would you feel if…….
 
Businessmen can book one, or all five, Meeting Lounges, with vast terraces overlooking the handsome hills. Director Olivier Pollard explains, "companies can take over the entire hotel, or hold small meetings. We have the facilities to deal with any requirements, plus sophisticated ultra-modern technology, unique on the Riviera". Whatever the size of the meeting/company/bash guests gather at "La Princesse" the bar/lounge with a grand piano, a roaring fire for cooler nights, house cocktails and an extensive library. Gucci shoes, Birken bags required.
 
The airy restaurant, La Table de Pierre, in the main hotel, features local cuisine and "healthy rotisserie food" prepared by Alexis Mayroux (ex- Michel Guérard). "My concept is to create a family-home atmosphere, cook dishes with a local accent, using local products", explained Mayroux loftily. For lunch read meats, poultry, fish on the grill, the Molteni rotisserie, or à la plancha. At night expect light modern cuisine, say, Wok de Calamares tièdes à la Provencale, Asparagus vertes roties, Copeaux de Parmesan, emulsion aux eclats de noisette. Mains may be whole fresh rouget, cabillaud, veal, or from the grill, which works so hard there will soon be a demo for its' benefit! Delicious desserts include Millefeuille aux fraises and Ile flottante a l'Ancienne, Crème Anglaise. "Note, it's always seasonal produce, with matching local wines", insists Mayroux.
 
Wherever you decide to hang your sunhat you'll find impressive attention to detail, magnificent marble bathrooms (Anne Semonin freebie products), Wi-Fi, air-conditioning, plasma screen TV's, discreet staff. Dip into your own private pool or the infinity black pool with private Arabian nights tents to chill out before and after the swim.  And, don't miss the sunset, as the blazing red ball drops behind the mountains of Saint Jeannet, you'll be so glad you came here; looking for an excuse to return.
Maybe you'll bag the gaff next to Rod the Mod.
 
Le Mas de Pierre,
Route des Serres,
06570 Saint-Paul-de-Vence
www.lemasdepierre.com
T: 04 93 59 00 10
From 170€ – 600€ depending on the season
+ Buffet Breakfast 27€ per day per person – Children up to 12 free breakfast
Free parking
Group rates on request
---
---