l'Aube en Champagne: Two Hours From Paris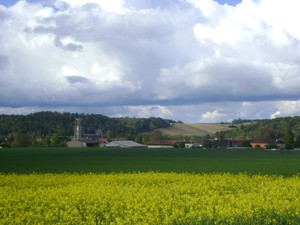 Most people, when they think of Champagne, think of the northern half of this region, the area around Reims (rhymes with prince!), and it's a wonderful place to visit.
But the département de l'Aube (aube means "dawn"), the part whose southern border nestles against Burgundy, offers a very different landscape, a unique history and culture, a completely different set of attractions for visitors. L'Aube is also home to an astonishingly rich store of excellent artisanal champagnes made in smaller, more intimate, and thus usually friendlier enterprises than their more famous counterparts to the north. (Most of these champagnes tend to stay in the region: one very good reason for going there, but certainly not the only one.)
The capital city, Troyes, is a jewel of a town that boasts, among many other things, one of the largest quartiers of beautifully restored half-timbered buildings in France; the unique and fascinating Musée de l'Outil et de la Pensée Ouvrière; a highly respected Musée d'Art Moderne; a wealth of extraordinarily beautiful stained glass from the 13th to the 19th centuries in its cathedral and in its many churches; and historical connections with religious celebrities from the great Talmudic scholar Rashi to Joan of Arc and Pope Urban IV.
Throughout l'Aube there are fascinating places to visit and things to see and do, from the Musée du Fromage, which celebrates the département's most famous and most beloved cheese (the delectable chaource) to the tiny Musée de la Résistance in Mussy-sur-Seine, which is staffed by volunteers and open only by appointment. Upon request at the Office de Tourisme it is gladly opened for you, and you will never have a more intimate or, in my case, a more moving experience. This local history museum has painstakingly, lovingly, and very effectively recorded the heroic efforts of 1200 maquisards who took to the forest around Mussy in the summer of 1944, determined to make as much trouble for their German occupiers as they possibly could, in an attempt to impede their progress as Allied forces fought their way forward from Normandy, into France and on toward Germany.
L'Aube is a great place to visit any time of the year, but in the summer the number of opportunities for sightseeing and discovery explode in a profusion of choices. Here are just a few tantalizing samples of special events in l'Aube during the summer, with details available for many more on the local and regional websites of the offices de tourisme.
On June 5 and 6 the village of Essoyes, home of Renoir, will host its fourth annual Chevalets d'Essoyes, featuring 70 artists from near and far, who will display and sell their works in public and private spaces throughout the village. A bal musette in the community center on Saturday evening will offer live music, plenty of food and, of course, champagne. Local Renoir historian Bernard Pharisien gives free guided tours (in French) both Saturday and Sunday morning at 10:30 a.m. (Those interested in joining the tour should look for him in the church square.)
On June 20-21, Troyes joins in celebrating la Fête de la Musique. Details still to come, but even without a festival, Troyes on a summer evening is a lively, delightfully festive place.
Each summer the part of the Route Touristique du Champagne that passes through l'Aube features La Route du Champagne en Fête. Vintners open their caves for a weekend of tours and dégustation, and locals as well as visitors enjoy a host of auxiliary activities. This year the celebration takes place July 24-25 in eight participating villages: Cunfin, Essoyes, Fontette, Landreville, Loches-sur-Ource, Noé-les-Mallets, Verpillières-sur-Ource, and Viviers-sur-Artaut. These picturesque villages, tucked into the surrounding vine-covered hills, are all delightful to visit at any time, but why not join in the celebration? (If you want to do so, you should book accommodations now!)
L'Aube is also home to the beautiful and expansive Forêt d'Orient, which encompasses lakes, rivers, and ponds that offer abundant opportunities for boating, water sports and fishing. Bird-watching, bicycling, hiking, camping and other outdoor activities are also popular in this vast natural preserve.
L'Aube is close enough to Paris to be a very doable day trip but my hunch is that the first time you do it you will either scrap your plan to return at the end of the day, choosing to extend your stay in Troyes, or in an aubois village or town; or you will kick yourself for not having allowed more time.
Of course, the beautiful thing—in the latter event—is that you can always come back, again and again! After all, it's only two hours away.  (774)
Janet Hulstrand is a writer, editor, and teacher of literature and writing based in Silver Spring, Maryland.  Each summer she teaches "Paris: A Literary Adventure," and each winter "Hawaii: A Literary Adventure" for Queens College, CUNY. She also offers spring and fall writing workshops in the village of Essoyes, in Champagne www.essoyesschool.com. This is the first in a series of pieces she will write about things to see and do in l'Aube. You can also read her essays about travel, literature, and writing on her blog, "Writing from the Heart, Reading for the Road," www.wingedword.wordpress.com.

If you're coming to France (or for that matter anywhere) you can reserve your hotel here. To rent a car, Bonjour Paris recommends Auto Europe.
Please post your comments or questions and let them flow. Register HERE to do so if you need a Bonjour Paris user name and password.

Leave a reply
Your email address will not be published. Required fields are marked *