L'Atelier de Joël Robuchon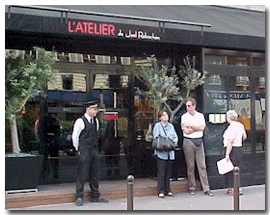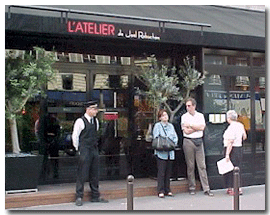 Master
chef Joël Robuchon ended his retirement to launch L'Atelier de Joël
Robuchon. The restaurant opened on May 7th, next to the Hotel Pont
Royal near the Rue de Bac métro station in the seventh arrondissement.
Curiously,
reservations are not accepted. Initially, people were supposed to be
able to call one hour in advance to reserve a table. But when I stopped
by the restaurant shortly after the opening and inquired about this
policy, I was told that they were no longer answering the phone – the
short-term reservation system overwhelmed them with calls. I asked for
the restaurant's card, but there were none left. Better luck next time…
Several
days later, on a Sunday afternoon, I went to L'Atelier to check out the
menu to plan what I would order when and if I was ever able to get a
seat. I was surprised to find it open. I looked at the menu in depth
and was delighted to find prices as low as six euros. An American
looked over my shoulder said that he had just spent more on a beer at a
nearby café than some of the starter prices. He went on to say that he
was a guest at the Hotel Pont Royal and had frequently seen a long line
to get into the restaurant. We wished each other luck on getting a
table and went our separate ways.
It
dawned on me that there was no line in front of the restaurant at that
moment, so I walked up the steps. The doors were locked but the hostess
opened them for me and I asked her in my most polite French if there
was a seat for one. There was, she took me to it.
Sitting
at the counter, I could see a piglet roasting on the spit in the
kitchen, which is in the center of the restaurant. The staff is dressed
in black, and the chefs wear black vests. The restaurant is dark; black
marble from Zimbabwe and dark cherry-colored Ballesandre wood from the
18th century line the counters, the seats are red and the prints on the
wall have a minimalist Asian feel. The direct overhead recess lighting
is excellent. Although slow, the service is very friendly and
informative. The doors remain locked during service hours.
I
wanted the salade de poulpe au citron vert (salad with octopus and
lime) but there was no poulpe that day so they replaced it with shrimp.
The salad was small, acidulated and delicious. It included whole
shrimp, a brunoise of kalamata olives, bell peppers, chives, a few thin
slices of onion and a healthy dose of lime juice. I had a glass of
Rueda Basa, a Spanish Sauvignon which was a delicious match – it was
dry, fruity and refreshing.
After
looking at my neighbor's plate, I decided to order the vegetable
millefeuille, a small stack of grilled zucchini, tomatoes confits, and
eggplant with mozzarella, basil coulis, course grain salt, and a little
vinegar served warm – absolutely simple and sumptuous. Finally, I
ordered the gaspacho aux croutons dorés as a main course (you have the
option of ordering it and some of the other starters as main courses).
It was light and flavorful – ripe, in-season tomatoes, balsamic vinegar
and golden croutons on top made it the perfect treat on a hot humid day.
For
dessert I had the nage de fruits frais with a sorbet au basilic et
citron vert. A small quenelle of lime and basil sorbet topped
strawberries, pineapple, and melon cut into geometric shapes and served
in a delicately sweet basil sugar infusion. The sorbet was a revelation
and the combination of flavors was light and refreshing.
For
non-smokers, L'Atelier is a godsend! The entire restaurant is
non-smoking and this rule is strictly enforced. While I finished my
dessert, a client lit up a cigarette and started a small scandal. Four
of the servers and the sommelier came over to request that he put his
cigarette out, other customers also asked him to leave or put the
cigarette out. The man paid his bill and slowly put out his cigarette
while starting a conversation about the rights of smokers in nonsmoking
restaurants, the debate was friendly but the message was clear, no
smoking.
As I finished my
coffee, the last clients paid and left. The sommelier, Antoine
Hernandez, offered me a second cup and asked if the smoking customer
bothered me. I said he didn't. I asked if management considered the
reservation and door policy a problem. He said the current system is
inconvenient for clients and service but that changes would be made
soon for everyone's benefit. Fortunately, I did not have to wait to get
in this time, but given the quality of food, I would be willing to
stand in line – for a little while – to eat at L'Atelier de Joël
Robuchon.
L'Atelier de Joël Robuchon
5, rue de Montalembert
75007 Paris
Tel: 01 42 22 56 56
M° Rue de Bac
Lunch
is served 11 AM to 3 PM, unless there is a long line of people, in
which case the lunch hour is extended. Dinner service begins at 6 PM.
—
Klancy
Miller is a pastry chef and freelance writer. She has been studying
French since the age of 13, and visiting Paris for the past twelve
years, since she was 16.
Leave a reply
Your email address will not be published. Required fields are marked *