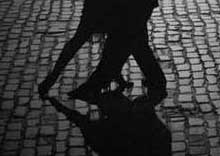 On pleasant weekend evenings she meets him at dusk at the Quai Saint-Bernard. Tonight, wearing a silky white blouse and hip-hugging white skirt that extends to her knees in soft, full folds, she descends the pebbly path to the Seine, jauntier in sling-back pumps than most women half her age. Her ash-blonde hair, funneled in back by a big white bow, bobs up and down, keeping pace. Stone-faced, bent forward, hands folded between his knees, he waits for her on a wooden bench. On his head rests a black-banded white panama drawn rakishly over a wavy white thatch. His pale eyes flicker when he spots her and at once he trades his running shoes for the contents of his satchel: white leather slip-ons with Cuban heels. Rising for les bis (the customary kiss on both cheeks), he checks first to make sure his long-sleeved black shirt is tucked in. My husband Bill and I follow them along the esplanade at the river's edge, to a semi-circle of glossy white paving stones laid together almost seamlessly. On this unlikely dance floor, tanguistes of varying ages and ability are responding to tinny music from a boom box. A gallery of onlookers lolls on a wide stone staircase—their amphitheater—and when the old couple approaches, there are fist-over-mouth murmurs of recognition—and delight. j Moments later, a lofty arc lamp suddenly casts amber beams on the dance floor and the streetlights along both banks spangle the murky Seine. Honking gray barges
shuffle by imperiously. Passengers on sleek white pleasure boats wave wildly to be noticed. But nothing can upstage the new arrivals on the quay, both of them poised to catch the salient first beat of "La Cumparsita." By the third chorus his role as signaler of the steps to come and hers as interpreter, have inspired me to scribble my own lyrics. First, he pulls her Close to his torso Then, right knee bent, His left arm forceful, Leads her 'round him To form a fan and Make clear who has The upper hand. Dipping, lunging He gratifies her. Her knee plunging Between his thighs, though, Makes the statement: "I'm equal to this man." The couple's interpretation of a dance once deemed obscene by the clergy is mesmerizing. Bill and I saw them perform a year ago on a final night in Paris when we meandered beyond Notre Dame, beyond the Ile-St.-Louis, and came upon this unfamiliar quay. There they were: a street version of Rudolph Valentino and Cyd Charisse, executing the Argentine tango with supple sensuality. There we were: bowled-over American visitors, cursing ourselves for not bringing a camera; for not being able to record for our grandchildren one stunning example of why we're lured back year after year to this city of paradoxical conjunctions of discovery and tradition. Tonight, Bill is a stalker, moving stiff-legged from stair to stair. Capturing the couple's moves in black-and-white, he shows the fervor of a Cartier-Bresson. I sit lazily on the top step, notepad in hand. After an hour of dancing, the pair climbs up to meet us. Still stone-faced, Raymond Legrez hands Bill his card. Myriam Calecki, a winsome mix of self-possession and humility, smiles and asks what major publication we represent. When I tell her none—that we merely want a blown-up photo of them to hang in our living room—she blinks, bewildered. "A picture of us pour votre maison?" When she echoes me in heavily accented English, the idea does sound bizarre. In halting French, I assure her we are sincere. I tell her I'm a retired editor-turned-freelance-writer, and now that we've met I have many questions. Could we meet again, at their convenience? Myriam suggests (in French/English) the following Samedi (Saturday) at 8? "If it rains, Dimanche (Sunday), same time?" I nod. "I will bring my daughter," says Myriam. "She speaks your language very good." With that, she and Raymond excuse themselves and sashay down to a floor now jammed with young couples. During the week we visit the American Library, our reading room away from home. There, I try desperately not to doze while skimming through three encyclopedic narratives on the tango. Bill has the film developed, but is not pleased with the results. The man at the camera shop shrugs and explains that the high-speed black-and-white film my husband chose, hoping to capture the motion of dancers, produces blurry enlargements if used at night. On Saturday we arrive at the quay early. Lovers stroll by, stealing kisses, fondling each other's derriere, not caring who notices. People led by dogs on leashes zigzag listlessly from the pedestrian esplanade to the quay's hillside garden, where the contemporary artworks of the Sculpture en Plein Air museum—some new, others restored after acts of vandalism—stand in steely defiance beside soft green shrubs. The riverside dance floor lies empty—that is, until an old white Ford sedan pulls up and four people get out: a gentleman wearing a dark Savile Row suit and a silver tie that matches his hair, a pretty young brunette in a low-cut black dress, and two muscular young men in striped Tees and tight black pants. One of the young men pulls a boom box from the trunk. The other hauls out two speakers, each the size of a small wine refrigerator. Together, they begin setting up the equipment near the squat stonewall that separates…
SUBSCRIBE
ALREADY SUBSCRIBED?
BECOME A BONJOUR PARIS MEMBER

Gain full access to our collection of over 5,000 articles and bring the City of Light into your life. Just 60 USD per year.

Find out why you should become a member here.

Sign in

Fill in your credentials below.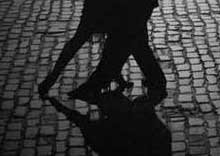 On pleasant weekend evenings she meets him at dusk at the Quai Saint-Bernard. Tonight, wearing a silky white blouse and hip-hugging white skirt that extends to her knees in soft, full folds, she descends the pebbly path to the Seine, jauntier in sling-back pumps than most women half her age. Her ash-blonde hair, funneled in back by a big white bow, bobs up and down, keeping pace.
Stone-faced, bent forward, hands folded between his knees, he waits for her on a wooden bench. On his head rests a black-banded white panama drawn rakishly over a wavy white thatch. His pale eyes flicker when he spots her and at once he trades his running shoes for the contents of his satchel: white leather slip-ons with Cuban heels. Rising for les bis (the customary kiss on both cheeks), he checks first to make sure his long-sleeved black shirt is tucked in.
My husband Bill and I follow them along the esplanade at the river's edge, to a semi-circle of glossy white paving stones laid together almost seamlessly. On this unlikely dance floor, tanguistes of varying ages and ability are responding to tinny music from a boom box. A gallery of onlookers lolls on a wide stone staircase—their amphitheater—and when the old couple approaches, there are fist-over-mouth murmurs of recognition—and delight. j
Moments later, a lofty arc lamp suddenly casts amber beams on the dance floor and the streetlights along both banks spangle the murky Seine. Honking gray barges

shuffle by imperiously. Passengers on sleek white pleasure boats wave wildly to be noticed. But nothing can upstage the new arrivals on the quay, both of them poised to catch the salient first beat of "La Cumparsita." By the third chorus his role as signaler of the steps to come and hers as interpreter, have inspired me to scribble my own lyrics.
First, he pulls her
Close to his torso
Then, right knee bent,
His left arm forceful,
Leads her 'round him
To form a fan and
Make clear who has
The upper hand.
Dipping, lunging
He gratifies her.
Her knee plunging
Between his thighs, though,
Makes the statement:
"I'm equal to this man."
The couple's interpretation of a dance once deemed obscene by the clergy is mesmerizing. Bill and I saw them perform a year ago on a final night in Paris when we meandered beyond Notre Dame, beyond the Ile-St.-Louis, and came upon this unfamiliar quay. There they were: a street version of Rudolph Valentino and Cyd Charisse, executing the Argentine tango with supple sensuality. There we were: bowled-over American visitors, cursing ourselves for not bringing a camera; for not being able to record for our grandchildren one stunning example of why we're lured back year after year to this city of paradoxical conjunctions of discovery and tradition.
Tonight, Bill is a stalker, moving stiff-legged from stair to stair. Capturing the couple's moves in black-and-white, he shows the fervor of a Cartier-Bresson. I sit lazily on the top step, notepad in hand.
After an hour of dancing, the pair climbs up to meet us. Still stone-faced, Raymond Legrez hands Bill his card. Myriam Calecki, a winsome mix of self-possession and humility, smiles and asks what major publication we represent. When I tell her none—that we merely want a blown-up photo of them to hang in our living room—she blinks, bewildered. "A picture of us pour votre maison?" When she echoes me in heavily accented English, the idea does sound bizarre. In halting French, I assure her we are sincere. I tell her I'm a retired editor-turned-freelance-writer, and now that we've met I have many questions. Could we meet again, at their convenience? Myriam suggests (in French/English) the following Samedi (Saturday) at 8? "If it rains, Dimanche (Sunday), same time?" I nod. "I will bring my daughter," says Myriam. "She speaks your language very good." With that, she and Raymond excuse themselves and sashay down to a floor now jammed with young couples.
During the week we visit the American Library, our reading room away from home. There, I try desperately not to doze while skimming through three encyclopedic narratives on the tango. Bill has the film developed, but is not pleased with the results. The man at the camera shop shrugs and explains that the high-speed black-and-white film my husband chose, hoping to capture the motion of dancers, produces blurry enlargements if used at night.
On Saturday we arrive at the quay early. Lovers stroll by, stealing kisses, fondling each other's derriere, not caring who notices. People led by dogs on leashes zigzag listlessly from the pedestrian esplanade to the quay's hillside garden, where the contemporary artworks of the Sculpture en Plein Air museum—some new, others restored after acts of vandalism—stand in steely defiance beside soft green shrubs.
The riverside dance floor lies empty—that is, until an old white Ford sedan pulls up and four people get out: a gentleman wearing a dark Savile Row suit and a silver tie that matches his hair, a pretty young brunette in a low-cut black dress, and two muscular young men in striped Tees and tight black pants. One of the young men pulls a boom box from the trunk. The other hauls out two speakers, each the size of a small wine refrigerator. Together, they begin setting up the equipment near the squat stonewall that separates the dance floor from the Seine. The young woman stands by, posing with her hand behind her head, gazing at the river traffic. But it's the well-dressed man, plastic beach pail in hand, who steals our attention.
With a gloved left hand he scatters white powder on the paving stones. Once the gauzy air around him settles, he uses a frayed broom to sweep each step above the dance floor, pausing every so often to brush a powdery smudge from his suit. When three armed policemen on mountain bikes roll up, the well-dressed man signals one male cohort to park the sedan up on the street. We get the impression this isn't the first time the men have been warned to remove it.
Spotting Raymond, Myriam, and a 40-ish couple, we join them at "Raymond's bench."  Myriam introduces us to her daughter, Lise Kern, and Lise's boyfriend, whose name we fail to catch. Bill hands Myriam three 8 by 10 glossies and apologizes for their grainy quality. Still, a print of her slinging one knee over Raymond's has Myriam  "oh-la-la-ing."  Soon, the older couple and my amateur photographer husband head off to the dance floor, while the boyfriend lights a cigarette, waves bye-bye, and heads for the river wall.
From Lise I learn that her mother and Raymond, both native Parisians, are often asked if they're from Argentina, where the tango originated. Raymond is a retired printer; Myriam, a former pre-school headmistress. They met at a dance 12 years ago. She watched all evening as Raymond tangoed with other women. When he finally approached Myriam, she "practically jumped into his arms," says Lise. "They have been dance partners, and only that ever since." Both savor the renascence of the tango here in the last eight years, says Lise. "Ma mere lives alone in a flat near Mouffetard, the old street market, you know." She points up the hill. "Raymond lives somewhere in the 10th (arrondissement). They enjoy dancing together—c'est tout."  Lise's boyfriend has lit another cigarette and is beginning to pace. "Any other questions?" she asks.
"Yes. Why is it your mother and Raymond dance here and not in a ballroom?" The young woman laughs. "They do ballrooms seven or eight months of the year. This is their 'summer' place." She adds, "Shortly after my mother and Raymond met, a friend who teaches tango decided to hold classes here. Word got out, and the idea of dancing by the river appealed to skilled dancers, so tango groups began meeting here on weekends. Now, many of them come nearly every night—from mid-April to the end of September; the younger dancers often stay as late as 2 a.m. The groups have formed a loose coalition and take turns providing the recorded music."
When I mention the foursome in the Ford and describe the actions of the well-dressed man, Lise grins. "He was spreading chalk on the paving stones. They are highly polished and the chalk makes them less slippery. His sweeping the dust off all the stairs—not just those by the floor where the dancers sit—is a courtesy to the audience." The vibrant Myriam appears without warning. "Lise is saying to you everything you need?"
"She's told me a lot, I reply. "Still, if you don't mind, I'd like to know how old you and Raymond are." Myriam bubbles. "Ah, you know, when I am on the dance floor I feel like a jeune fille, a girl of 20." Glancing around, she leans forward and lowers her voice. "But I will have 69 years next month." I am struck by her candor. Another woman would simply have said "I'm 68." I turn to Raymond, but before I can speak, he mutters, "Soixante-douze (72)." I look down, hoping to deflect my skepticism. Off the dance floor, the man appears to be in his 80s. Yet he remains eminently limber, unlike my same-age husband who has undergone knee and hip replacements.
"Just one more thing," I say before waving Lise off. "Do you tango?"
"Not very well, madame. My daughter does, though. She is 15. Practicing every day since she was 11." Lise winks. "One day she'll be as good as ma mere."
Once Lise departs, Myriam becomes her own press agent. Did we know she and Raymond have been background dancers on TV and in films? Appeared in live tango productions in Geneva and throughout Paris? Been written up (she leans forward and squints at my notepad) in local newspapers? Tango publicly only with each other? "Oui," I smile. "Lise told me."
After that, we head for the crowded dance floor where a young American girl—12, perhaps—embarrasses herself by tripping over her father's feet. Hands raised in frustration, she runs to her mother. "I lost the beat," she wails, as the staccato rhythm of "Jalousie" pierces the air.
The middle-aged gentleman and the young brunette are rocking in place because of dance floor congestion. His left hand, the guiding hand, rests between her shoulder blades; his gaze is fastened on her breasts. The muscular young men who came with them are dancing together, cheek to cheek, outer arms locked and stretched forward. The pale references I read in the American Library suddenly take on color.
Parisians were introduced to the tango a decade or more before Raymond was born. Around 1910, wealthy young Argentine playboys on the Grand Tour began teaching proper ladies in elite Paris salons the earthy dance they'd learned in the brothels of Buenos Aires. Soon, the tango became the rage of the decade. The caricaturist Sem wrote: "It has spread all over Paris. There are tango tea parties, tango exhibitions, tango lectures. "Half of Paris rubs up against the other half. It ( Paris) has got the tango under its skin."
Parisian schoolgirls were forbidden to tango in the 1910s. But the teenage niece of a young marquis who'd learned the dance in Buenos Aires prevailed upon her uncle to teach her. Shortly thereafter, wearing an embroidered white dress and a white bow in her hair, she entered a tango competition in Deauville and won first prize. In her autobiography, the woman, Adry de Carbuccia, insisted that "when well-danced, there was nothing improper about the tango." Nevertheless, early 20th-century Pope, Pius X, condemned it for its "barbarian contortions," viewing the tango as symptomatic of moral decline. Even today, one British social commentator calls it "a vertical expression of a horizontal desire."
In Paris, heterosexual women of the 1920s found the tango liberating. For married women, an afternoon of dancing and, perhaps, dalliance with a gigolo was not uncommon. Against the standard concept of the tango as machismo, gays worldwide were also finding equity in a dance which, from the 1930s on, has enjoyed universal acceptance. Since its origin in 1870, when men danced with other men in the alleys of Buenos Aires—inadvertently creating the pattern for the Argentine tango—nothing about the dance has been more personal than its meaning. To some, the tango has meant love and life and passion; for others, disillusionment, loss, even death. (To explain: tango music is thought of today as celebratory, but concentration camp orchestras of World War II favored it in their repertoires.)
My attention reverts to tanguistes Raymond and Myriam who, unsurprisingly, command the spotlight. The dovetailing of their legs makes them mutually dependent and interactive. While Raymond is the undisputed leader, only Myriam can add adornment to their performance through her lacy footwork and long, elegant, deliberate steps.
My husband suggests we stroll to the end of the quay. On our return, we spot the old couple slowly mounting the escarpment path. It's only 9:30, so we catch up to see if there's a problem. "We leave early," says Myriam. "Raymond est fatigué." Indeed, Raymond's shoulders sag and the once breezy panama seems to grip his head like a vise. As the 63 bus pulls up, Myriam pats his arm. "Demain, mon cher?" Raymond nods. "He will be OK for tomorrow," Myriam assures us. When a raindrop or two touch her cheek, she crows, "We 'ave been lucky ce soir, non?"  Then she waves goodbye, crosses the busy intersection, and all but sprints up the rain-specked hill leading to Mouffetard.
---
---
Comments