Languedoc-Roussillon: Following the Pilgrims' Way in France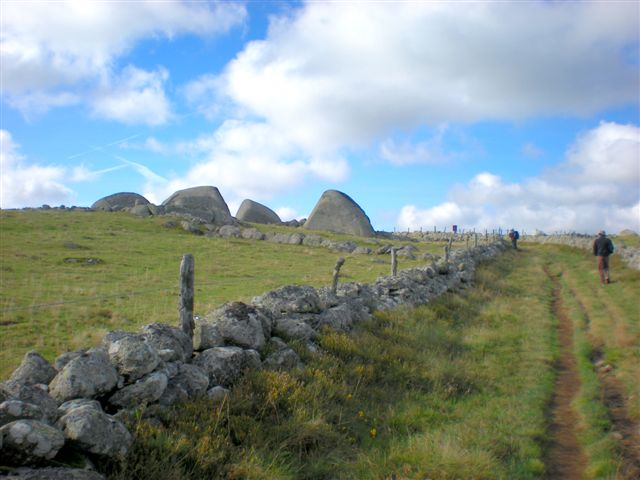 Walking through southern France is how I described the theme of my trip to Languedoc, yet no one could quite envision the journey I was on. Languedoc-Roussillon, the land of olives, wine and Mediterranean cuisine, is also a region of rich cultural heritage and historic pathways. My group of six travelers set out to discover the Chemin de St. Jacques (Camino de Santiago), an ancient pilgrim path that leads through France to Santiago de Compostela in Spain, the resting place of St. James the Apostle. Various legends exist about St. James (Jacques) who was known as a protector and patron of Christianity. Beginning in the Middle Ages, pilgrims forged pathways to his shrine, inspired by religious, spiritual and geopolitical reasons. Now a World Heritage site, Chemin de St. Jacques is traveled by modern day 'pilgrims' for spiritual and recreational purpose. Our guide transported us to the trail, a lady named Maryse who is making her own pilgrimage on Chemin de St. Jacques. Every year Maryse and friends hike one week on the trail to advance along the 1600-kilometer trek to Compostela I equated this to "section hiking" on the Appalachian Trail, but Maryse explained, "We're ramblers, because the journey is a way to discover rural France at a pace that we can really take it in." We began our walk as ramblers, too, on one of the main pathways to Compostela which begins in Le Puy-en-Velay and passes through Lozere, the northernmost department of Languedoc. The historic path leads over rolling landscapes dotted with stone fences and savage rock outcrops. Remarkably, 30,000 travelers cross the granite hills and high prairie every pilgrimage season, our Aubrac outfitter told us. Yet Lozere remains one of the least populated departments of France, "undiscovered, even by the French." It was mid-October and none of us had brought enough layering to keep out the chill of a bitter wind that whipped across the moors. We warmed up only when we arrived at our lunch stop – an authentic sheepherder's hut called a buron, with a blazing fire and enormous country meal of ham, sausages and the regional potato specialty, aligot. The pilgrimage trail is marked by the symbol of St. Jacques, the scallop shell, and is integrated into France's Grand Randonnee system. The path varies from grassy to pebbled to tarmac, passing through forestland, pastoral countryside, hamlets and villages. For hikers who want to walk without burden of a heavy backpack, travel transport companies can be hired to move baggage between stops. Places to stay along the way include hotels, chambres d'hote, gites d'etape (dormitory-style) and pilgrim refuges. Churches and town halls will stamp a "passport," a pilgrim's credential carried to record the pilgrimage and gain access to particular lodging. History and culture abound for those who pause to discover the centuries-old bridges, monasteries, Roman churches and sanctuaries that played a part in the early pilgrims' passage. Hikers come upon curious relics: stone crosses built for protection on the outskirts of villages, wind vanes symbolic of a legendary beast, and community ovens in the tiniest hamlets. Taking a few days off from hiking is worthwhile to explore some of the classified "grand sites" such as Gorges du Tarn, a meandering limestone canyon of the Tarn River. Our visit was highlighted with a stay along the river's edge at the 15th century Chateau de la Caze, a place to wander back in time with fairytale towers, cobblestoned flooring, ancient stonework and candlelit foyers. Nearby, the medieval village of St. Enimie, designated one of the most beautiful villages in France, is full of legend and charm. South of the Tarn, the Cevennes Mountains, made famous by Robert Louis Stevenson's adventure of which he wrote Travels with a Donkey, are popular for trekking. St. Guilhem-le-Desert in Herault is an architectural gem, built around an abbey of early Romanesque style. Nestled in a valley, the idyllic village has artist studios and boutiques to browse, and the area offers convenient day hiking along Chemin de St. Jacques (the route which begins in Arles) with extraordinary views from the valley heights. We followed the copper scallop shells marking Chemin de St. Jacques through Montpellier's old city to end our tour. Over a last café, Maryse proudly showed us her pilgrim passport with the collection of stamps indicating that she had reached a milestone, crossing the Spanish border this year. 2010 marks an exciting "jubilee" year, she reminded us. It's a Holy year when the traditional day of St. Jacques' celebration, July 25, falls on a Sunday. Special events take place along the route, highlighting traditions of the pilgrimage, troubadours, Roman art and customs of the Middle Ages. So Maryse continues her journey counting down 865 kilometers to reach Santiago de Compostela. For the rest of us, it doesn't have to be a pilgrimage; walking segments of the historic path that binds the past and future is rewarding enough. The experience offers a chance to see and feel la France profonde – the heart of old France – where rural culture and authentic ways seem to stand still in time. For information: visit
www.sunfrance.com
Air France flies to Montpellier, the closest city for air travel and TGV train service from Paris. Montpellier has a large university, art museum (Musee de Favre), shopping and good restaurants.   Please post your comments or questions and let them flow. Register
HERE
to do so if you need a user name and password.
SUBSCRIBE
ALREADY SUBSCRIBED?
BECOME A BONJOUR PARIS MEMBER

Gain full access to our collection of over 5,000 articles and bring the City of Light into your life. Just $60 a year.

Find out why you should become a member here.

Sign in

Fill in your credentials below.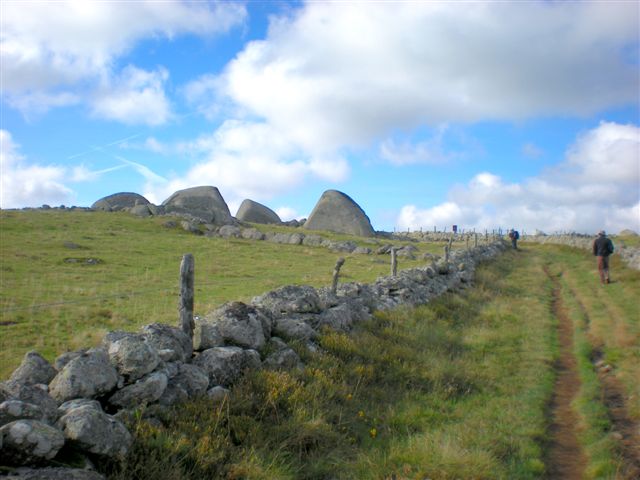 Walking through southern France is how I described the theme of my trip to Languedoc, yet no one could quite envision the journey I was on. Languedoc-Roussillon, the land of olives, wine and Mediterranean cuisine, is also a region of rich cultural heritage and historic pathways.
My group of six travelers set out to discover the Chemin de St. Jacques (Camino de Santiago), an ancient pilgrim path that leads through France to Santiago de Compostela in Spain, the resting place of St. James the Apostle.
Various legends exist about St. James (Jacques) who was known as a protector and patron of Christianity. Beginning in the Middle Ages, pilgrims forged pathways to his shrine, inspired by religious, spiritual and geopolitical reasons. Now a World Heritage site, Chemin de St. Jacques is traveled by modern day 'pilgrims' for spiritual and recreational purpose.
Our guide transported us to the trail, a lady named Maryse who is making her own pilgrimage on Chemin de St. Jacques. Every year Maryse and friends hike one week on the trail to advance along the 1600-kilometer trek to Compostela
I equated this to "section hiking" on the Appalachian Trail, but Maryse explained, "We're ramblers, because the journey is a way to discover rural France at a pace that we can really take it in."
We began our walk as ramblers, too, on one of the main pathways to Compostela which begins in Le Puy-en-Velay and passes through Lozere, the northernmost department of Languedoc. The historic path leads over rolling landscapes dotted with stone fences and savage rock outcrops. Remarkably, 30,000 travelers cross the granite hills and high prairie every pilgrimage season, our Aubrac outfitter told us. Yet Lozere remains one of the least populated departments of France, "undiscovered, even by the French."
It was mid-October and none of us had brought enough layering to keep out the chill of a bitter wind that whipped across the moors. We warmed up only when we arrived at our lunch stop – an authentic sheepherder's hut called a buron, with a blazing fire and enormous country meal of ham, sausages and the regional potato specialty, aligot.
The pilgrimage trail is marked by the symbol of St. Jacques, the scallop shell, and is integrated into France's Grand Randonnee system. The path varies from grassy to pebbled to tarmac, passing through forestland, pastoral countryside, hamlets and villages.
For hikers who want to walk without burden of a heavy backpack, travel transport companies can be hired to move baggage between stops. Places to stay along the way include hotels, chambres d'hote, gites d'etape (dormitory-style) and pilgrim refuges. Churches and town halls will stamp a "passport," a pilgrim's credential carried to record the pilgrimage and gain access to particular lodging.
History and culture abound for those who pause to discover the centuries-old bridges, monasteries, Roman churches and sanctuaries that played a part in the early pilgrims' passage. Hikers come upon curious relics: stone crosses built for protection on the outskirts of villages, wind vanes symbolic of a legendary beast, and community ovens in the tiniest hamlets.
Taking a few days off from hiking is worthwhile to explore some of the classified "grand sites" such as Gorges du Tarn, a meandering limestone canyon of the Tarn River. Our visit was highlighted with a stay along the river's edge at the 15th century Chateau de la Caze, a place to wander back in time with fairytale towers, cobblestoned flooring, ancient stonework and candlelit foyers.
Nearby, the medieval village of St. Enimie, designated one of the most beautiful villages in France, is full of legend and charm. South of the Tarn, the Cevennes Mountains, made famous by Robert Louis Stevenson's adventure of which he wrote Travels with a Donkey, are popular for trekking.
St. Guilhem-le-Desert in Herault is an architectural gem, built around an abbey of early Romanesque style. Nestled in a valley, the idyllic village has artist studios and boutiques to browse, and the area offers convenient day hiking along Chemin de St. Jacques (the route which begins in Arles) with extraordinary views from the valley heights.
We followed the copper scallop shells marking Chemin de St. Jacques through Montpellier's old city to end our tour. Over a last café, Maryse proudly showed us her pilgrim passport with the collection of stamps indicating that she had reached a milestone, crossing the Spanish border this year.
2010 marks an exciting "jubilee" year, she reminded us. It's a Holy year when the traditional day of St. Jacques' celebration, July 25, falls on a Sunday. Special events take place along the route, highlighting traditions of the pilgrimage, troubadours, Roman art and customs of the Middle Ages.
So Maryse continues her journey counting down 865 kilometers to reach Santiago de Compostela. For the rest of us, it doesn't have to be a pilgrimage; walking segments of the historic path that binds the past and future is rewarding enough. The experience offers a chance to see and feel la France profonde – the heart of old France – where rural culture and authentic ways seem to stand still in time.
For information: visit www.sunfrance.com
Air France flies to Montpellier, the closest city for air travel and TGV train service from Paris. Montpellier has a large university, art museum (Musee de Favre), shopping and good restaurants.
Please post your comments or questions and let them flow. Register HERE to do so if you need a user name and password.
More in Bonjour Paris, France travel, French tourism
---
---