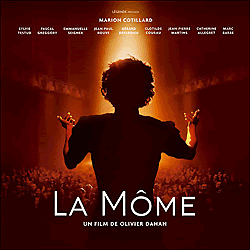 On Valentine's Day yet another love letter to Paris was given flight, this one a moving celebration of the life and times of Edith Piaf, a hallmark in French music and tradition.  In one of the film's many showier moments, Marlene Dietrich saunters up, heaping praise on Edith by observing that her voice is 'the soul of Paris'.  And that it irrevocably is, in this film especially, where the singer behind that hauntingly earnest voice is brought magnificently to life by Marion Cotillard, a consummate actress whose full-throttle and deft performance leaves no one behind in the shifting emotional tides of the young woman's life.
La Mome, or the 'kid', is unapologetic about its soaring highs and abysmal lows, just as Miss Piaf herself tells a young suitor, "I am an artiste. I see big things for myself!"  In a performance any less assured than Miss Cotillard's, this would sound tin-can, bohemian and brusque, but here it manages to capture the soul of the singer's genius, a gift that made her unarguably destined to become legendary.
Raised on the streets and in a brothel in Normandy, Piaf's life is imbued with sadness and heartbreak from the very beginning, which supplies the necessary background and foothold for the innate sadness found in the singer's voice and music.  After a brief tour in the circus with her estranged father, the young Edith is pushed to 'do something' when she and her father are performing for passerby on the street.  As she opens her mouth to sing, it is only a matter of time before a club owner (played by the inimitable Gerard Depardieu) discovers her and helps to launch her to fame and glory.
The story here is told in a here-and-there, now-and-then shuffle of timelines, which can at times feel incoherent or long.  But for the most part the thread of Cotillard's unrelenting portrayal of the tireless chanteuse carries through to the very end, when the only-47 year old Piaf is as frail as an 80 year old and wrecked from years of overworking herself and abusing drugs (most notably morphine). 

And this is an end we see from almost the beginning, an effect which gives the film a certain fatefulness and weight that isn't always necessary (read overkill).  But no matter: Cotillard's physical transformation, along with her emotional conviction, is nothing short of stupendous.  Oh, Oscar, I know you are about to go into hibernation for another year, but je t'en supplie, remember Miss Cotillard when the time comes!
Surrounded by a well-constructed supporting cast of admirers, helpers, nurses and partners, Edith Piaf commands the room and in her signature way selects songs to suit her whims, or tells everyone to get out of her dressing room before performing.  They also witness her desperate heartbreak over the death of the man who some say was her greatest love, the boxer Marcel Cerdan.  In La Mome, Edith Piaf's life and art are seamlessly entwined in the pain and joy of a true artist's life. And as she once said, she is 'never too far from Paris' – what other city would be capable of molding such a lasting, timeless star as La Mome Piaf?
La Mome, entitled La Vie en Rose in the US, opened the Rendez-vous with French Cinema Festival at Lincoln Center in NY on February 28th. It will be released in the US on June 8th 2007.
C. Dan Heching