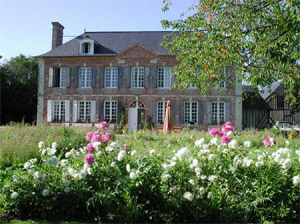 The French call Deauville the 21st arrondissement of Paris, two hours on a fast train; the sea-salt aroma greets you at the little station. Ten minutes away is La Maison de Sophie, a handsome former presbytery, circa 1789 now a posh B & B.
The owner, Sophie Dudemaine (40) a celeb in France, is famous for her weekly TV programme "Allo Sophie" in which she visits viewer's homes and troubleshoots in their kitchens.
"To discover a region there's nothing better than to be part of a house", says Sophie, who bought her "maison" five years ago with husband Jacky. In one hectare of parkland, a Noah's Ark of animals roam free. The chickens eat Sophie's cakes, "gives their eggs a wonderful yellow colour", she grins.
La Maison de Sophie has 5 large rooms, Bali, Deauville, Zen, Marrakech, Victoria, each decorated to a different theme, with bathrooms, showers, TV, Wi-Fi. The modern farm-house kitchen is equipped with every gadget under the sun, "because I'm into easy-cooking", explains Sophie, the kitchen coach.
Watch, and take part, as Sophie makes dishes from her 18 cook-books, the latest, out 1st October, "Ducasse Made simple by Sophie" is in English, in collaboration with super-chef Alain Ducasse. "It's recipes, by Monsieur Ducasse, chosen from his Grand Livre du Cuisine, deconstructed and made accessible to every home cook", explains Sophie. Like what? Well, say, Starters, Mains and Desserts such as: Cream of Broccoli Cappuccino Style with Ricotta Dumplings. Rolled Stuffed Escalope of Turkey with Mustard Sauce (think Thanksgiving). Chocolate Fondant Cake with Earl Grey Tea Sauce.
Chez Sophie, in fine weather guests, who come from all over the world, eat together on the terrace. A recent meal began with herbed-duck ravioli: caramelized lamb shank with puree of sweet potatoes, fresh salad leaves: Camembert and Pont l'Eveque cheeses, then Chocolate Nut Tartlets with Caramel Sauce.
It's quiet at the sumptuous buffet breakfast, the tables groan under the generosity of Sophie, each nationality gets his/her own newspaper. Autumn and winter, the downstairs rooms and library, with squishy sofas, have roaring log fires.
There's really no need to leave La Maison de Sophie, table-tennis, petanque, ride the donkeys. mountain- bike, great food. In the boutique stock up with "my indispensibles", from kitchen knives, special whisks, moulds, even a micro-fiber lettuce dryer.
If you want to cook brilliantly like Sophie, at home, get "Ducasse Made Simple by Sophie"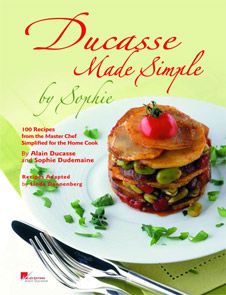 (www.amazon.com). "Cooking runs in the family. When I was a little girl my grandfather took me to the restaurant of the Eiffel Tower. It wasn't hard to get a table – he owned it", she smiles. Sophie, fascinated by cuisine, worked for top chefs such as Daguin, Vigato, Faugeron. "But I never made the top grade because I always wanted to do it my way, a boeuf Bourguignon became a beef Sophie", she admits.
From pioneering dinner parties as a BCBG home chef for the likes of the Mauboussin family Sophie created "Les Cakes de Sophie" which she sold in Paris markets. The cakes were so delicious word went round and soon there were 60 markets as well as Fauchon and Galeries Lafayette.
One day the director of Minerva Publications, who adored her cakes, suggested Sophie write a book. "Les Cakes de Sophie" saw the light of day six months later and became an immediate bestseller. Upwards of 1 million copies have been sold, the book is available in Spanish, Portuguese, Italian and English. One thing leads to another with Sophie and there's now Les Tartes et salads de Sophie, Les Barbecues de Sophie, Les Buffets, Les Madeleines, Les Crepes, Desserts, Confitures and Compotes de Sophie!
The secret of Sophie's success: « I always simplify recipes, and want people to innovate and add their personal touch to make them different", she says. "I'm always thinking of ways to make meals as quickly and as delicious as possible. Select your own produce, it doesn't always have to be free-range. My phone number's in all my books, so call me if you have a problem, let's talk". Who needs a shrink when Sophie's at the end of the line?
Foodie Diversions near La Maison de Sophie :
Deauville market (Tuesday, Friday, Saturday & Sunday). Best cheeses from Marie-Noe.
Monday is market- day at Pont l'Eveque buy cheese made at La Ferme de Bourg.
T: 00 33 (2) 31 64 71 99
Local Calvados from La Cave de Deauville www.cave-de-deauville.com 48 rue Mirabeau.
Bottle your own cider and buy apple juice, jams and cider vinegars from:
Benoit Charbonneau T: 00 33 (2) 31 62 81 98 www.gitecharbonneau.com
Eat at : Restaurant « Gourmandises », (chef Bernard Vaxelaire former Paris 1*)
29 rue de l'Abbaye, Corneilles.
T : 00 33 (2) 32 42 10 96
Details :
La Maison de Sophie :
14950 Saint-Etinee-La-Thillaye,
T: +33 (2) 31 65 69 97
Double Room with gourmet breakfast from 150-170€
Dinner Table d'Hotes 60€ including wine.
Come here for:
Cookery Courses with Sophie from 10h-13hrs
120€ pp lunch and wine included