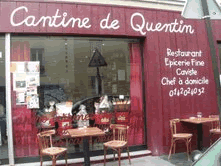 Gilles Pudlowski gives an incorrect address for Quentin Hoffman's La Cantine de Quentin, which is a pity, it's well worth a visit, but at the address below. Well we all make mistakes and the place is buzzing, so no harm done Gilles.
What Pudlo is right to do is pick out Quentin as best rapport quality/price in Pudlo Bistrots & Brasseries 2007 (Editions Lafon 9€). Together with young talent Johann Baron in the tiny kitchen (both ex-Guy Savoy) they capture the spirit of spring on Canal Saint Martin. "We love our home life as much as our restaurant", says Quentin. So they're only open for lunch, you can arrange a dinner or private bash, by appointment. Or, the duo will come home to you at the chateau darling. 
Until 4pm taste warm lentil salad with parmesan, figs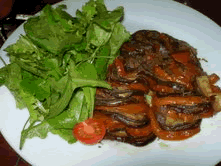 and balsamic: cepe flan with fragrant crème of truffles, carpaccio of daurade and velouté of iced cucumber or chunky terrine maison. Mains include Quentin's creamy risotto with saté and shitake. Tatin of duck with apple, le saumon Taxi Brousse, marinated in a thyme crust with fresh salad leaves, just drizzled with dressing. Assiette terroir for beefeaters, Tian de legumes for ladies who do. It's all cooked to order, BUZZ often wonders why they don't show movies between courses, when the service is a tad tardy. Chez Quentin, no problem, it's also a mini-Fortnum and Mason with shelves of goodies that you probably wouldn't even see at F & M. Take a basket, fill to the brim with: Chocolate raisins soaked in Sauternes. Les Betisses de Cambrai, terrines, foie gras, teas from Kusmi, cakes, macaroons, fig vinegars, olive oils, a good selection of beers such as Kreik cherry and so much more to discover. The idea is to taste most of the products before you buy, just have a chat with Quentin.


The roomy room behind the restaurant is a comfy lounge where you can take dessert, or on the tiny outside terrace if it's fine weather, the last resort if you're a Marlboro man/woman, Quentin's banned smoking, even nips outside himself for a drag. 
Finish with mango cappuccino, Johann's roast pineapple pudding, le fondant au chocolat with crème anglaise or duo de nougat and apple crèmes brulées.  Laid back, a great address to buy wine, chill. Taste from 3€ take away, say, a fine Les Hauts de Pontet-Canet 2003 32€.
Think Aladdin's cave, revised and corrected for 2007. They should have a Cantine de Q in every 'nabe'.
La Cantine de Quentin
52 rue Bichat, 75010 (Metro: Republique)
T: 01 42 02 40 32
Average spend: Lunch 14€ – Sunday Brunch 17€
Boutique open 9am-8pm
Closed Monday