My friend Ian was so hot and bothered last week he was thinking of going to the Catacombs to cool down, until he discovered there was a two-hour wait in the sizzling sun to get in. "Anyway, who wants to spend the day with a load of old bones", he observed icily. Paris plage? "No way, that's for ploucs", sniffed Ian. I told him I was off to KUBE, hip new hotel in the 18th, oasis in a dessert of tat, Turkish kebab canteens and cheap fabrics, psst…."you want to meet my sister?" kind of area. Takes guts to build for the rich and famous around here, but they have. It's the same people who transformed a filthy old garage space into the achingly chic Murano Urban Resort, so they already know the chanson. And, after Stockholm, London and Milan, at KUBE they have the Grey Goose Ice Bar, must be great to chill here at the cult address for BCBG's, I reasoned. I arrive, having taken directions from a drenched-in-sweat corner brasserie barman, wiping down his zinc with a filthy schmutter. "En face deuxieme a gauche", he grunted. Down a cobbled passage, men in vests hang from windows gasping for air and, reader, there is none. "Are we expecting you", enquires Harry Belafonte at the gate. "Yes, I've come to the Ice Bar, I pant". "Ah, desolée eet is shut for renovations, all ze ice 'as melted". Zoot, now what? Belafonte ushers me into a courtyard, wow, a 19th century Haussman listed façade is backdrop to a large glass "I.M.Pei" style KUBE that houses the reception area. Inside I'm Alice, it's all cubed geometric high loft-like spaces, faux-fur, shag-pile covers the leather sofas and, on the walls, an exhibition of bold contemporary art. The Ice Bar may be shut but there's also a long silver bar, with silver stools, running the length of the space, I down a Badoit, but have to ask for extra ice! There's fiber optic lighting, funky hanging strands of light and, on the mezzanine, Aarnio Eero silver bubble chairs hang from the ceiling, a DJ spins his stuff. This is the waiting area for the illusive Grey Goose Ice Bar: when open. Belafonte leads me up the steel staircase for a peek inside the Laurent Saksik designed GG ice-bar, explains that, in use, the temperature is minus 5 degrees and you drink anything you want, as long as it's Grey Goose vodka based! 20 tons of ice make up this chic multi-lit freezer, with 5 meters of illuminated sculpted ice counter. There's
only space for 20 "fauxEskimos" at a time, book for a thirty minute session, they supply parkas and furry hats. The ticket is 38€ per person, including Vodka cocktails and hip Electro-Kube house music. Belafonte says a woman recently celebrated her 85th birthday, she always dreamed of going to the North pole, but as she left it to late, Grey Goose saved the day". I even get to see a room, opened with a digital imprint, Belafonte feels bad about the lack of Ice Bar. There are 40 rooms, this is a Junior Suite (there are 9 juniors and 2 suites), it's all dazzling white light and Sony Vaio computer, which is also a plasma TV and CD/DVD. There are faux-fur curtains, a giant double-bed and neat cubed designer mini-bar and stools.  I'm not sure about the bathroom, behind a glass screen, but at least there's a separate loo and Anne Semonin freebies products. Now I'm hungry, what can I eat? Belafonte says there's no restaurant, as such, the idea is guests do SNACKKUBE food any time in the Bar Salon, the heart of the hotel, start with the sumptuous buffet breakfast (15€) available until 12 noon. All eating and meeting takes place in the Bar Salon, and they've saved on knives and forks because it's finger food. Chef Nicolas Guillard (ex-Murano & Gagnaire) suggests chic salads at lunch, at night, the Menu Degustation (41€). Food comes suspended on mini gown rails, could be ceviche of daurade, a sealed transparent pack of foie gras, scrambled eggs with onions and asparagus returned to shells (spoons provided) a nod and a wink to Hervé This and Heston Blumenthal. Mains come in the same way, gambas roti, maki of duck, tuna, pastille of lamb a l'orientale. Cheese, then dessert, tiramisu or variations on chocolate fantasy the night I was there. It's eating among friends, no formality, a minimal lifestyle with futuristic lounge attitude. Quite unique, on Planet KUBE. KUBE, 1-5 passage Ruelle, 18th (Metro: La Chapelle), T: 01 42 05 20 00 www.kubehotel.com Rooms from 250€ Open 7/7 Morning KUBE 7hrs-12h00/Snack KUBE 24/24/Dinner KUBE 19h00-24h00 The Grey Goose Ice Bar re-opens 18th August 6.30-1hr30am  
SUBSCRIBE
ALREADY SUBSCRIBED?
BECOME A BONJOUR PARIS MEMBER

Gain full access to our collection of over 5,000 articles and bring the City of Light into your life. Just $60 a year.

Find out why you should become a member here.

Sign in

Fill in your credentials below.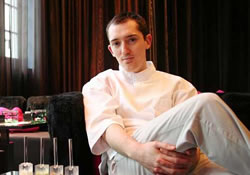 My friend Ian was so hot and bothered last week he was thinking of going to the Catacombs to cool down, until he discovered there was a two-hour wait in the sizzling sun to get in. "Anyway, who wants to spend the day with a load of old bones", he observed icily. Paris plage? "No way, that's for ploucs", sniffed Ian.
I told him I was off to KUBE, hip new hotel in the 18th, oasis in a dessert of tat, Turkish kebab canteens and cheap fabrics, psst…."you want to meet my sister?" kind of area. Takes guts to build for the rich and famous around here, but they have. It's the same people who transformed a filthy old garage space into the achingly chic Murano Urban Resort, so they already know the chanson. And, after Stockholm, London and Milan, at KUBE they have the Grey Goose Ice Bar, must be great to chill here at the cult address for BCBG's, I reasoned.
I arrive, having taken directions from a drenched-in-sweat corner brasserie barman, wiping down his zinc with a filthy schmutter. "En face deuxieme a gauche", he grunted. Down a cobbled passage, men in vests hang from windows gasping for air and, reader, there is none. "Are we expecting you", enquires Harry Belafonte at the gate. "Yes, I've come to the Ice Bar, I pant". "Ah, desolée eet is shut for renovations, all ze ice 'as melted". Zoot, now what?
Belafonte ushers me into a courtyard, wow, a 19th century Haussman listed façade is backdrop to a large glass "I.M.Pei" style KUBE that houses the reception area. Inside I'm Alice, it's all cubed geometric high loft-like spaces, faux-fur, shag-pile covers the leather sofas and, on the walls, an exhibition of bold contemporary art. The Ice Bar may be shut but there's also a long silver bar, with silver stools, running the length of the space, I down a Badoit, but have to ask for extra ice!
There's fiber optic lighting, funky hanging strands of light and, on the mezzanine, Aarnio Eero silver bubble chairs hang from the ceiling, a DJ spins his stuff. This is the waiting area for the illusive Grey Goose Ice Bar: when open.
Belafonte leads me up the steel staircase for a peek inside the Laurent Saksik designed GG ice-bar, explains that, in use, the temperature is minus 5 degrees and you drink anything you want, as long as it's Grey Goose vodka based! 20 tons of ice make up this chic multi-lit freezer, with 5 meters of illuminated sculpted ice counter. There's
only space for 20 "fauxEskimos" at a time, book for a thirty minute session, they supply parkas and furry hats. The ticket is 38€ per person, including Vodka cocktails and hip Electro-Kube house music. Belafonte says a woman recently celebrated her 85th birthday, she always dreamed of going to the North pole, but as she left it to late, Grey Goose saved the day".
I even get to see a room, opened with a digital imprint, Belafonte feels bad about the lack of Ice Bar. There are 40 rooms, this is a Junior Suite (there are 9 juniors and 2 suites), it's all dazzling white light and Sony Vaio computer, which is also a plasma TV and CD/DVD. There are faux-fur curtains, a giant double-bed and neat cubed designer mini-bar and stools.  I'm not sure about the bathroom, behind a glass screen, but at least there's a separate loo and Anne Semonin freebies products.
Now I'm hungry, what can I eat? Belafonte says there's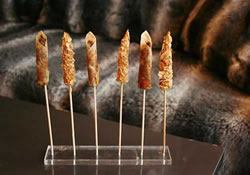 no restaurant, as such, the idea is guests do SNACKKUBE food any time in the Bar Salon, the heart of the hotel, start with the sumptuous buffet breakfast (15€) available until 12 noon. All eating and meeting takes place in the Bar Salon, and they've saved on knives and forks because it's finger food. Chef Nicolas Guillard (ex-Murano & Gagnaire) suggests chic salads at lunch, at night, the Menu Degustation (41€). Food comes suspended on mini gown rails, could be ceviche of daurade, a sealed transparent pack of foie gras, scrambled eggs with onions and asparagus returned to shells (spoons provided) a nod and a wink to Hervé This and Heston Blumenthal. Mains come in the same way, gambas roti, maki of duck, tuna, pastille of lamb a l'orientale. Cheese, then dessert, tiramisu or variations on chocolate fantasy the night I was there. It's eating among friends, no formality, a minimal lifestyle with futuristic lounge attitude. Quite unique, on Planet KUBE.
KUBE,
1-5 passage Ruelle, 18th (Metro: La Chapelle),
T: 01 42 05 20 00
www.kubehotel.com
Rooms from 250€
Open 7/7
Morning KUBE 7hrs-12h00/Snack KUBE 24/24/Dinner KUBE 19h00-24h00
The Grey Goose Ice Bar re-opens 18th August 6.30-1hr30am
 
---
---