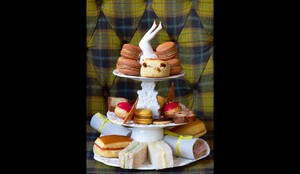 In the book, Cazals' mouthwatering images of macarons, truffles, pastries and tarts are as tempting as the real thing and they're calorie free!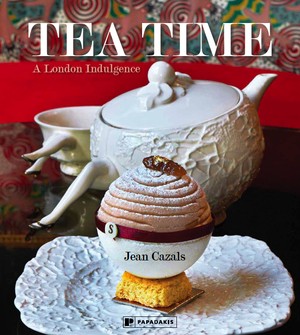 "So what about Paris Monsieur Cazals?" No, Paris is not about T-Time but it is about Brasseries, as in my book 50 Best: La Mémoire de Paris!"
Tea-Time A Taste of London's Best Afternoon Teas
by Jean Cazals (with foreward by chef patissier Claire Clark)
The Paris Cookbook Fair: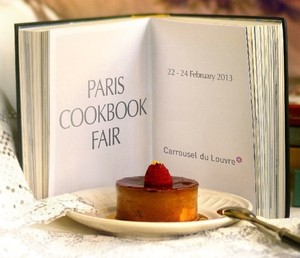 Find Jean Cazals's books at Paris Cookbook Fair from Friday February 22nd to Sunday 24th. And, all the more reason to visit as this years' invited country is USA, former guests were Italy and China.
Ann Willan, founder of La Varenne Cookery School, and her husband Marc Cherniansky are coming from California. Originally in Paris, La Varenne moved to Burgundy at Chateau de Fey. Ms Willan's latest publication is a reference book that will be placed on all serious foodie bookshelves in libraries and cooking schools.  "The Cookbook Library" concentrates four centuries of the cooks, writers and recipes that make the modern cookbook.
Today, La Varenne offers occasional gastronomic courses, held in the Los Angeles area, taught by Anne Willan, alongside noted local chefs.
For this year's fair at Carrousel du Louvre under IM Pei's inverted Pyramid, the entrance to the Louvre Museum is to the left, Paris Cookbook Fair to the right, just after La Maison du Chocolat and the designer boutiques.
At the fair there are state-of-the-art show kitchen demonstrations by chefs such as Jean-Francҫois Piege, food and wine tastings, conferences, book presentations and launches, authors signings, culinary art and photography, music and dancing.
At the same time The Gourmand World Cookbook Awards, where Cazals' book is a serious contender, take place at a Gala Evening in the Louvre theatre where there's  space for 1400 guests.
This year, WFWF-TV 2013, the World Festival of Wine and Food Television, will present TV food producers, broadcasters and their stars will be in action.
Michel Roux, 3- star chef at The Waterside Inn always visits. He explained why in his speech as 2012 President of Honour : "This fair is absolutely unique. This fair is about respect. It gives a chance to everyone, whether you are big or small. Everyone gets attention here, and has an opportunity to get a close look at the culinary business. You can profit from the knowledge of professionals from all around the world in an absolutely unique way. Every young person who wants to be a professional in the gastronomy or culinary business has to be here".
Last year the Fair was at Centquatre, where Alain Ducasse scheduled a one hour visit. He stayed four hours! As did Pierre Gagnaire, Alain Dutournier, Claudia Roden, Lisa Ekus, BUZZ and many others.
Need to know:
Two English bookstores are nearby on Rue de Rivoli, WH Smith at 248 and Galignani, at 224. Within walking distance, some of Paris's famous foodie and shopping addys Angelina, Ladurée, Pierre Hermé, Jean-Paul Hevin, Le Dali at Le Meuirce, Colette, La Régalade, Anne-Sophie Pic, Spring, Le Saut du Loup etc and don't miss the Musée des Arts Décoratifs at 107, rue de Rivoli.
Get a Room:
Hotel Regina,
2 Place des Pyramides 1st
T: 01 42 60 31 10
Cookbooks under the Pyramid
Carrousel du Louvre,
Friday 22-Sunday 24th February
99 rue de Rivoli, 1st
M: Palais Royal-Musée du Louvre
Or, follow American celebrity chef Anthony Bourdain:
"Most of us are lucky to see Paris once in a lifetime. Please, make the most of it by doing as little as possible. Walk a little. Get lost a bit. Eat. Catch a breakfast buzz. Have a nap. Try and have sex if you can! Eat again. Lounge around drinking coffee. Maybe read a book. Drink some wine. Eat. Repeat. See? It's easy."