Japanese Pastry Shops in Paris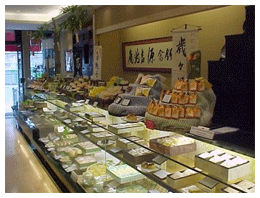 Over ten years ago, when I first walked past Toraya, the oldest Japanese pâtisserie in Paris, I remember thinking that the term "Japanese pastry" must be an oxymoron. Admittedly, I had (and still have) no personal knowledge of Japan and only slightly more knowledge of the country's dietary customs. But I was certain that I had never heard of any Japanese propensity for consuming pastries or confections. As a confirmed lover of sweets, I resolved that I would investigate Japanese pastry further some day. Well, "someday" has arrived. In researching tearooms for a client who wanted a Japanese tea ceremony as part of a gourmet excursion to Paris earlier this year, I came across Minamoto Kitchoan, a traditional Japanese tearoom and pâtisserie on place de la Madeleine. I visited the pastry shop, but was more interested in the tearoom at the time. I also took the opportunity to visit Toraya for the first time, ordering pastries and sampling the Matcha tea that is used for the traditional tea ceremony. The pastries were black sesame and red bean macarons and a round, dumpling-like "cake" filled with red bean paste called Rikyu-Manjû. I found the macarons to be quite nice and the Rikyu-Manjû interesting, both in flavor and texture. The bean paste in the latter was sweet and smooth, and its flavor more pronounced than that of the red bean macaron. Encouraged by the experience, I once again resolved that I would return to taste more pastries. I subsequently learned about another pâtisserie called Sadaharu Aoki from a friend who also happens to be a Cordon Bleu-trained pastry chef. She mentioned Aoki in the same breath as she did Pierre Hermé, so I filed that name away as another shop that I should visit as part of my quest. Aoki is a French pâtisserie that prepares certain pastries and chocolates with traditional Japanese ingredients. I later learned that it produces the macarons sold at Toraya. I had the opportunity to sample Aoki's wares this July. The occasion: BP French Mix contributor Michele Kurlander's birthday. At my suggestion, we went to the shop on rue de Vaugirard to buy French pastries with a Japanese flair before repairing to the Luxembourg garden for a leisurely tea in an outdoor café under the horse chestnut trees. We chose black sesame truffles and Matcha tea sablé, packaged in a transparent plastic box that prevented accidental crushing of the items while allowing us to admire them all the way to the garden. Once we ordered our tea and settled in to chat, we broke open our little treasure. We savored both of these indulgences, and I was particularly enamored of the flavor and crunch of sesame with chocolate in the truffles. I have since discovered that there is a second pâtisserie Aoki about 10 minutes walk from my home, so I will definitely drop by to purchase more of their delicacies! Continuing my research, I returned to Minamoto Kitchoan to explore its pastry section. This long, narrow shop has a rather non-descript exterior. But in one of the storefront windows, there is a beautiful floral arrangement that is made of sugar. The art form is called Kougei Gashi (pronounced "ko-gay gah-she"), which literally means "crafted confection". White bean paste, sugar and rice cake powder are mixed to produce two kinds of dough; these are used in varying combinations to fashion the delicate sculptures. In the opposite window, there are enormous confections shaped like peaches that are almost too beautiful to consider eating. You may consider them almost too expensive to eat as well, with each peach selling at a whopping 17 euros! Inside them quivers hakuto jelly; this is also presented in the window. A beautiful display of pastries awaits you inside the boutique, each with a card that describes its principal ingredients. When I indicated the items that I wanted to purchase, I noted that the salesperson did not reach into the display case, but rather, into baskets on top of the case. The pastries were individually wrapped, and did not look quite like what I saw inside the case. I pointed this out, and was told that the items in the display case were artificial! Undaunted, I selected several pastries, a "jelly soup" called Meisuinoka that is served cold and sipped with a straw, and a sorbet made from Japanese Muscat that can be served chilled or frozen. Most of the items on display were from the summer selection of pastries (the pâtisserie offers a seasonal "carte"), but I also chose a couple of items from the perennial selection. Among these purchases, the Shobumochi, a walnut-filled rice cake coated with green powder and wrapped like a Japanese iris, was my favorite. In perusing the offerings at Minamoto Kitchoan, I discovered that many of its pastries are more accurately called confections because they do not contain dough and are not baked. Jellies made from fruit juices or arrowroot starch and pastes made from red beans, white beans or rice are found in most products. To complete my investigation, I once again returned to Toraya. They also offer seasonal pastries as well as standard ones that are sold year round. I selected two from the summer "menu" – Himawari, a pastry designed like a sunflower and Kuro-nashi, a round of arrowroot paste encased in red bean paste and sprinkled with poppy seeds. I also bought several of their traditional offerings; among them was Lune Vague, consisting of two pancake-like rounds stuffed with red bean paste. This last pastry looks like a large brown macaron. I enjoyed the taste test of…
SUBSCRIBE
ALREADY SUBSCRIBED?
BECOME A BONJOUR PARIS MEMBER

Gain full access to our collection of over 5,000 articles and bring the City of Light into your life. Just $60 a year.

Find out why you should become a member here.

Sign in

Fill in your credentials below.
Over ten years ago, when I first walked past Toraya, the oldest Japanese pâtisserie in Paris, I remember thinking that the term "Japanese pastry" must be an oxymoron. Admittedly, I had (and still have) no personal knowledge of Japan and only slightly more knowledge of the country's dietary customs. But I was certain that I had never heard of any Japanese propensity for consuming pastries or confections. As a confirmed lover of sweets, I resolved that I would investigate Japanese pastry further some day.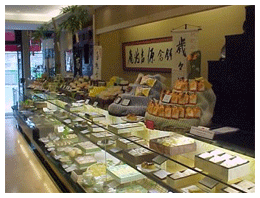 Well, "someday" has arrived. In researching tearooms for a client who wanted a Japanese tea ceremony as part of a gourmet excursion to Paris earlier this year, I came across Minamoto Kitchoan, a traditional Japanese tearoom and pâtisserie on place de la Madeleine. I visited the pastry shop, but was more interested in the tearoom at the time. I also took the opportunity to visit Toraya for the first time, ordering pastries and sampling the Matcha tea that is used for the traditional tea ceremony. The pastries were black sesame and red bean macarons and a round, dumpling-like "cake" filled with red bean paste called Rikyu-Manjû. I found the macarons to be quite nice and the Rikyu-Manjû interesting, both in flavor and texture. The bean paste in the latter was sweet and smooth, and its flavor more pronounced than that of the red bean macaron. Encouraged by the experience, I once again resolved that I would return to taste more pastries.

I subsequently learned about another pâtisserie called Sadaharu Aoki from a friend who also happens to be a Cordon Bleu-trained pastry chef. She mentioned Aoki in the same breath as she did Pierre Hermé, so I filed that name away as another shop that I should visit as part of my quest. Aoki is a French pâtisserie that prepares certain pastries and chocolates with traditional Japanese ingredients. I later learned that it produces the macarons sold at Toraya.

I had the opportunity to sample Aoki's wares this July. The occasion: BP French Mix contributor Michele Kurlander's birthday. At my suggestion, we went to the shop on rue de Vaugirard to buy French pastries with a Japanese flair before repairing to the Luxembourg garden for a leisurely tea in an outdoor café under the horse chestnut trees. We chose black sesame truffles and Matcha tea sablé, packaged in a transparent plastic box that prevented accidental crushing of the items while allowing us to admire them all the way to the garden. Once we ordered our tea and settled in to chat, we broke open our little treasure. We savored both of these indulgences, and I was particularly enamored of the flavor and crunch of sesame with chocolate in the truffles. I have since discovered that there is a second pâtisserie Aoki about 10 minutes walk from my home, so I will definitely drop by to purchase more of their delicacies!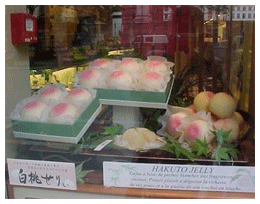 Continuing my research, I returned to Minamoto Kitchoan to explore its pastry section. This long, narrow shop has a rather non-descript exterior. But in one of the storefront windows, there is a beautiful floral arrangement that is made of sugar. The art form is called Kougei Gashi (pronounced "ko-gay gah-she"), which literally means "crafted confection". White bean paste, sugar and rice cake powder are mixed to produce two kinds of dough; these are used in varying combinations to fashion the delicate sculptures. In the opposite window, there are enormous confections shaped like peaches that are almost too beautiful to consider eating. You may consider them almost too expensive to eat as well, with each peach selling at a whopping 17 euros! Inside them quivers hakuto jelly; this is also presented in the window.

A beautiful display of pastries awaits you inside the boutique, each with a card that describes its principal ingredients. When I indicated the items that I wanted to purchase, I noted that the salesperson did not reach into the display case, but rather, into baskets on top of the case. The pastries were individually wrapped, and did not look quite like what I saw inside the case. I pointed this out, and was told that the items in the display case were artificial!

Undaunted, I selected several pastries, a "jelly soup" called Meisuinoka that is served cold and sipped with a straw, and a sorbet made from Japanese Muscat that can be served chilled or frozen. Most of the items on display were from the summer selection of pastries (the pâtisserie offers a seasonal "carte"), but I also chose a couple of items from the perennial selection.

Among these purchases, the Shobumochi, a walnut-filled rice cake coated with green powder and wrapped like a Japanese iris, was my favorite.

In perusing the offerings at Minamoto Kitchoan, I discovered that many of its pastries are more accurately called confections because they do not contain dough and are not baked. Jellies made from fruit juices or arrowroot starch and pastes made from red beans, white beans or rice are found in most products.

To complete my investigation, I once again returned to Toraya. They also offer seasonal pastries as well as standard ones that are sold year round. I selected two from the summer "menu" – Himawari, a pastry designed like a sunflower and Kuro-nashi, a round of arrowroot paste encased in red bean paste and sprinkled with poppy seeds. I also bought several of their traditional offerings; among them was Lune Vague, consisting of two pancake-like rounds stuffed with red bean paste. This last pastry looks like a large brown macaron.

I enjoyed the taste test of all of the pastries from Minamoto Kitchoan and Toraya, but found the bean paste fillings at Toraya to be smoother and, well, less bean-y. I cannot say that I will rush back to either place to buy more of their products. Though quite good, they are not what I am looking for when I want sweets. In my book, they can't compete with lemon tarts and frasiers – at least not yet!

Minamoto Kitchoan
17, place de la Madeleine

75008 Paris
Tel: 01.40.06.91.28
Metro: Madeleine
Toraya
10, rue Saint-Florentin
75001 Paris
Tel: 01.42.60.13.00
Metro: Concorde

Sadaharu Aoki

Boutique Vaugirard
35, rue de Vaugirard
75006 Paris
Tel: 01.45.44.48.90
Metro: Saint-Sulpice or Rennes
Sadaharu Aoki
56, boulevard Port Royal

75005 Paris
Tel: 01.45.35.36.80
Metro: Gobelins
---
Monique Y. Wells is co-owner of Discover Paris! – Personalized Itineraries for Independent Travelers as well as the author of Food for the Soul – A Texas Expatriate Nurtures her Culinary Roots in Paris. She was recently featured on the Food Network series "Recipe for Success", by Al Roker Productions.
---
---