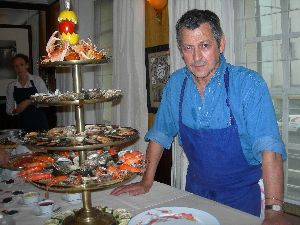 "We've known each other for thirty years and never worked together," said chef Jacques Maximin of Alain Ducasse, last Wednesday at Rech, where he is heading the kitchens.
Alert readers will recall that Alain Ducasse recently added the Art Deco jewel, Rech, to his portfolio of classic bistrots (Benoit: Aux Lyonnais: Le Relais du Parc) and gave it a bit of a facelift without spoiling the Adrien Rech "between two wars" style. The ecailler Malec composes his plateaux de fruits de mer outside, to eat chez Rech or take away.
Since last May there's been an extraordinary buzz about the place: it's due to Jacques Maximin, one of the chefs to have influenced French cuisine, and international chefs, with "his instinct for products, which he interprets just before he cooks them," according to Alain Ducasse. Yannick Alleno (3-stars The Bristol) remembers a significant photo of Max returning from market clutching a bunch of courgettes as he jumped out of his Porsche. "I had that picture on my wall, it inspired me, I wanted to be a top chef, I wanted that Porsche," he admits.
In 2007, GaultMillau put Maximin on their list of "icones de la cuisine francaise." Although the car-crazy chef swears he wanted to be a racing driver, his life has been spent in legendary kitchens: Pre-Catalan: Prunier: Le Moulin de Mougins with Roger Vergé: La Bonne Auberge with Jo Rostang: Le Chantecler at Le Negresco, Nice (where he won two stars). A short passage, with an open kitchen, on the stage of a Belle-Epoque theatre, Nice. A stint at Le Diamant Rose, Vence.
Then he decided to open his Ralph-Lauren-meets-Provence country house, in the hills above Nice, as a restaurant, calling it "Table d'Amis." Each day at the crack of dawn he was at Cros-de-Cagnes gathering the fishermen's catch, at Cours Saleya market for his vegetables, at local farms for his goat cheese, herbs, chickens, poultry, cheese, honey and organic vegetables. But, being Max, he decided he needed a change, and suddenly Table d'Amis was shut.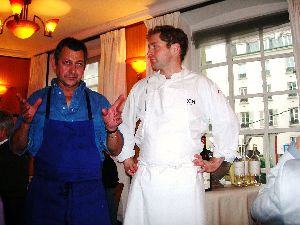 "That was my "Nice attitude" time, and that's what I'm bringing to Rech", explains Max. "Alain said to me one day, 'Come to Paris, I've got something that might interest you.' I  pushed open the door of Rech and really liked the vibes, the history. Within three weeks, I'd created forty new recipes which our great young talent Julian Dumas interprets. We're after at least one Michelin star", Maximin confirms.
There are plump Sardines en filets marinés, citrons confits, ficelle toastée, Pain Bagant de Tartare de Coquilles Saint-Jacques, comme a Nice: Oeuf cocotte aux truffes et crevettes grises: poëlée de pistes et artichauts violets, sauté minute de homard à l'huile d'olive et ragout de petits cocos blancs à la catalane, a menu homard bleu (65€).
"It's all signed Brand Maximin, and I'm delighted with the team here," he grins. "They call me 'roi de l'impromptu.' I often change recipes at the last minute, even while the customer's waiting. I just created a carpaccio de mulet à l'oursin, un curry de haddock aux moules, un filet de rouget avec sauce au foie au vinaigre de Banyuls."
And so it goes on, the Formula-1 creator of courgette-fleur farcie and tian de legumes vows his total adoration for all things Ducasse. "He knows he can count on me." And so can you, dear reader.
RECH
62 avenue des Ternes, 17th
Metro: Ternes
T: 01 45 72 29 47
Lunch 30€, Dinner 53€, a la carte about 70€ + wine
Shut Sun-Mon
www.esprit-bistrot.com
Cuisine in the Metro at Miromesnil
From 3-5 November, the Espace Mezzanine Nord at Metro station Miromesnil becomes a kitchen and country market. Three super-chefs will give cookery demonstrations in which the public is invited to participate. The RATP has invited the chefs to cook simple dishes showcasing everyday, inexpensive vegetables. The vegetables will be cooked by the chefs using recipes created specially for the three-day metrothon, which travellers can then try out at home.
Participating chefs are:

3rd November: Eric Frechon, 3-star Michelin at Le Hotel Bristol. Paris, who will cook Carrottes fanes au pain d'epices.(baby organic carrots with their leaves and gingerbread).
4th November: Patrick Bertron, 3-star Michelin at Relais Bernard Loiseau, Saulieu, Burgundy, will cook cabbage three ways: (1) Stuffed with ham, parsley and Burgundy mustard (2) Buttery cabbage, sprinkled with spicy black cardamon (3) Spring rolls of cabbage leaves with duck fillets.
5th November: Patrice Caillault, Domaine de Rochevilaine, Billiers, Brittany, will cook "emulsion of pulped Brittany potatoes with seaweed."
The chefs will cook three sessions at 12h30, 17h30, and 18h30
Miromesnil is a station in the 8th arrondissement on lines 9 and 13 of the Paris Metro. The station opened in May 1923 and is named after Armand Thomas Hue de Miromesnil (1723-1796) who was Keeper of the Seal, deputy to the Chancellor of France (Minister of Justice) from 1774-1787. He is remembered for abolishing torture during interrogation of suspects. Near the station are the Elysee Palace, the Ministry of the Interior, and Musee Jacquemart Andree, as well as the Champs Elysees.
For the 1€ 60 metro ticket, you can travel all over Paris (and on the buses) as far as you want!
Photos: Margaret Kemp.

Please post your comments and let them flow. Register HERE to do so if you need a user name and password.