Discover Istanbul: Rich Mosaics of Culture, Art & Cuisine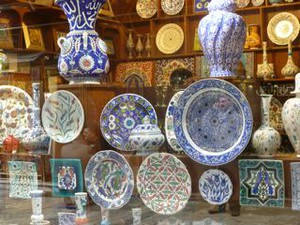 A hip, sophisticated, up-and-coming city. Richly layered history, delicious cuisine, distinctive neighborhoods. Amazing architecture. Markets full of tempting artisanal goods. A gem-like epicenter of empires. Coveted, cosseted, romantic, perenially alive in literary and artistic imaginations around the world…. We are talking about Istanbul, not Paris! Where else can one explore an exquisite ancient building like the Hagia Sophia, built in the fifth century (and still an architectural marvel today) by day, then shop for utterly contemporary fashion in hip boutiques, bargain for artisanal treasures in a very grand bazaar reputed to be the world's original "shopping mall" and finally wrap up your night in a hipper-than-thou dance club or in a rousing mehanye complete with raki, mezzes and Fasulye music? Where else might you shop alongside an uber-trendy woman in the shortest conceivable miniskirt and also a woman covered head to toe in conservative Islamic dress? And somehow, it all makes total sense. The Istanbul blend of forward-looking energy, combining the ancient and modern, European and Asian, funky and fabulous, is heady and ever so engaging. Istanbul is no romantic Ottoman set-piece frozen in another era, as fascinating as that might be. This magnificent urban nexus straddling Europe and Asia is as unique and endlessly intriguing as can be. This is a remarkable place to sojourn. The fabled Bosphorus is the heart and soul of the city in much the same way that the Seine is for Paris—defining quarters, providing a dreamy waterway to criss-cross on steaming ferries, to walk, run, relax, socialize and eat alongside. And while not frozen in time, Istanbul is a very romantic place indeed. Istanbul's skyline, like Paris, is not dominated by modern office towers, at least in the Old City, in 'European' Beyoglu or the Asian quarters. The city is at human scale, its skyline punctuated by the domes and minarets of thousands of mosques, imperially magnificent to modest. There is as vibrant a café culture as in Paris, and a seemingly visceral need for Istanbul'lus to eat super-fresh fish, ideally grilled in full sight of the Bosphorus. And like Parisians, the sociable Turks have raised the art of nursing a glass of tea or a dense cup of Turkish coffee to admirable levels. And while potent raki or good beer is a common accompaniment for meals and conversation, contemporary Turkish wines are steadily improving in quality. The venerable wine-making heritage pre-dates Roman times by centuries. Istanbul is now home to increasing numbers of wine-bars highlighting Turkish wines, well worth a tipple or two. Westerners often find the putative Europe/Asia divergence of style and sensibilities to be fascinating, but most Turks will tell you that they are long beyond that old Orientalist versus Western chestnut. Noted writer Orhan Pamuk comments that this is simply part of what it means to be a contemporary Turkish citizen. He and other opinion leaders see this ease with cultural fusion as an important asset for Turkey. Indeed, Turkey is boldly positioning itself as a bridge to the west from the middle east, a bridge to the middle east for the west, while building its manufacturing and industrial base to expand a prosperous middle class along with its newly minted millionaires. An energized Istanbul is barreling into the 21st century. Yet, with all the temptations of the modern city, there are abundant opportunities to slip easily into ancient places and spaces evoking the Byzantine and Ottoman past… along with redolent traces of French, Austrian, Roman, Genoese and other civilizations that have laid claim to Istanbul over the centuries. The old city is packed with evocative places to visit. These include the massively stunning Topkapi Palace, the incomparable Hagia Sophia, the Blue Mosque, the Arasta Bazaar and the Basilica Cistern. The densely mercantile Bazaar Quarter incorporates the Grand Bazaar and the Egyptian (or Spice) market and is one throbbing mass of small stores and artisans ateliers in between the two. The great Suleymaniye Mosque watches over the Bazaar Quarter and also looks west to the Golden Horn and north up the Bosphorus. Recently reopened after a three-year closure for extensive restoration, this Imperial Mosque built for Suleyman the Magnificent offers a beguilingly tranquil inner-space under its splendid domes and Iznik tiled walls. Built by the renowned Imperial Architect Minar Sinan, Suleymaniye should rank high on any visitor's list, as should the much more intimate Rustem Pasa mosque just down the hill towards the Golden Horn and near the Spice Market. Rustem Pasha, also built by Sinan, is particularly lovely for its tiled walls of Iznik floral arabesques and tiles from the sixteenth century—a golden era for iconic Turkish works from Iznik. Gorgeous. Shopping is an endless delight in Istanbul. The quality of artisanal production is very high and one can be tempted constantly by rugs, textiles for the home, jewelry, leather goods, copper, magnificent silks, tiles and so much more. Food-loving visitors will want to stock up on delicious things like smoky-chocolatey-spicy Urfa pepper or any of hundreds of spices and spice blends. Turkey makes fabulous honeys and pomegranate molasses, loads of herbal teas, sweet Turkish Delight candies, and amazingly good baklava. Gullogulu, the mother-ship of all things Baklava, has over thirty varieties of this delectable sweet at their shop/café in the Karakoy quarter. Turkish cuisine is varied and mostly irresistible (perhaps leaving out the sheep intestine soup reputed to be the best cure for a surfeit of partying).  There are more varieties of kebaps (grilled meats) than one can imagine and more than enough places to enjoy them, ranging from serious restaurants to intimate zubeyir grill restaurants to sidewalk vendors.  Vegetables are abundant and prepared lusciously. And, another shared Parisian passion: Turks are crazy about bread and the standard of breads from the thinnest grilled breads to hearty…
SUBSCRIBE
ALREADY SUBSCRIBED?
BECOME A BONJOUR PARIS MEMBER

Gain full access to our collection of over 5,000 articles and bring the City of Light into your life. Just 60 USD per year.

Find out why you should become a member here.

Sign in

Fill in your credentials below.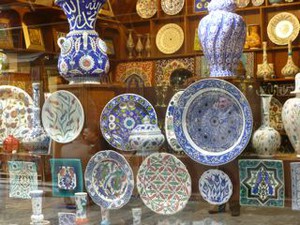 A hip, sophisticated, up-and-coming city. Richly layered history, delicious cuisine, distinctive neighborhoods. Amazing architecture. Markets full of tempting artisanal goods. A gem-like epicenter of empires. Coveted, cosseted, romantic, perenially alive in literary and artistic imaginations around the world…. We are talking about Istanbul, not Paris!
Where else can one explore an exquisite ancient building like the Hagia Sophia, built in the fifth century (and still an architectural marvel today) by day, then shop for utterly contemporary fashion in hip boutiques, bargain for artisanal treasures in a very grand bazaar reputed to be the world's original "shopping mall" and finally wrap up your night in a hipper-than-thou dance club or in a rousing mehanye complete with raki, mezzes and Fasulye music? Where else might you shop alongside an uber-trendy woman in the shortest conceivable miniskirt and also a woman covered head to toe in conservative Islamic dress? And somehow, it all makes total sense. The Istanbul blend of forward-looking energy, combining the ancient and modern, European and Asian, funky and fabulous, is heady and ever so engaging.
Istanbul is no romantic Ottoman set-piece frozen in another era, as fascinating as that might be. This magnificent urban nexus straddling Europe and Asia is as unique and endlessly intriguing as can be. This is a remarkable place to sojourn. The fabled Bosphorus is the heart and soul of the city in much the same way that the Seine is for Paris—defining quarters, providing a dreamy waterway to criss-cross on steaming ferries, to walk, run, relax, socialize and eat alongside. And while not frozen in time, Istanbul is a very romantic place indeed.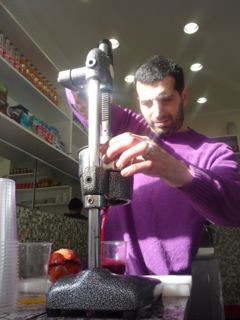 Istanbul's skyline, like Paris, is not dominated by modern office towers, at least in the Old City, in 'European' Beyoglu or the Asian quarters. The city is at human scale, its skyline punctuated by the domes and minarets of thousands of mosques, imperially magnificent to modest. There is as vibrant a café culture as in Paris, and a seemingly visceral need for Istanbul'lus to eat super-fresh fish, ideally grilled in full sight of the Bosphorus. And like Parisians, the sociable Turks have raised the art of nursing a glass of tea or a dense cup of Turkish coffee to admirable levels. And while potent raki or good beer is a common accompaniment for meals and conversation, contemporary Turkish wines are steadily improving in quality. The venerable wine-making heritage pre-dates Roman times by centuries. Istanbul is now home to increasing numbers of wine-bars highlighting Turkish wines, well worth a tipple or two.
Westerners often find the putative Europe/Asia divergence of style and sensibilities to be fascinating, but most Turks will tell you that they are long beyond that old Orientalist versus Western chestnut. Noted writer Orhan Pamuk comments that this is simply part of what it means to be a contemporary Turkish citizen. He and other opinion leaders see this ease with cultural fusion as an important asset for Turkey. Indeed, Turkey is boldly positioning itself as a bridge to the west from the middle east, a bridge to the middle east for the west, while building its manufacturing and industrial base to expand a prosperous middle class along with its newly minted millionaires. An energized Istanbul is barreling into the 21st century.
Yet, with all the temptations of the modern city, there are abundant opportunities to slip easily into ancient places and spaces evoking the Byzantine and Ottoman past… along with redolent traces of French, Austrian, Roman, Genoese and other civilizations that have laid claim to Istanbul over the centuries. The old city is packed with evocative places to visit. These include the massively stunning Topkapi Palace, the incomparable Hagia Sophia, the Blue Mosque, the Arasta Bazaar and the Basilica Cistern. The densely mercantile Bazaar Quarter incorporates the Grand Bazaar and the Egyptian (or Spice) market and is one throbbing mass of small stores and artisans ateliers in between the two.
The great Suleymaniye Mosque watches over the Bazaar Quarter and also looks west to the Golden Horn and north up the Bosphorus. Recently reopened after a three-year closure for extensive restoration, this Imperial Mosque built for Suleyman the Magnificent offers a beguilingly tranquil inner-space under its splendid domes and Iznik tiled walls. Built by the renowned Imperial Architect Minar Sinan, Suleymaniye should rank high on any visitor's list, as should the much more intimate Rustem Pasa mosque just down the hill towards the Golden Horn and near the Spice Market. Rustem Pasha, also built by Sinan, is particularly lovely for its tiled walls of Iznik floral arabesques and tiles from the sixteenth century—a golden era for iconic Turkish works from Iznik. Gorgeous.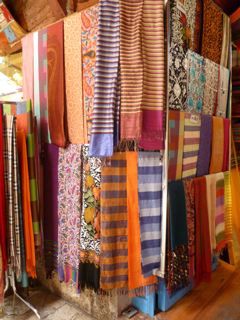 Shopping is an endless delight in Istanbul. The quality of artisanal production is very high and one can be tempted constantly by rugs, textiles for the home, jewelry, leather goods, copper, magnificent silks, tiles and so much more. Food-loving visitors will want to stock up on delicious things like smoky-chocolatey-spicy Urfa pepper or any of hundreds of spices and spice blends. Turkey makes fabulous honeys and pomegranate molasses, loads of herbal teas, sweet Turkish Delight candies, and amazingly good baklava. Gullogulu, the mother-ship of all things Baklava, has over thirty varieties of this delectable sweet at their shop/café in the Karakoy quarter.
Turkish cuisine is varied and mostly irresistible (perhaps leaving out the sheep intestine soup reputed to be the best cure for a surfeit of partying).  There are more varieties of kebaps (grilled meats) than one can imagine and more than enough places to enjoy them, ranging from serious restaurants to intimate zubeyir grill restaurants to sidewalk vendors.  Vegetables are abundant and prepared lusciously. And, another shared Parisian passion: Turks are crazy about bread and the standard of breads from the thinnest grilled breads to hearty multigrain loaves is very high. Who knew!
And, perhaps somewhat analogous to classic French cuisine, Istanbul restaurants such as Asitane have studiously researched recipes of the Ottoman Courts and prepare dishes of a subtlety, richness and complexity that are well worth seeking out. For those passionate about regional cuisine, a ferry trip across the Bosphorus to Ciya Sofrasi is essential. Chef Musa Davigdiren is not unknown. His three restaurants in the midst of the terrific Kadikoy market have been written up repeatedly and he has won numerous well-deserved accolades.  What makes Ciya truly special is that this erstwhile temple of regional Turkish cuisine, often using hard-to-source ingredients in the quest for authenticity, is really good and totally down to earth. And did I mention modestly priced? The traditional Sofrasi has prepared dishes, served in half and full portions, which change daily. Ciya Kebap focuses on stunningly good grills. And the third restaurant offers both the Sofrasi dishes and kebaps.
Istanbul is a feast in every sense. When you go, take a ferry or bus to Eyup, an off-the-tourist-radar ancient quarter of Istanbul up the Golden Horn, beyond the old Greek and Jewish quarters of Fener and Balat. Atop a hill in Eyup, looking down at a mosque which is the fourth holiest site in Islam, down to the sparkling Golden Horn and across to 'Europe', settle in to the Pierre Loti café. This charming be-tiled tea-room with its zillion dollar view is named for Julien Viaud, French Military Officer and writer using the pen-name Pierre Loti. Viaud fell in love with Istanbul in 1876, and with a Turkish woman who was the wife of an important businessman. Loti would come to this hilltop in Eyup to dream, to write and to contemplate a city that he found endlessly intriguing. You likely will also!
——————————
Sally Peabody is a Paris Specialist who has been seriously smitten with Istanbul. There are fascinating similarities in what make Paris and Istanbul so intriguing while being utterly unique great cities. Sally is bringing small groups for culinary and cultural tours to experience Istanbul (and beyond) in addition to her travel advising and culinary tours to access the best in Paris. http://www.yourgreatdaysinparis.com
Take trips, not chances. For peace of mind each and every time you travel, enroll for Medjetssist evacuation services. If you're planning a trip to Istanbul (or anywhere else for that matter), you can reserve your hotel here. To rent a car, Bonjour Paris recommends Auto Europe.
More in travel, travel tips
---
---