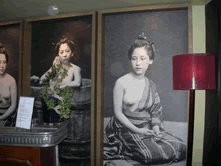 One of the best lunch surprises of late was Le Mood, the huge space on the Champs Elysées, opened to mixed reviews last year. Just goes to show, don't take any notice of food critics (apart from BUZZ, bien sur). The lunch was an exercise in matching food, cheese and tea, not just any old Ty-Phoo but the real thing, brought from Tai-Wan by dynamic tea-maven and entrepreneur Bob Yeh.
Of course where there's proper tea in Paris, you'll be almost guaranteed to find the elegant Gilles Brochard, his Le Guide du Thé a Paris (Les Editions de L'If) is the definitive tea bible, where to buy, drink, learn about tea without having to schlep to China, Ceylon, Japan, as he does. Brochard's done all the work for you. "Don't make tea with boiling water", is his credo. "It burns ze leaves". "Useless adding milk to a cup of Darjeeling or Wulong, spoils the flavour", he scoffs. And if he ever catches you using one of those metal balls, it's all over between you. "A drink with multiple depths, tea is an invitation to travel, its colour the most beautiful passport, a few drops conjure up Darjeeling, Assam, Yunnan, Formosa", he sighs.
Le Mood, le restaurant is inspired by Wong Kar Wai's movie, it's bar-restaurant-lounge with Asian infusions. Décor is by Didier Gomez an opera singer before branching out into the world of interiors in 1985. His collections for Ligne Roset have names like Feng, Opium, Fugue, are symbols of his sleek contemporary take on classic urban style, perfect for Le Mood. On three floors you're transported to another world, stylish touches of moody Suzie Wong.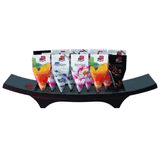 For the tea-lunch chef Jacky Ribault (ex-Tsé) sent out amuse-bouches of makis au fromage tofu, stilton and fromage blanc. Brochettes de volaille, comté cheese and yuzu jelly, fruit jellies and marmalade of fruits. Jing Xuan tea, slightly smoked 100% Formosa, to sip. A golden puff pastry Stilton tourte followed, with Four Seasons Oolong tea, and the main was Turbot steamed with Oolong, baby peas, green asparagus, white rice and emulsion of Fourme d'Ambert. It was paired with miso soup, brochette of tofu, sea-weed salad spiked with green papaya. Dessert included Fontainebleau cheese with fresh almonds and ganache of green tea.
"People ask me how I stay so slim and trim", said Kazuko Masui, the elegant journalist usually at Le Meurice, in the restaurant at table No. 5.  "I'm convinced it's the tea, I drink at least 10 cups a day. Now I'm into Blushing Blossom Four Seasons Oolong, which Bob Yeh has introduced to me, he says it has stimulating properties. The first time I went to a vineyard the winemaker picked up a handful of soil and said "this is where the wine comes from". It's the same with tea, the quality comes from the earth, man follows the earth, the earth follows the sky", she smiles a zen smile.
Yeh is the savvy businessman who persuaded le tout Tai Wan to drink Kai Shi Oolong, cold tea in a can, even though Chinese doctors say cold drinks are not healthy.   Now it's more popular than Coca-Cola and Yeh's over here saying, "Look Out Lipton here comes Oolong". Other successful projects are introducing Petanque to Tai Wan and setting up the Federation Taiwanese de Petanque. "I love France", says Yeh. "Before, there is no beginning.  After, there is no end". And with that he's off.
Le Mood,
114 Avenue de Champs Elysées, 8th
Metro: George V
T: 08 26 10 09 16/01 42 89 98 89
www.groupe_bertrand.com
Open 7/7 + Sunday Brunch Lunch 20€ + wine
Lao Tsu Say Teas
Harrods, Knightsbridge, London
Lafayette Gourmet, Paris
www.laotsusay.com