How to Kill Time at Charles de Gaulle Airport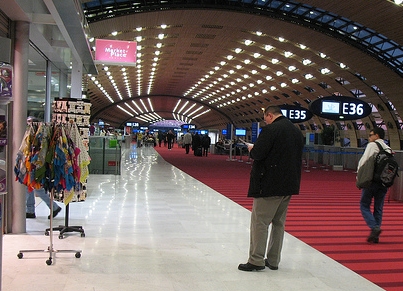 Much like the city that it serves, Charles de Gaulle Airport is vast and – to the outsider – potentially confusing. If nothing else, this means you should avoid underestimating how long it will take to get to your departure gate. A long layover in one of the world's busiest airports can be fun and adventurous, but no one wants it to become the holiday itself! In truth, the amenities and attractions at Charles de Gaulle are fairly limited and restricted mainly to shopping. The options for eating are particularly disappointing – especially the lack of a high-quality restaurant –  and surprising given France's reputation for gastronomy. However, if it's retail therapy you're after, you shouldn't be disappointed. Head to Hall F at Terminal 2 where you can browse for clothes, books, toys and souvenirs. Meanwhile, plane enthusiasts will enjoy the large windows on the lower level of the Hall, and, as an added bonus for keen historians, there is also an archeological display with objects that were found during construction work at the airport. A popular attraction at airports throughout the world is always the massage services – and it's little surprise why. For anxious travelers it is the ideal way to soothe those nerves before your flight, whilst for everyone else – well, who needs an excuse for a massage! Terminal 2 boasts several Be Relax kiosks which offer massage treatments, while in Terminal 2 there is a spa where you can indulge in a little extra pampering, such as facials, manicures and pedicures. For those returning from their holiday resembling Tom Hanks in Castaway, there is also a hairdresser on the lower level of Terminal 1 and in Hall F at Terminal 2. If you'd like a shower and a nap, or just fancy watching some TV in peace and quiet, you can book into a day room at one of the airport hotels. The Hilton Paris Charles de Gaulle Airport offers this service and you also get access to the hotel's swimming pool and gym. It's 5 minutes away from the airport on the complimentary shuttle bus. The Sheraton Paris Airport Hotel also has a day rate and is directly connected to Terminal 2. Business travelers in particular will benefit from the WiFi hotspots that are dotted throughout the terminals, allowing you access to the web via your own personal laptop. Leisure travelers without their own laptop have access to internet kiosks, which are charged on a 'pay as you go' basis. You can also get online in the Icare lounge, which is located in Terminal 1 (airside), though entrance into this exclusive area will set you back 30 Euros. If you're faced with a particularly long layover – say, 8 hours or more – how about heading into the City of Light for some sightseeing? You can jump on an RER train direct from the airport and be in Paris in just 40 minutes. And even better, you can now check luggage in at Charles de Gaulle Airport, meaning you can enjoy your whistle-stop tour of the city without being weighed down with bags. Writer information Susan Radcliffe is a travel writer who lives and works in London.  She writes for Airport Hotels.com, where travelers can compare prices on
Charles de Gaulle Airport hotels
. Photo credits this page:  Flickr Creative Commons/
James Emery
Paris Shuttle is the leading provider of pre-bookable airport transfers in Paris. Book your airport transfer with 
Paris-Shuttle.com
and save up to 30%. Please post your comments or questions and let them flow. Register 
HERE
to do so if you need a Bonjour Paris user name and password.
SUBSCRIBE
ALREADY SUBSCRIBED?
BECOME A BONJOUR PARIS MEMBER

Gain full access to our collection of over 5,000 articles and bring the City of Light into your life. Just 60 USD per year.

Find out why you should become a member here.

Sign in

Fill in your credentials below.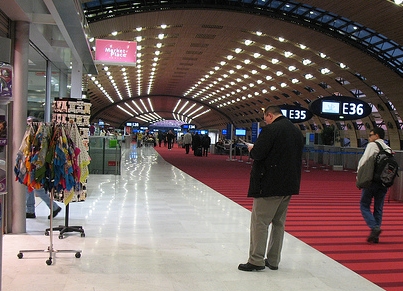 Much like the city that it serves, Charles de Gaulle Airport is vast and – to the outsider – potentially confusing. If nothing else, this means you should avoid underestimating how long it will take to get to your departure gate. A long layover in one of the world's busiest airports can be fun and adventurous, but no one wants it to become the holiday itself!
In truth, the amenities and attractions at Charles de Gaulle are fairly limited and restricted mainly to shopping. The options for eating are particularly disappointing – especially the lack of a high-quality restaurant –  and surprising given France's reputation for gastronomy.
However, if it's retail therapy you're after, you shouldn't be disappointed. Head to Hall F at Terminal 2 where you can browse for clothes, books, toys and souvenirs. Meanwhile, plane enthusiasts will enjoy the large windows on the lower level of the Hall, and, as an added bonus for keen historians, there is also an archeological display with objects that were found during construction work at the airport.
A popular attraction at airports throughout the world is always the massage services – and it's little surprise why. For anxious travelers it is the ideal way to soothe those nerves before your flight, whilst for everyone else – well, who needs an excuse for a massage! Terminal 2 boasts several Be Relax kiosks which offer massage treatments, while in Terminal 2 there is a spa where you can indulge in a little extra pampering, such as facials, manicures and pedicures. For those returning from their holiday resembling Tom Hanks in Castaway, there is also a hairdresser on the lower level of Terminal 1 and in Hall F at Terminal 2.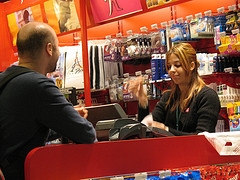 If you'd like a shower and a nap, or just fancy watching some TV in peace and quiet, you can book into a day room at one of the airport hotels. The Hilton Paris Charles de Gaulle Airport offers this service and you also get access to the hotel's swimming pool and gym. It's 5 minutes away from the airport on the complimentary shuttle bus. The Sheraton Paris Airport Hotel also has a day rate and is directly connected to Terminal 2.
Business travelers in particular will benefit from the WiFi hotspots that are dotted throughout the terminals, allowing you access to the web via your own personal laptop. Leisure travelers without their own laptop have access to internet kiosks, which are charged on a 'pay as you go' basis. You can also get online in the Icare lounge, which is located in Terminal 1 (airside), though entrance into this exclusive area will set you back 30 Euros.
If you're faced with a particularly long layover – say, 8 hours or more – how about heading into the City of Light for some sightseeing? You can jump on an RER train direct from the airport and be in Paris in just 40 minutes. And even better, you can now check luggage in at Charles de Gaulle Airport, meaning you can enjoy your whistle-stop tour of the city without being weighed down with bags.
Writer information
Susan Radcliffe is a travel writer who lives and works in London.  She writes for Airport Hotels.com, where travelers can compare prices on Charles de Gaulle Airport hotels.
Photo credits this page:  Flickr Creative Commons/James Emery

Paris Shuttle is the leading provider of pre-bookable airport transfers in Paris. Book your airport transfer with Paris-Shuttle.com and save up to 30%.
Please post your comments or questions and let them flow. Register HERE to do so if you need a Bonjour Paris user name and password.
More in Paris airports, Paris hotels, Paris sightseeing, Paris transportation, Shopping, travel tips
---
---