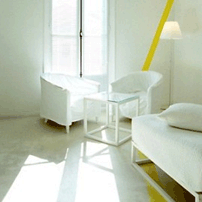 If you've only been using the NetJet to land at Nice Côte d'Azur airport and then leave Nice, think again. The evolution of the city is spectacular, the newly transformed Musée Massena, the famous pebble beaches, talented young chefs and restaurants to suit every taste and pocket, the picture postcard Cours Saleya market area, museums, concerts. Read, everything you need and more. Even a spectacular new state-of-the-art tramway and the weather's nearly always obligingly pleasant, why do you think good Queen Vic went down there?
And it's not just expensive hotels, full stop. OK. The Negresco is legendary, The Palais de la Mediterranee must be seen, if only as a lesson in what not to do when transforming a landmark building into a luxury hotel. Handsome hotels on the Promenade des Anglais, but take a few steps back and discover The Hotel Windsor. An oasis.
"We get a lot of English, because of the name", says Odile Payen-Redolfi whose family have owned the hotel for 60 years, Jane Birken was there recently. Payen-Redolfi loves modern art, and when she took over the hotel five years ago, decided to turn the hotels 57 bedrooms into works of art by a team of talented contemporary artists. Ben (No.65). Glenn Baxter, Claudio Parmigiani, Olivier Notellet, Aicha Hamu etc. "The lift is awesome, step into a colourful shiny space created by Ultra-Violet with a count-down commentary, so you're in a rocket ship, journeying into space.
The rooms are all different. "We transform a new room every year, and have a vernissage, just like an art gallery", says Payen-Redolfi. In fact there are always exhibitions in the public spaces, art is not only for the bedrooms. A tranquil Budda watches the proceedings on the ground floor/lobby, where books, drinks and newspapers are part of the décor, you're staying in a friend's home, a friend who happens to have an amazing art collection. And don't forget to book into the roof-top spa (hammam/sauna) for a very comprehensive range of treatments
The pool area, a magical tropical garden with parrots and a tag- mural along one wall has a sound installation by Odile's cousin, the pioneer of underwater concerts, Michel Redolfi
www.redolfi-music.com Breakfast, lunch and dinner are served in this area, and, in cooler months by cosy contemporary flames in the lounge-area. Staying here is an adventure.
The Promenade des Anglais beach scene has something for everyone, want to sit and stare, head for one of the pebble public beaches, clean, but you'll need to take towels etc.
The chic, cher and must-visit beach is Hi-Beach, part of Hi-Hotel designed and invented by architect Matali Crasset. So there's Hi-Hotel, Hi-Business, Hi-Body. nine different concepts based on a design for modern organic living.
Hi Beach + Resto + Bar + Spa + Boutique is open 7/7 – divided into 3 diferent spaces. Hi-Play: Hi-Relax and Hi-Energy, and you can also do a bit of old fashioned swimming,/tanning which is, after all, the main purpose of a beach and the seaside, n'est pas cherie? There's a daily programme that goes on until the early hours. Disco, SOS (Sunday Organic Session) which means, no smoking, no alcohol, fragrant aromatherapy massage sessions and bio-brunch. Try and get a massage in one of the exotic tents by the amazing Bernard Poncet www.massageadomicile.com
The cuisine is by Japanese wunderkind, Keisuke Matsushima, delicious Kei-Burger, Salads, fresh fish, sushi, fruit salads, all prepared in a glass-box open kitchen. Smoothies and juices, organic wine www.keisukematsushima.blogspot.com and each month Kei invites a celebrity chef to cook on the beach with him. If you enjoy BUZZ you'll love Kei's blog, and it's in English dear. Hi-Beach is a great scene which "le tout Nice" have taken it to their hearts.
Address Book:
Hotel Windsor & Spa,
11 rue Dalpozzo, Nice,
T: 04 93 88 59 35
Rooms from 145€ + buffet breakfast 12€
Dinner from 29€
Wi-Fi access.
Hi-Beach,
47 Promenade des Anglais, Nice
T: 04 97 14 00 83