Hôtel Caron de Beaumarchais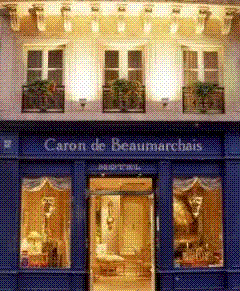 The minute I stepped inside Hotel Caron de Beaumarchais, located in the heart of the Marais in Paris' fourth arrondisements, I thought I was at the wrong address.  I was mentally prepared to see the usual snooty doorman and cookie-cutter lobby furniture combo typical of many other three-star hotels, but the crackling fireplace, harp, and 18th- century card table that greet guests of the Beaumarchais look more like the inside of a private home built for the French gentry than a hotel designed for tourists.  Instead of a blaring television set or noisy lounge area, a pianoforte, hand-selected by the father-son management team of Etienne and Alain Bigeard, sits next to a concierge seated at an antique desk.  From minute one, I knew there is nothing ordinary at Hotel Caron de Beaumarchais.  As they say, first impressions are everything.  When you step into the Beaumarchais's lobby, the first thing you'll notice is the attention to detail.  Absolutely every inch of this place has been redone and refurbished, accurately reflecting the 18th- century theme.  Chairs upholstered in period silks, authentic antiques hand-selected from markets across Europe, custom wallpapers, everything right down to the soft, slowly swaying lights (made to give the effect of the faint glow of candles) give the hotel a personal, intimate feel.  "The leading idea of the décor of the hotel is introducing part of the history with fun," states Alain Bigeard, the interior decorator himself.  "This has been done with a lot of care."  Modern luxuries such as, well, electricity for starters as well as the elevator (thank God) have been added to make your stay as convenient as possible; however, the hotel goes to great lengths to sneak amenities of 2005 in without interrupting the décor of 1700.  The knowledgeable staff is equally attentive and willing to provide anything from area restaurant recommendations to a copy of the International Herald Tribune placed neatly beside morning tea or coffee.  With only seven floors and nineteen rooms, the hotel itself is small, small enough to physically feel like a home.  Perhaps that's because it once was.  Formerly the home of an 18th- century French gentryman, the hotel was designed to preserve the ambiance of both comfort and indulgence.  "The 18th century was an outstanding time," remarks Bigeard.  "The plaisir, the fashion…this was a period of joy, a period of life, a period of luxury.  I want my hotel to show that." Combined with the elegant decorations and a welcoming staff, one feels more like a house guest than a paying customer.  "Hotels are too similar," Bigeard quips.  "My first purpose is to be a home for guests wanting to discover culture." As I made my way up to the room in the Beaumarchais's stereotypically Euro elevator (holding a maximum of four people), an English-speaking couple beside
me chatted quietly.  "I love this place," I heard the woman say. "The people here are so friendly."  To hear an American describe the hotel as 'friendly' is an almost too appropriate.  Hotel Caron de Beaumarchais is named after Pierre Augustin Caron de Beaumarchais, author of the controversial 1784 play The Marriage of Figaro (the original source of Mozart's famous opera) and former resident of rue Vieille du Temple where the hotel stands today.  Nicknamed "Friend of the Americans" because of the arms he provided to rebel soldiers during the Revolutionary War, Beaumarchais was a world-renowned anglophile and, in part, responsible for the creation of the term "American."  Likewise, the Beaumarchais hotel bends over backwards to cater to the English-speaking community.  The staff is bilingual, reservations can be made either online or via telephone in English, and all promotional materials (including the web site at http://www.carondebeaumarchais.com) are written with the Anglophone community in mind.  The rooms themselves are small but as tasteful and elegant as the lobby.  Exposed beam ceilings, French armoires, and hand-framed first-edition pages of The Marriage of Figaro meet flat-screen LCD televisions with satellite cable (including CNN in English), high-speed Wifi connections, and air-conditioning.  A complete renovation of the hotel was done just last year, and all rooms have been soundproofed and wired with the fastest internet connections available.  Tiny balconies overlooking rue de Rivoli provide a fantastic place to enjoy a morning croissant or sip an evening glass of wine, and rooms on the top floors offer a breathtaking view of the Right Bank.  What's more impressive than either the view or the amenities are the tiny, commonly overlooked niceties within each room.  Fresh flowers, Beaumarchais stationery, and a tiny dish of candy bearing the silhouette of Beaumarchias himself await guests as if the hotel staff has been anticipating your arrival for months.  Even the private bathrooms reflect the atmosphere of the hotel.  The sparkling and drool-ably large bathrooms feature hand-painted tiles and come equipped with hair dryers and a mini-bar.  Breakfast is done with equal elegance and flair and thankfully is served until noon for late risers.  Guests can opt for the full ten-euro meal (either delivered directly to your room or taken in the downstairs breakfast room), consisting of coffee, tea or hot chocolate served with freshly squeezed orange juice, country-style pâté, warm pain au chocolat, cheese, yogurt, and bread with honey and/or homemade jams.  Top it all off with a ripe kiwi fruit and you have yourself a breakfast fit for a king.  For guests looking for just a morning pick-me-up, three and a half euros gets you coffee, tea or hot chocolate brought directly to your room on a tray along with a copy of the Tribune.  The Marais, the epicenter of fashion, taste, and all things chic, is of course the perfect location for the Beaumarchais.  Nestled between stereotypically Parisian cafés and boutiques, the Beaumarchais is walking distance from some of the most fantastic shopping, eating, museum-going and night life this city has…
SUBSCRIBE
ALREADY SUBSCRIBED?
BECOME A BONJOUR PARIS MEMBER

Gain full access to our collection of over 5,000 articles and bring the City of Light into your life. Just 60 USD per year.

Find out why you should become a member here.

Sign in

Fill in your credentials below.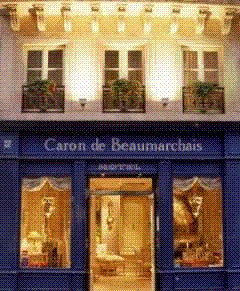 The minute I stepped inside Hotel Caron de Beaumarchais, located in the heart of the Marais in Paris' fourth arrondisements, I thought I was at the wrong address.  I was mentally prepared to see the usual snooty doorman and cookie-cutter lobby furniture combo typical of many other three-star hotels, but the crackling fireplace, harp, and 18th- century card table that greet guests of the Beaumarchais look more like the inside of a private home built for the French gentry than a hotel designed for tourists.  Instead of a blaring television set or noisy lounge area, a pianoforte, hand-selected by the father-son management team of Etienne and Alain Bigeard, sits next to a concierge seated at an antique desk.  From minute one, I knew there is nothing ordinary at Hotel Caron de Beaumarchais. 
As they say, first impressions are everything.  When you step into the Beaumarchais's lobby, the first thing you'll notice is the attention to detail.  Absolutely every inch of this place has been redone and refurbished, accurately reflecting the 18th- century theme.  Chairs upholstered in period silks, authentic antiques hand-selected from markets across Europe, custom wallpapers, everything right down to the soft, slowly swaying lights (made to give the effect of the faint glow of candles) give the hotel a personal, intimate feel.  "The leading idea of the décor of the hotel is introducing part of the history with fun," states Alain Bigeard, the interior decorator himself.  "This has been done with a lot of care."  Modern luxuries such as, well, electricity for starters as well as the elevator (thank God) have been added to make your stay as convenient as possible; however, the hotel goes to great lengths to sneak amenities of 2005 in without interrupting the décor of 1700.  The knowledgeable staff is equally attentive and willing to provide anything from area restaurant recommendations to a copy of the International Herald Tribune placed neatly beside morning tea or coffee. 
With only seven floors and nineteen rooms, the hotel itself is small, small enough to physically feel like a home.  Perhaps that's because it once was.  Formerly the home of an 18th- century French gentryman, the hotel was designed to preserve the ambiance of both comfort and indulgence.  "The 18th century was an outstanding time," remarks Bigeard.  "The plaisir, the fashion…this was a period of joy, a period of life, a period of luxury.  I want my hotel to show that." Combined with the elegant decorations and a welcoming staff, one feels more like a house guest than a paying customer.  "Hotels are too similar," Bigeard quips.  "My first purpose is to be a home for guests wanting to discover culture."
As I made my way up to the room in the Beaumarchais's stereotypically Euro elevator (holding a maximum of four people), an English-speaking couple beside

me chatted quietly.  "I love this place," I heard the woman say. "The people here are so friendly."  To hear an American describe the hotel as 'friendly' is an almost too appropriate.  Hotel Caron de Beaumarchais is named after Pierre Augustin Caron de Beaumarchais, author of the controversial 1784 play The Marriage of Figaro (the original source of Mozart's famous opera) and former resident of rue Vieille du Temple where the hotel stands today.  Nicknamed "Friend of the Americans" because of the arms he provided to rebel soldiers during the Revolutionary War, Beaumarchais was a world-renowned anglophile and, in part, responsible for the creation of the term "American."  Likewise, the Beaumarchais hotel bends over backwards to cater to the English-speaking community.  The staff is bilingual, reservations can be made either online or via telephone in English, and all promotional materials (including the web site at http://www.carondebeaumarchais.com) are written with the Anglophone community in mind.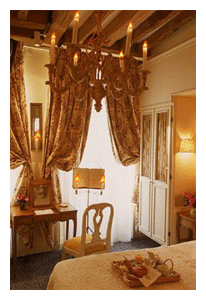 The rooms themselves are small but as tasteful and elegant as the lobby.  Exposed beam ceilings, French armoires, and hand-framed first-edition pages of The Marriage of Figaro meet flat-screen LCD televisions with satellite cable (including CNN in English), high-speed Wifi connections, and air-conditioning.  A complete renovation of the hotel was done just last year, and all rooms have been soundproofed and wired with the fastest internet connections available.  Tiny balconies overlooking rue de Rivoli provide a fantastic place to enjoy a morning croissant or sip an evening glass of wine, and rooms on the top floors offer a breathtaking view of the Right Bank.  What's more impressive than either the view or the amenities are the tiny, commonly overlooked niceties within each room.  Fresh flowers, Beaumarchais stationery, and a tiny dish of candy bearing the silhouette of Beaumarchias himself await guests as if the hotel staff has been anticipating your arrival for months.  Even the private bathrooms reflect the atmosphere of the hotel.  The sparkling and drool-ably large bathrooms feature hand-painted tiles and come equipped with hair dryers and a mini-bar. 
Breakfast is done with equal elegance and flair and thankfully is served until noon for late risers.  Guests can opt for the full ten-euro meal (either delivered directly to your room or taken in the downstairs breakfast room), consisting of coffee, tea or hot chocolate served with freshly squeezed orange juice, country-style pâté, warm pain au chocolat, cheese, yogurt, and bread with honey and/or homemade jams.  Top it all off with a ripe kiwi fruit and you have yourself a breakfast fit for a king.  For guests looking for just a morning pick-me-up, three and a half euros gets you coffee, tea or hot chocolate brought directly to your room on a tray along with a copy of the Tribune. 
The Marais, the epicenter of fashion, taste, and all things chic, is of course the perfect location for the Beaumarchais.  Nestled between stereotypically Parisian cafés and boutiques, the Beaumarchais is walking distance from some of the most fantastic shopping, eating, museum-going and night life this city has to offer.  The hotel is situated on a calm, quiet street, but if you're looking for adventure, you don't have to go far–just around the corner, cafés and bars stay open to all hours.  Take the métro to either St-Paul or Hotel de Ville.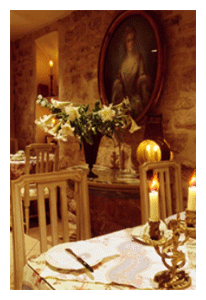 Hotel Caron de Beaumarchais is located in the fourth arrondissement at 12 rue Vieille du Temple.  Doubles are the only rooms offered, and prices range from 137 to 152 euros, depending on your view.  Reservations should be made at least a month in advance and can be booked via e-mail to [email protected], via telephone at 01.42.72.34.12, or via fax to 01.42.72.34.63.  For more information on the Beaumarchais, go to www.carondebeaumarchais.com or contact Etienne or Alain Bigeard at the above
e-mail address. 
Nearby Arts:

Tired of the endless galleries of the Louvre?  Check out the breathtaking and bizarre delights of the Musée Picasso.  Housing more than 3,500 works of the artist himself (including reliefs, sculptures, drawings, portraits and ceramic works) as well as pieces from Modigliani, Cezanne, and Degas found in Picasso's private collection, the museum is one of Paris' greatest modern treasures.  Musée Picasso is located at 5 rue de Thorigny, Métro: St.-Paul and is open Wednesday through Monday from 9:30 AM to 6:00PM.  Admission is 5 euros 50 for adults or 4 euros for students or Sunday entry.  Entry is free the first Sunday of every month. 
If you're in the mood for more modern adventures, the granddaddy of all nouveau artistic endeavors, the Centre Pompidou, is just around the corner.  Controversial since before it even opened, Centre Pompidou has and always will dare to go where no gallery has gone before.  Check out everything from tame Kandinsky paintings to the larger-than-life bears with urinals as heads currently on display.  Don't miss the stunning view of Paris from level six, and if you're up for a splurge, a glass of wine from Georges, located on the top floor.  Centre Pompidou is located at place Georges-Pompidou, rue Beaubourg, metro Hotel de Ville, and is open Monday and Wednesday through Sunday from 11AM to 9PM.  Ticket prices range from five euros to twelve depending on, how much of the museum you'd like to see.  The Centre contains a gift shop, bookstore, café and full restaurant, which is open from noon until 2AM.  The Centre's Forum and Library are always free, as are the permanent exhibits on the first Sunday of each month.
Nearby Eats:

Who needs dinner when you can have ice cream – nay – gelato.  Amorino serves up creamy treats delicious enough to give Berthillion a run for their money.  Personal favorites include the pineapple, amaretto and crème caramel, but really, anything you choose will send you running back for more.  Amorino is located at 31 rue Vieille du Temple and is open until 10 PM on weeknights, 11 on weekends.  Choose two to three flavors and expect to pay between three and six euros per cup or cone. 
Keep your eye out for Lenny Kravitz at L'As du Falafel, deemed by the star as "the best falafel in the world" and perhaps rightfully so.  Sample the falafel with eggplant and hot sauce, but watch out for long lines of tourists and locals alike on the weekends.  L'As du Falafel is located 34 rue des Rosiers and is open from 11:30AM until 11:30PM, Sunday through Friday. 
For cocktails, lunch or light evening meal, Le Pick Clops located directly across from the hotel, offers a hip, kitchy atmosphere and reasonably priced café food.  Mirrored walls, 70s-chic bar stools and Al Green serenading you through speakers throughout the establishment only add to the place's charm and whimsical character.  Meals range from seven to fifteen euros, and everything on the surprisingly large cocktail menu falls between six and eight euros.  Le Pick Clops is located at 16 rue Vieille du Temple.
For an evening out, the Corsican specialties of L'Alivi, located at 27 rue du Roi de Sicile, make for a night to be remembered.   L'Alivi has all the marks of a fantastic restaurant.  Cool, comfortable ambiance: check.  Inventive menu selections: check.  Ingredients so fresh, you'd easily believe they were picked just moments before ending up on your plate: check.  Ask for the cabri roti and I guarantee you won't be sorry.  L'Alivi is open for both lunch and dinner (closes at 11:30 PM).  Budget in 10 – 15 euros for the appetizer and 15 – 20 for the entrée. 
Nearby Bars:

In the Marais, the problem isn't finding a cooler-than-thou bar, it's choosing which one to go to.  Chez Richard, located at 37 rue Vieille du Temple, is the epitome of smoother- than-silk night life.  Stay in the dimly lit first level to see and be seen or head down to the cave-like basement for lounging.  Bank around 5 euros for beer, 9 for cocktails or hit up the happy hour (4-6 PM) for drinking specials. 
La Belle Hortense will give you a taste of the Paris' smarter side.  Sip wine or coffee amidst literary works and philosophy texts or take in a lecture or reading in the back lounge.  La Belle Hortense is located at 31 rue Vieille du Temple and is open daily from 5PM until 2AM.
Nearby Shopping:
Unlike the rest of Paris, much of the shopping in the Marais is reserved for men.  If you're looking for top quality, names and prices in the world of men's fashion, this is the place to find them.  Melchior (15 rue Vieille du Temple), Fabien Nobile (7 rue Ferdinand Duval) and Loft Design By Paris (12 rue de Sévigné) all specialize in high-end men's fashion, and rue Vieille du Temple is littered with boutiques selling all things vintage.  Fashion finds for women are at Culotte (7 rue Malher) and Muji (47 rue des Francs Bourgeois). 

Nearby Attractions:
Hotel Caron de Beaumarchais puts you one stop away from the bars and cafés of The Bastille area and the Place des Vosges.  Going the other way, Hotel de Ville is also a one-stop trip.  Paris' biggest métro station, Chatelet, is a-15 minute walk or a 5-minute métro ride and is located in the same area as the indoor shopping mecca known as Les Halles. 
---
---