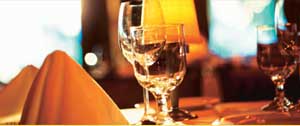 Michelin's New York City 2009 Guide adds Masa Takayama to its' ***stars. One of Masa's specials for autumn is white truffle tempura. Book well ahead and be prepared for an expensive experience. Because you're worth it.
The other *** stars are equally mouth-watering, makes you want to get on the NetJet tout de suite. Eric Ripert's Le Bernadin and Per Se by Thomas Keller.
Adour (Ducasse), Gilt and Momofuku Ko join the ** stars and Allen & Delancey, Alto, eightyone, Fiamma, Insieme, Kvo Ya and Public the * star club.
The 2009 Michelin features the very popular Bib Gourmands, the inspectors' favourites for good value. This year 58 restaurants are listed that serve a menu with two dishes and a glass of wine or pudd for $40 or less. Say, Turkish Kitchen, Crispo, Blue Ribbon Bakery, Daisy May's BBQ.
I'm not paying that:
The Guide also includes 74 restaurants serving two dishes and a glass of wine for $25 or less. As a result, nearly 24% of the NYC selection is comprised of affordable canteens. With more than one million copies sold in approximately 100 countries, Michelin Guide has always built its success on the diversity of its selection and especially on small restaurants.
Actually when you think about it just being in "the guide" means a certain standard and quality are guaranteed.
All in all there's 42 starred restos, four with ***, seven ** and 31 *. They are visited and tested (in every country) for product quality, preparation and flavours, levels of creativity, value for money and consistency.
Cuisines included in Guide: 50
American Deli Latin American Russian
Argentinian Ethiopian Malaysian Scandinavian
Asian European Mediterranean Seafood
Austrian French Mexican Southern
Barbeque Fusion Middle Eastern Southwestern
Basque Gastropub Moroccan Spanish
Belgian German New Zealand Sri Lankan
Brazilian Greek Persian Steakhouse
Cajun Indian Peruvian Thai
Caribbean International Pizza Turkish
Chinese Italian Portuguese Vegan
Contemporary Japanese Puerto-Rican Vegetarian
Korean Vetnamese
Don't leave home without it:
Michelin Guide 2009 New York City
Available from 8th October in USA $16.95
From December 1 in Europe euros 14.50