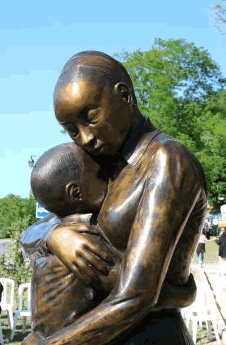 Josephine Baker was a legend in her time.  Entertainer, devoted servant to France (her adopted country) and champion of the fight against racism, she is perhaps best known for her adoption of twelve multiracial children who became known as the Rainbow Tribe.  Josephine and her husband, Jo Bouillon, made a home for their children in a château in southwest France.  Baker owned not only the château, but also the entire village in which it was located – Les Milandes (Castelnaud La Chapelle) of the Dordogne region in southwest France.
Josephine would have been 100 years old on June 3, 2006.  To pay homage to her on this milestone occasion, the owners of her former residence, Château des Milandes, and an association called Opération Joséphine organized a magnificent centenary event.  On the evening of June 2, the owner of Château des Milandes welcomed visitors to a gala celebration that featured a gourmet dinner, wine and song.  And on June 3, Opération Joséphine unveiled a statue to commemorate an important aspect of Baker's legacy – her love for children.
Friday's gala celebration began with champagne and hors d'oeuvres under crystal clear skies in the courtyard of the château.  The music of a four-piece jazz band wafted through the village on the spring breeze, and two falconers displayed their prized raptors under magnificent 100-year old magnolia trees.  Participants visited the three-story château that serves as a museum – indeed, a monument – to Baker's life and achievements, before repairing to the wine house for the dinner festivities.
Approximately 90 people attended the 150-euro dinner, and roughly 10% of those in attendance made the pilgrimage from the U.S. to participate in the historic event.  The owner of the château, Angélique de Saint-Exupéry, presented a slide show of the history of Les Milandes.  She repeatedly mentioned the impact that Josephine had on the community after occupying the château in 1937.  Baker rented Château des Milandes for 10 years prior to purchasing it in 1947.  Two years later, she launched her dream of a lifetime – the Village of the World.  Consisting of a 300 hectare farm (~740 acres), a luxury hotel, an amusement park and other attractions, it put Dordogne on the map as a tourist destination in southwest France.
Akio Bouillon, eldest son of the Rainbow Tribe, spoke with emotion about what the events of the weekend meant to him.  Alain Bogaert, president of Opération Joséphine, presented his association's project and introduced the sculptor of the statue, Anne Dominique (Chousky) Marichal.  And Sonia Roland,

Miss France 2000, spoke of how Josephine's love of children of all races and religions inspired her to found an association to create a village for the orphaned children of Rwanda called Maïsha Africa.  Roland will star in a French film on Josephine Baker's life, to be aired in November or December of 2006.
Dinner was followed by a wine auction and entertainment provided by two performers who sang renditions of Baker's most famous songs.  Rosemary Phillips traveled from Barbados to dazzle the crowd with her take on "J'ai Deux Amours, Mon Pays et Paris" and other songs, while Charleyne Perry entertained diners with several cuts from her CD Charleyne Sings Josephine.  Proceeds from the dinner and wine auction were divided between Maïsha Africa and Opération Joséphine.
The following afternoon, local residents gathered to witness the unveiling of the statue.  As president of Opération Joséphine, Alain Bogaert presided over the ceremony.  A contingent of Dordogne World War II veterans performed a military flag ceremony in honor of Baker's involvement in the French Resistance.  Akio Bouillon then took the microphone to announce festivities in other parts of the world in honor of his mother.  Sonia Roland displayed a cape that Josephine wore during the last performance run of her life at Paris' Bobino Theater, and then removed the French and American flags that covered the statue in a dramatic unveiling.  A band played The Star Spangled Banner and La Marseillaise.   A letter from the president of the NAACP was read – it honored the family that owns Château des Milandes and the founders of Opération Joséphine for preserving Baker's legacy in France.
Chousky took the stage beside M. Bogaert as he announced the name of the statue: Galaxie – La Voix Lactée.  Several local and regional dignitaries then spoke about the pride and honor that the region still bears because of Baker's presence among them.  They included Germinal Peiro (Mayor of Castelnaud La Chapelle), Bernard Cazeaux (President of the Conseil Général of Dordogne) and Raphaël Bartold (Préfet of Dordogne).  Bogaert acknowledged several locals who knew Josephine personally and who were present in the crowd, including her 76-year old chauffeur, Noël.  The afternoon culminated with musical performances by several local artists, Rosemary Phillips and Charleyne Perry, and Dany Révél – the last pianist to play with Josephine.
The statue is cast in bronze and depicts a child embracing a simply clad Josephine.  It stands on a base of stones from the Dordogne River and Missouri.  Around this is a pedestal of white Périgord stone, marked with the footprints of twelve children to represent the twelve members of Josephine and Jo Bouillon's Rainbow Tribe.
The centennial was also celebrated in Paris.  A French association called Tous Enfants de Joséphine Baker (All Children of Josephine Baker) organized a full day of activities on June 3, including a ceremonial wreath-laying at place Josephine Baker in the 14th arrondissement. Several members of Josephine's adopted children and grandchildren were present at the festivities, along with the mayors of the 14th arrondissement and the town of Le Vésinet, celebrities, and locals from the French and African-American communities.  Members of SISTERS, an Association for African-American Women in France, were invited by Jean-Claude Bouillon-Baker to participate in the ceremony.  In the words of SISTERS member Ricki Stevenson, "Josephine Baker not only opened doors for African American women when she arrived in Paris in 1925, she kicked those doors open permanently, making it possible for each of us to be who we are, where we are, and doing what we are doing today. We thank her Rainbow Tribe for sharing this memorable day with us."
 
Place Josephine Baker was dedicated in an official ceremony on February 2, 2001.  The sign that marks the square commemorates Baker as a music hall artist, a sub-lieutenant of the Free French Forces and a philanthropist.
Château des Milandes
24250 Castelnaud La Chapelle
Tel:  05.53.59.31.21
Internet: www.milandes.com
Open from April 1 to November 1
Opération Joséphine
Alain Bogaert (Président de l'association)
" La chesnaie de Lascaze "
24250 Daglan
Tel:  05.53.31.45.77 / Fax : 05.53.31.45.78
Internet: www.operation-josephine.org
Maïsha Africa
Association Sonia Rolland pour les Enfants
10 bis, rue Petite Rivière
71250 Cluny
Tel/Fax: 03.85.59.30.78
Internet:  www.soniarollandpourlesenfants.com
 
Monique Y. Wells is co-founder of Discover Paris! – Personalized Itineraries for Independent Travelers. Please visit the Discover Paris! web site for information about its Josephine Baker Centennial walking tour, The Black Pearl Walk.