Ducasse has a history of breaking records. In 1990, aged 33, he was Chef des Cuisines at the magnificent Louis XV, Monaco, when, due to his brilliance, it was awarded three stars in the Red Guide. And please note that Le Louis XV was the first hotel restaurant to win three-stars, beginning a trend and transforming Michelin's preconceptions about hotels and stars.
Eight years later, in March 1998, Ducasse became the first six-star chef in history to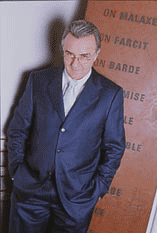 notch up three for Alain Ducasse at the Hotel du Parc, Paris, and three for the Louis XV Monaco. He then moved his Parisian signature Alain Ducasse restaurant to the sumptuous Plaza Athénee, Paris, where he was awarded three stars in March 2001.
Michelin's three star rating indicates "exceptional cuisine, worth a special journey," where diners eat extremely well, often superbly. Wine lists feature outstanding vintages, the surroundings and service are part and parcel of this unique (and expensive) experience. Hand made stools for the Vuitton, etc.
To maintain this level of excellence, Ducasse delegates and relies on strong teams in whom he has confidence. This has given rise to him being called "le big brother de la gastronomie."  "Look", he explains. "We have 400 mecs in white, working with us throughout the world, a school (ADF Formation) which places 80 graduates a year, and a publishing house which I set up because nobody would look at my Grand Livre de Cuisine (1078 pages! Oy vay! But what an amazing tome).  I multi-task, give the tempo and inspire the energy to continue my incessant thirst for perfection – remember, behind every project and product there is always a man and a woman!"  And, at the Essex House the men and women get "movement lessons" from a choreographer, all wearing custom made uniforms, bien sur.
Tony Esnault, Executive Chef at The Essex House, has worked with Ducasse for three years in Monaco and has known, travelled and shared the same passion for the exploration of cuisine and hospitality for over seven years. Yannis Stanisiere is the restaurant manager and looks after guests with TLC; while Andre Compeyre, Chef Sommelier, is responsible for selecting the finest international wines. "I am very lucky to work with such talented, creative and enthusiastic teams; we work together to make sure every detail is perfect. Every guest is a 'star' when they're with us," he says.
We don't know if Ducasse will be carving the turkey on November 24th, but he is putting on a prix-fixe 120$ Thanksgiving meal; the turkey (American) will be stuffed with foie gras, wild mushrooms and sweet potatoes. There are two-sittings: noon and 3pm. Ducasse says The Essex House is the realisation of his vision to create an American showcase – the better to demonstrate his artistry, while using
local produce. "Along with Paris, New York is probably one of the most challenging cities in the world, the most spectacular restaurant city due to its Mix of international cultures. It's my passion for food which leads me on a continuous search for new flavours, and gives me the desire to share my passion with others," he reflects.
Since its opening five years ago, when the American press gave him a really hard time and it seemed as if they wanted to run him out of town, Alain Ducasse at the Essex House has been awarded three Michelin stars, has been reviewed three times by the New York Times, been given the Mobil Guide's 2002 Five-Star Award, the 2002 AAA Five Diamond Award, James Beard Foundation's "Best New Restaurant of 2000" Award and was named one of Condé Nast Traveler's 2001 "100 Hot Tables" and one of Food & Wine's 2002 "America's Best Hotel Restaurants." Ducasse was also the recipient of the 2002 GQ "Men of the Year" Best Chef Award, inducted into the James Beard Foundation's 2002 "Who's Who of Food and Beverage in America" and was named Bon Appétit's 2001 "Chef of the Year." Not bad for a duck-farmer's son from the South-West!
Address Book:
ALAIN DUCASSE AT THE ESSEX HOUSE
155 West 58th Street
, between 6th and 7th avenues,
New York. T: (212) 265 7300 :
email: [email protected]
website: www.alain-ducasse.com