Henry Miller: Born To Be Wild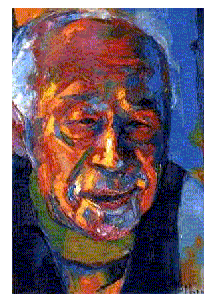 "One's destination is never a place but rather a new way of looking at things." American writer Henry Miller, best known for his racy lifestyle and novels based on his self-imposed exile to France, was born in New York in 1891 to working class German-American parents. His first book, Tropic of Cancer, was published in Paris in 1934 but immediately banned from publication in all English-speaking countries. After numerous attempts by the ACLU to have the ban lifted, the American publishing house Grove Press published Tropic of Cancer in 1961; in 1964, the United States Supreme Court finally ruled that the book could not be suppressed. Meanwhile, the book had already sold over two million copies and turned Miller into one of the most widely read US authors worldwide. While it was Miller's personal life and numerous relationships that provided the impetus for his controversial work, this same "lifestyle" and his willingness to candidly document it made Miller a 1960's pop culture icon in the US and UK. As a young man in Brooklyn, Miller was a good student who was naturally rebellious and, in his own words, "lived on the streets and acquired the typical American gangster spirit." He once ran a speakeasy in Greenwich Village. In 1917 Miller married Beatrice Sylvas Wickens, an amateur pianist. However, the relationship ended when Miller had a brief affair with his mother-in-law. In the early 1920's Miller worked at the Western Union Telegraph Company and left his family to live with June Mansfield Smith, a Broadway dancer and occasional waitress, who encouraged Miller's writing aspirations. Although he had published many magazine essays and short stories in the late 1910's, he didn't begin writing seriously until he was 40 years old and living in France. His relationship with Smith proved tumultuous, as her restless lifestyle made Miller miserable. Although this "restlessness" fascinated Miller in the beginning, by 1930 he could no longer tolerate their life together and he decided to move to Paris and become a serious writer. In France, Miller found himself penniless but determined to succeed. Within his first year abroad he met Anaïs Nin, who supported him both financially and creatively during their time together. Miller loved his new life, and in the fall of his second year abroad he wrote, "I have no money, no resources, no hopes. I am the happiest man alive." Later, a triangular relationship between Miller, June, and Nin would form the basis for several of Nin's journals and the 1990 film Henry and June. The English writer George Orwell, traveling to Spain to report on the Civil War, briefly stopped in Paris, where he met Miller. This meeting inspired Miller in the 1930's to write some of his major works. He wrote The Black Spring (1936), based on his childhood experiences in Brooklyn; Tropic of Cancer (1934; and Tropic of Capricorn (1936), which offered a vivid picture of bohemian life in Paris and New York. He also wrote The Colossus of Maroussi (1941), inspired by his visit to Greece in 1939. The Obelisk Press published Miller's early work; the founder, Jack Kahane, became Miller's exclusive publisher at the time. With the outbreak of World War II Miller left Europe and moved to Big Sur, California. At the age of 48, he felt that he had failed as a writer. In 1944, Miller met and married a philosophy student, 30 years his junior, named Janina Martha Lepska. Their marriage fell apart after seven year, and a distraught Miller wrote to his old friend Brassaï "I live all alone like a monk, a celibate, an exile…" But Miller soon found a new companion, an artist named Eve McClure, whom he married in 1953. Miller went on to write Big Sur and The Oranges of Hieronymus Bosch , and in 1957, he was elected to the National Institute of Arts and Letters. He began writing prolifically, painting in watercolors, and revisiting Europe. The huge success of Tropic of Cancer (1961) in America, brought Miller the unwanted title of the ''Grand old man of sex.'' By the time of his death on June 7, 1980, Miller had been married five times, and had bought a house in the Pacific Palisades, which he said "looked like it belonged to a movie star…" HENRY MILLER'S PARIS: 2, rue August-Bartholdi (15th arrondissement)In this seventh-floor walk-up Henry Miller came close to starving during his first winter in Paris (1930). The apartment belonged to Richard Osborn, an American lawyer, who gave Miller a free room. Each morning Osborn left ten francs on the kitchen table in exchange for Miller's writing for the day. One evening Miller wrote a review of Luis Buñuel's film L'Age d'or, which Osborn passed on to Anaïs Nin. It was this connection that led to a long relationship between Miller and Nin. 24, rue Bonaparte (6th arrondissement)In April and May of 1928, Miller and his wife June stayed at the former Hôtel de Paris. June wanted to participate in a bicycle tour throughout the south of France, so Henry taught her how to ride a bike on Rue Visconti in preparation. 15, rue Delambre (14th arrondissement)Miller and his wife stayed here briefly in 1930. Rue de Furstenberg (6th arrondissement)Miller wrote a description of Furstenberg Square that appeared in the third chapter of Tropic of Cancer. 5, rue Lamartine (9th arrondissement)Offices of the Chicago Tribune. In 1931, Henry Miller worked at the Tribune as a proofreader–it reminded him of Brooklyn. Since only the editorial staff were permitted to publish in the paper, Miller submitted articles under the name Perlès. In Miller's book My Friend, Henry Miller, Miller has his alter ego Perlès introduce one of his articles, titled "Rue Lourmel in Fog.'' 135, boulevard du Montparnasse (6th & 14th arrondissements)Miller and his wife June lived here at the then-Hôtel des Etas-Unis, in the fall of 1930. 10, Quai d'Orléans (4th arrondissement)Henry Miller was one of a long list of well known guests at James Jones' (the author of From Here to Eternity, 1951) three-story house. Rue Raymond-Losserand (14th arrondissement)Hôtel Alba. Henry Miller lived in the Alba during the winter of 1930; having no money, he offered English lessons. However, with no students, he was forced to stay in the office of the cinema manager…
SUBSCRIBE
ALREADY SUBSCRIBED?
BECOME A BONJOUR PARIS MEMBER

Gain full access to our collection of over 5,000 articles and bring the City of Light into your life. Just 60 USD per year.

Find out why you should become a member here.

Sign in

Fill in your credentials below.
"One's destination is never a place but rather a new way of looking at things."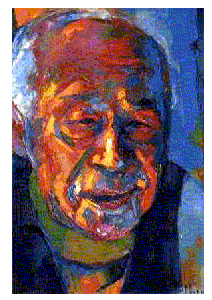 American
writer Henry Miller, best known for his racy lifestyle and novels based
on his self-imposed exile to France, was born in New York in 1891 to
working class German-American parents. His first book, Tropic of
Cancer, was published in Paris in 1934 but immediately banned from
publication in all English-speaking countries. After numerous attempts
by the ACLU to have the ban lifted, the American publishing house Grove
Press published Tropic of Cancer in 1961; in 1964, the United States
Supreme Court finally ruled that the book could not be suppressed.
Meanwhile, the book had already sold over two million copies and turned
Miller into one of the most widely read US authors worldwide. While it
was Miller's personal life and numerous relationships that provided the
impetus for his controversial work, this same "lifestyle" and his
willingness to candidly document it made Miller a 1960's pop culture
icon in the US and UK.

As a young man in Brooklyn, Miller was a
good student who was naturally rebellious and, in his own words, "lived
on the streets and acquired the typical American gangster spirit." He
once ran a speakeasy in Greenwich Village. In 1917 Miller married
Beatrice Sylvas Wickens, an amateur pianist. However, the relationship
ended when Miller had a brief affair with his mother-in-law.

In
the early 1920's Miller worked at the Western Union Telegraph Company
and left his family to live with June Mansfield Smith, a Broadway
dancer and occasional waitress, who encouraged Miller's writing
aspirations. Although he had published many magazine essays and short
stories in the late 1910's, he didn't begin writing seriously until he
was 40 years old and living in France. His relationship with Smith
proved tumultuous, as her restless lifestyle made Miller miserable.
Although this "restlessness" fascinated Miller in the beginning, by
1930 he could no longer tolerate their life together and he decided to
move to Paris and become a serious writer.

In France, Miller
found himself penniless but determined to succeed. Within his first
year abroad he met Anaïs Nin, who supported him both financially and
creatively during their time together. Miller loved his new life, and
in the fall of his second year abroad he wrote, "I have no money, no
resources, no hopes. I am the happiest man alive." Later, a triangular
relationship between Miller, June, and Nin would form the basis for
several of Nin's journals and the 1990 film Henry and June.

The
English writer George Orwell, traveling to Spain to report on the Civil
War, briefly stopped in Paris, where he met Miller. This meeting
inspired Miller in the 1930's to write some of his major works. He
wrote The Black Spring (1936), based on his childhood experiences in
Brooklyn; Tropic of Cancer (1934; and Tropic of Capricorn (1936), which
offered a vivid picture of bohemian life in Paris and New York. He also
wrote The Colossus of Maroussi (1941), inspired by his visit to Greece
in 1939. The Obelisk Press published Miller's early work; the founder,
Jack Kahane, became Miller's exclusive publisher at the time.

With
the outbreak of World War II Miller left Europe and moved to Big Sur,
California. At the age of 48, he felt that he had failed as a writer.
In 1944, Miller met and married a philosophy student, 30 years his
junior, named Janina Martha Lepska. Their marriage fell apart after
seven year, and a distraught Miller wrote to his old friend Brassaï "I
live all alone like a monk, a celibate, an exile…" But Miller soon
found a new companion, an artist named Eve McClure, whom he married in
1953.

Miller went on to write Big Sur and The Oranges of
Hieronymus Bosch , and in 1957, he was elected to the National
Institute of Arts and Letters. He began writing prolifically, painting
in watercolors, and revisiting Europe. The huge success of Tropic of
Cancer (1961) in America, brought Miller the unwanted title of the
''Grand old man of sex.'' By the time of his death on June 7, 1980,
Miller had been married five times, and had bought a house in the
Pacific Palisades, which he said "looked like it belonged to a movie
star…"
HENRY MILLER'S PARIS:

2, rue August-Bartholdi (15th arrondissement)
In
this seventh-floor walk-up Henry Miller came close to starving during
his first winter in Paris (1930). The apartment belonged to Richard
Osborn, an American lawyer, who gave Miller a free room. Each morning
Osborn left ten francs on the kitchen table in exchange for Miller's
writing for the day. One evening Miller wrote a review of Luis Buñuel's
film L'Age d'or, which Osborn passed on to Anaïs Nin. It was this
connection that led to a long relationship between Miller and Nin.

24, rue Bonaparte (6th arrondissement)
In
April and May of 1928, Miller and his wife June stayed at the former
Hôtel de Paris. June wanted to participate in a bicycle tour throughout
the south of France, so Henry taught her how to ride a bike on Rue
Visconti in preparation.

15, rue Delambre (14th arrondissement)
Miller and his wife stayed here briefly in 1930.

Rue de Furstenberg (6th arrondissement)
Miller wrote a description of Furstenberg Square that appeared in the third chapter of Tropic of Cancer.

5, rue Lamartine (9th arrondissement)
Offices
of the Chicago Tribune. In 1931, Henry Miller worked at the Tribune as
a proofreader–it reminded him of Brooklyn. Since only the editorial
staff were permitted to publish in the paper, Miller submitted articles
under the name Perlès. In Miller's book My Friend, Henry Miller, Miller
has his alter ego Perlès introduce one of his articles, titled "Rue
Lourmel in Fog.''

135, boulevard du Montparnasse (6th & 14th arrondissements)
Miller and his wife June lived here at the then-Hôtel des Etas-Unis, in the fall of 1930.

10, Quai d'Orléans (4th arrondissement)
Henry
Miller was one of a long list of well known guests at James Jones' (the
author of From Here to Eternity, 1951) three-story house.

Rue Raymond-Losserand (14th arrondissement)
Hôtel
Alba. Henry Miller lived in the Alba during the winter of 1930; having
no money, he offered English lessons. However, with no students, he was
forced to stay in the office of the cinema manager in nearby Vanves.

5, rue Saint-Louis-en-l'Ile (4th arrondissement)
Home
of American writer and edito, William Aspenwall Bradley, who advised
Miller to see Jack Kahane, the founder of Obelisk Press. The Obelisk
Press published Miller's early books almost exclusively in the years
following.

100, rue de la Tombe-Issoire (14th arrondissement)
Villa
Seurat is a private cul-de-sac about 100 yards long that joins Rue de
la Tombe-Issoire on the east side of the street near number 100.
Michael Fraenkel, who allowed Miller to live here rent-free for a few
months, owned house number 18. For Miller, Villa Seurat symbolized the
richness of Paris. In gratitude for the accommodations, Miller cast
Fraenkel as the character of Boris in Tropic of Cancer. In July 1939,
Miller left Villa Seurat to visit a friend in Greece. With the coming
of the war, Miller then returned to America and later wrote that his
happiest moments in Paris were those in the Villa Seurat.

16, Place Vendôme (1st arrondissement)
The
Obelisk Press. Englishman Jack Kahane accepted Tropic of Cancer in
October 1932 and published it in September 1943. Other Miller books
included Black Spring (1939), Max and the White Phagocytes (Seurat
Series), and the Tropic of Capricorn (1939).
© Christiann Anderson

---
---
---