Handsome Basketball Star Meets Beautiful Actress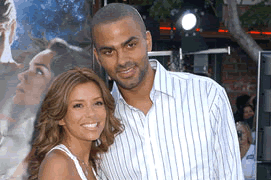 Wedding of the century?  Depends which century.   The sumptuous Westminster Abbey weddings of Lady Di to Prince Charles, of then-Princess now-Queen Elizabeth II of England to Prince Philip, or the one with Prince Rainier that turned American actress Grace Kelly into Princess Grace of Monaco were memorable, world-renowned events. But they were 20th century vintage.   This century is still young, but its title-holder clearly is the media-hyped July 7 wedding in France of Franco-American pro-basketball star Tony Parker and "Desperate Housewife" Eva Longoria.  At the age of only 25, Parker, born in Belgium, raised in France, holder of both French and American citizenship because he's the son of an American father who was playing in the French professional basketball leagues, already has compiled a sports record right up there with his childhood idol Michael Jordan.  Latest exploit: designation as Most Valuable Player in the National Basketball League championships in Cleveland where, in mid-June, with a tearfully happy Longoria in the stands, he led the San Antonio Spurs to their third NBA title in five years.  It was the first time a European player had been so honored.  is popularity, great as it is in both France and the United States, is however equalled by Longoria, known virtually worldwide for her performances as the sulphurous Gabrielle Solis in the globally-distributed television series "Desperate Housewives."  The guest list for the wedding celebration would turn anyone's head—a religious ceremony in the Saint-Germain-l'Auxerrois church across from the Louvre in Paris followed by dinner reception at the Chateau Vaux-le-Vicompte whose fountain-dotted gardens inspired those at Versailles .  Start with fellow desperate housewives Teri Hatcher, Marcia Cross, Felicity Huffman and Nicollette Sheridan. Go on to all Parker's San Antonio Spurs teammates.   Throw in Actor Denzel Washington, music stars Puff Daddy and Sting and French soccer hero Thierry Henry, a close friend of Parker and a key player on the French team that won the world soccer championship in 1998. They are only the frosting on the cake. Engaged since last November but a much-publicized couple long before that, Parker and Longoria sent out more than 200 invitations to their wedding celebrations all artfully decorated with the image of France 's tourist symbol, the Eiffel tower.  Figuring that many or most of those invitations are for Mr. And Mrs. or Monsieur et Madame, the invitee total is huge.   Normally open to the public on Friday and Saturday from May to November, the Chateau Vaux-le-Vicompte, some 34 miles southeast of Paris, agreed to close its entire fountain and garden-dotted, 86-acre estate on July 6 and 7 to everyone except the Parker-Longoria wedding party,   The chateau is famous in French annals because its owner, Nicolas Fouquet, was thrown into prison for 19 years almost immediately after he gave a sumptuous dinner in honor of then-22-year-old-King Louis XIV in 1661. It was so sumptuous that many thought the king had construed it as an attempt to outshine him, an attempt that needed to be punished.  More likely it was because Fouquet, the king's Finance Minister, knew too much about fiddling that had been going on with the royal accounts and Louis had been looking for a way to get rid of him.   Whatever the reasons, the chateau has remained to this day a symbol of French luxury.  It frequently is used as a setting for costume movies with 17th century themes including Sofia Coppolla's recent production of "Marie Antoinette" and once even for a James Bond classic, "Moonraker." In its tourist, reception and convention-center role it gives garden tours in golf carts or horse-drawn carriages, concerts, theatre presentations by actors in 17th century costumes, firework shows and evenings with the chateau and gardens illuminated by no less than 2000 candles.     Of course you don't rent for nothing a national historical monument of that significance, especially for such a short time. (Shortly after the ceremony Longoria had to be back for a July 9 Desperate Housewives shooting date in Los Angeles . )   The new Mr. And Mrs. Tony Parker can afford it, however. He already makes an estimated annual 18.7 million dollars, 14 million Euros, from his Spurs contract and a panoply of publicity deals with Kellog's cereals, De Fursac men's wear and Nike basketball shoes.   In France , he is a national sports idol even though his French countrymen and women rarely have the chance to see him play because he does that in America . No matter. Makers of basketball shoes bearing Parkers' initials and of jerseys with his number 9 on the back sell like wildfire in France and Parker is credited with boosting sales of French basketball magazines by roughly five percent. In one particularly good publicity run a major French basketball monthly aimed mainly at adolescents, for whom Parker has become an idol, put him on the cover for 11 of 13 issues.    In addition, he has launched a second…
SUBSCRIBE
ALREADY SUBSCRIBED?
BECOME A BONJOUR PARIS MEMBER

Gain full access to our collection of over 5,000 articles and bring the City of Light into your life. Just $60 a year.

Find out why you should become a member here.

Sign in

Fill in your credentials below.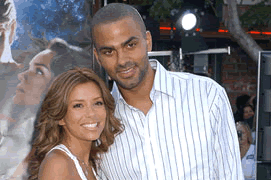 Wedding of the century?  Depends which century.
The sumptuous Westminster Abbey weddings of Lady Di to Prince Charles, of then-Princess now-Queen Elizabeth II of England to Prince Philip, or the one with Prince Rainier that turned American actress Grace Kelly into Princess Grace of Monaco were memorable, world-renowned events. But they were 20th century vintage.
This century is still young, but its title-holder clearly is the media-hyped July 7 wedding in France of Franco-American pro-basketball star Tony Parker and "Desperate Housewife" Eva Longoria. 
At the age of only 25, Parker, born in Belgium, raised in France, holder of both French and American citizenship because he's the son of an American father who was playing in the French professional basketball leagues, already has compiled a sports record right up there with his childhood idol Michael Jordan.
 Latest exploit: designation as Most Valuable Player in the National Basketball League championships in Cleveland where, in mid-June, with a tearfully happy Longoria in the stands, he led the San Antonio Spurs to their third NBA title in five years.
 It was the first time a European player had been so honored.
 is popularity, great as it is in both France and the United States, is however equalled by Longoria, known virtually worldwide for her performances as the sulphurous Gabrielle Solis in the globally-distributed television series "Desperate Housewives."
 The guest list for the wedding celebration would turn anyone's head—a religious ceremony in the Saint-Germain-l'Auxerrois church across from the Louvre in Paris followed by dinner reception at the Chateau Vaux-le-Vicompte whose fountain-dotted gardens inspired those at Versailles .
 Start with fellow desperate housewives Teri Hatcher, Marcia Cross, Felicity Huffman and Nicollette Sheridan. Go on to all Parker's San Antonio Spurs teammates. 
 Throw in Actor Denzel Washington, music stars Puff Daddy and Sting and French soccer hero Thierry Henry, a close friend of Parker and a key player on the French team that won the world soccer championship in 1998.
They are only the frosting on the cake. Engaged since last November but a much-publicized couple long before that, Parker and Longoria sent out more than 200 invitations to their wedding celebrations all artfully decorated with the image of France 's tourist symbol, the Eiffel tower.  Figuring that many or most of those invitations are for Mr. And Mrs. or Monsieur et Madame, the invitee total is huge.
Normally open to the public on Friday and Saturday from May to November, the Chateau Vaux-le-Vicompte, some 34 miles southeast of Paris, agreed to close its entire fountain and garden-dotted, 86-acre estate on July 6 and 7 to everyone except the Parker-Longoria wedding party,
The chateau is famous in French annals because its owner, Nicolas Fouquet, was thrown into prison for 19 years almost immediately after he gave a sumptuous dinner in honor of then-22-year-old-King Louis XIV in 1661. It was so sumptuous that many thought the king had construed it as an attempt to outshine him, an attempt that needed to be punished.  More likely it was because Fouquet, the king's Finance Minister, knew too much about fiddling that had been going on with the royal accounts and Louis had been looking for a way to get rid of him.
Whatever the reasons, the chateau has remained to this day a symbol of French luxury.  It frequently is used as a setting for costume movies with 17th century themes including Sofia Coppolla's recent production of "Marie Antoinette" and once even for a James Bond classic, "Moonraker." In its tourist, reception and convention-center role it gives garden tours in golf carts or horse-drawn carriages, concerts, theatre presentations by actors in 17th century costumes, firework shows and evenings with the chateau and gardens illuminated by no less than 2000 candles.
Of course you don't rent for nothing a national historical monument of that significance, especially for such a short time. (Shortly after the ceremony Longoria had to be back for a July 9 Desperate Housewives shooting date in Los Angeles . )
The new Mr. And Mrs. Tony Parker can afford it, however. He already makes an estimated annual 18.7 million dollars, 14 million Euros, from his Spurs contract and a panoply of publicity deals with Kellog's cereals, De Fursac men's wear and Nike basketball shoes.
In France , he is a national sports idol even though his French countrymen and women rarely have the chance to see him play because he does that in America . No matter. Makers of basketball shoes bearing Parkers' initials and of jerseys with his number 9 on the back sell like wildfire in France and Parker is credited with boosting sales of French basketball magazines by roughly five percent. In one particularly good publicity run a major French basketball monthly aimed mainly at adolescents, for whom Parker has become an idol, put him on the cover for 11 of 13 issues. 
In addition, he has launched a second lucrative musical career as a rapper whose first album already has sold more than 50,000 copies in France .  A second is on the way for 2008 as well as a character role created for him as "Parkertonix," in the French Asterix comedy movie series about a village of Gauls living rebelliously under Roman occupation.
Longoria, 32, born in Corpus Christi , Texas , in a Mexican-American family, got a BS degree from Texas A & M University before starting a television career in the year 2000 that led her to speedy notoriety and a series of nominations as one of the most beautiful and "hottest" actresses on the small screen.
Now a major star, her Desperate Housewives salary is said to have risen to 250,000 dollars per episode, to which she has added a bevy of lucrative publicity contracts (particularly with l'Oréal cosmetics), and she has starred recently in a feature film, "The Sentinel," with Kiefer Sutherland and Michael Douglas. 
When Desperate Housewives aired in France last year for the first time on a non-pay channel, M-6, it became an instant hit and, to add to the Parker-Longoria focus, M6 started up the second year series scarcely two-weeks before their wedding. 
The happy couple chose the date carefully for luck on the seventh day of the seventh month of the seventh year of the century.
The 07/07/07 symbol is so appealing for lucky number advocates that France 's lottery ticket sellers have been by besieged for months by bettors playing their hunches on all those sevens.
Luck seems to be what Parker and Longoria have had going for them for years, supported, of course, by immense determination on both their parts.
Keep it going, Franco-American newlyweds! You've started off the century with flair.  
What really has the country's attention is the wedding of Franco-American basketball star Tony Parker and Desperate Housewife Eva Longoria in the Chateau Vaux en Velin on July 6.
---
---