And not only the light. The magic continues with Guy Martin, whose culinary inspiration comes not only from the history of this stunning monument historique, but also from his love of art, jazz, and travel: his lust for life.
Born in the Savoy region of France, Martin had not really thought of becoming a chef until a friend lent him an extraordinary book written in 1920: Henri Babinski's Gastronomie Practique, Etude Culinaire.  Babinski,  a Polish  engineer,  wrote under the name of Ali Bab. "In his job he travelled all over the world and brought back recipes which he tested on his friends", explains Martin.  At the time, Martin was working in a mountain pizza parlour during school holidays "to earn enough money to ski, but I realised that cooking could take me round the world – just like Ali Bab, cooking is the great communicator", reflects Martin.  And since those travelling days, Martin has not only been dubbed with the Legion d'Honneur and ***Michelin stars, but has also written countless books (look on www.amazon.com). For Thierry Ardisson's program on Paris Premiere, he cooked hip dinner parties for Sophie Davant (France 2), where he showed that it is possible to cook an epic dish in seven minutes flat.  
A handsome, slim man, very self-effacing, Martin greets his clients with a shy smile. "I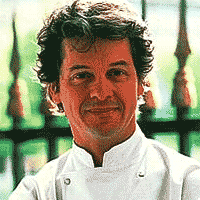 'm so pleased to see you, come, come we're just putting the finishing touches to a Filet d'agneau, enrobé de Pomodoro séche, topinambour en fine purée et d'autres aux graines de moutarde et Ras—el-Hanout". With that he's off to the kitchen, leaving Christian David (Maitre d'hotel since 1991) to seat you. On Cocteau's plush red banquette, sit and read a menu that combines tradition with cutting edge. It always amazes me how staff in restaurants remember and recite their daily dishes, like a litany. At home do they stand in front of the shaving mirror and recite, say, "cuisses de grenouilles blonde dorées, jus aux epinards légerement aillé confit de pied d'agneau", until they get it perfect?  Well I suppose they are all actors, their stage the restaurant. 
Les Dejeuners du Grand Vefour is a great way to discover Martin's hip, light, delicious cuisine. 75€ more or less gets you a main course at night (Pigeon Prince Rainier 78€).
At lunch choose from three entrees, plus there are always suggestions.  Look for a starter of Céleri rave cuit et cru assaisonné au raifort, legumes du moment a l'huile de cacahuete grille. From a choice of three fish or meat mains, Daurade farcie aux algues rôtie, fenouil, jus à la coriander and, if you love legumes, Tourte d'artichauts et legumes confits.  Sorbet amandes améres has become a GV classic dessert. Add some interesting (and often organic) wines, by the glass if you prefer.

Quarts de Chaume Domaine Des Beaumard 2001 (18€). Saumur Domaine Du Collier 2002 (16€). V.D.P Haute Vallée de l'Aude 1999 "Occursus Domaine Sieur d'Arques (15€) and the addictive Pineau des Charentes Gaston Rivieres "Cuvee François ler (16€).
Impossible to overlook the cheese chariots, never mind about De Gaulle saying "eet eez impossible to rule a country with so many cheeses". Most are at Grand Vefour!
"The cheese comes from Maison Boujon at Thonon-les-Bains, their  Reblochons are divine. The chickens come from chez Mieral, Bres.  The basis of my dishes remain the same, I just think lighter and healthier, and I know I'm playing my part in the evolution of modern French cuisine,"  he says .  Vegetables get top billing in Martin's kitchen. "They're all organic.  I have people like Didier Pil growing them for me in the Loire Valley, and they are delivered daily".
Away from Grand Vefour, where does this super-chef eat then? "I am very much into pasta, I was born near Italy and have wonderful memories of my tante Luciana's  pasta dishes, paired with every type of vegetable imaginable." "But chef, isn't it fattening?" "Mais, non, look at me!" OK. Point taken!  So you may find Martin eating his favourite food chez Alfredo Positano or at Risi Bini "for a cuisine de femme".  "At the Grand Vefour we make all the pasta ourselves". And if you're looking for a weekend treat, Martin suggests Chateau de la Rapée, near Gisors (Normandie Vallée de la Seine – 75kms from Paris). "It's magic, owned by two brothers who only serve local ingredients. I have my bottle of Chartreuse, which I sip beside the fireplace, perfection!"  Weekends in Paris, Martin takes his children, for a treat, to The Cristal Room Baccarat, Dalloyau or, for a bucolic afternoon,  Le Jardin d'Acclimatation.  "They love the farm atmosphere, the bears, birds and particularly Mimi the pony!"
Le Grand Vefour,
17 rue de Beaujolais, 1st (metro: Palais Royal)
T: 01 42 96 56 27
Closed Fri dinner-Sat & Sun.
Lunch 75€ + wine
Alfredo Positano,
9 rue Guisarde, 6th. (Metro: Odeon)
T: 01 43 26 90 52
Risi Bini,
81 rue du Rocher ,8 (Metro: Europe)
T: 01 45 22 80 37
Chateau de la Rapée,
La Rapée, 27140 Bazincourt-sur-Epte,
T: 02 32 55 11 61
Cristal Room, Baccarat,
11 place des Etats Unis, 16th, (Metro: Kleber)
T: 01 40 22 11 10
Dalloyau,
101 rue du Faubourg Saint-Honoré, 8th, (Metro Saint-Philippe-de-Roule)
T: 01 42 99 90 00
Jardin d'Acclimatation,
Bois de Boulogne, 16th, (Metro: Porte Maillot)
T: 01 40 67 90 82