The Grand Hotel Cannes, set in tropical palm- shaded gardens on La Croisette, just re-opened after a €6 million facelift, and it's gorgeous. "We're not a palace, we are a luxury family boutique hotel", explained Nicholas Granger, Sales and Marketing Director, of the privately owned 11-story marvel, at last weeks' official opening. Modest or what? "Originally built in 1862, alongside La Malmaison the handsome white villa owned by Cannes Municipality, now used as a contemporary Art Centre. It is not the first time that the Grand has undergone major renovations.  In 1957 the old building was pulled down and replaced with a new look, but of course they've kept the 60's façade. "The Grand is the oldest luxury hotel in Cannes", said Granger. This tall dynamic Englishman recently joined the team, including Director/ Manager Hugues Raybaud, at The Grand for more years than he cares to remember. Granger brings fresh ideas to the hotel, he'll attract the baby boomers, "they were born in the 60's, like coming home". It's a good idea to book ahead, regulars return year after year content to see the same welcoming faces. For many it's "go direct to the bar, do not pass go, do not collect $100" just to taste Alex's (23 years in service) Last Tango. "Fresh crushed fruit, almond syrup, white rum, orange & lemon juice, everyone loves it", he grins.  There are three types of rooms and suites, choose either city/mountain view, junior or de-luxe sea-view. They all have sensational marble bathrooms, fragrant Bulgari products, piles of fluffy towels and bathrobes. Touches of Philippe Starck punctuate the decor, plasma screen TV's with internet access, spacious terraces and "turn-down" service. Technophobes should note free wi-fi in the lobby plus you can get your e-mails via the TV! The mind boggles don't it cherie. All eleven storeys are now renovated, including the top floor suites with wide decks, Jacuzzis and sensational views over Cannes, Le Suquet and the Lerins Islands. The architects 3Bis (who also did The Carlton and The Meurice, Paris) say: "We have combined practicality, comfort with a modern design, keeping the 60's zeitgeist for which the hotel is famous". With the 60's in mind The Grand decided to throw an extravagant bash unveiling their new look. A cute band who call themselves The Beatlovs, dead Ringos for the Beatles (www.thebeatlovs.com)  had 800 guests rocking round the incredible food posts and giant revolving bar. Food was by the talented chef Patrick Mayencon who learned his craft with Louis Outhier at L'Oasis, La Napoule. Mayencon's been at The Grand since 1991, creating great food at Le Pre Carré, eat inside or out on the spacious terrace. Tartare de Tomate Mousse de Saint Maure with tiny Nice Olives, Roast Guinea-Fowl with confit of tomatoes and olives. Chapon, a fragrant local fish, is also roasted with fennel and tomatoes, and risotto served with plump juicy gambas, tagliatelli topped with asparagus and fresh truffles. Finish with ice-cream millefeuille, layered with pain d'epice, drink Chateau Rasque rosé from the region (30€).  And don't forget the plage, under parasols nibble a Mariage de crabe and crevettes, a dish of antipasti, a juicy filet of beef with chips, finish with a classic ice-cream and frothy chantilly coupe. Relax on a sunbed, beachside, watch le tout Cannes having fun in
the sun. Le Grand Hotel, 49 La Croisette, Cannes www.grand-hotel-cannes.com Rooms from €200 – €2700 Le Pre Carré – Average spend 38€ + wine and A La Carte. Piano bar – Friday, Saturday, Sunday Beach  
SUBSCRIBE
ALREADY SUBSCRIBED?
BECOME A BONJOUR PARIS MEMBER

Gain full access to our collection of over 5,000 articles and bring the City of Light into your life. Just $60 a year.

Find out why you should become a member here.

Sign in

Fill in your credentials below.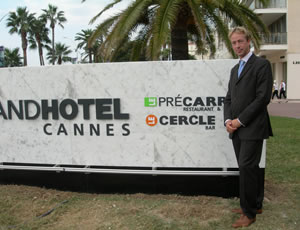 The Grand Hotel Cannes, set in tropical palm- shaded gardens on La Croisette, just re-opened after a €6 million facelift, and it's gorgeous. "We're not a palace, we are a luxury family boutique hotel", explained Nicholas Granger, Sales and Marketing Director, of the privately owned 11-story marvel, at last weeks' official opening. Modest or what?
"Originally built in 1862, alongside La Malmaison the handsome white villa owned by Cannes Municipality, now used as a contemporary Art Centre. It is not the first time that the Grand has undergone major renovations.  In 1957 the old building was pulled down and replaced with a new look, but of course they've kept the 60's façade. "The Grand is the oldest luxury hotel in Cannes", said Granger. This tall dynamic Englishman recently joined the team, including Director/ Manager Hugues Raybaud, at The Grand for more years than he cares to remember.
Granger brings fresh ideas to the hotel, he'll attract the baby boomers, "they were born in the 60's, like coming home". It's a good idea to book ahead, regulars return year after year content to see the same welcoming faces. For many it's "go direct to the bar, do not pass go, do not collect $100" just to taste Alex's (23 years in service) Last Tango. "Fresh crushed fruit, almond syrup, white rum, orange & lemon juice, everyone loves it", he grins. 
There are three types of rooms and suites, choose either city/mountain view, junior or de-luxe sea-view. They all have sensational marble bathrooms, fragrant Bulgari products, piles of fluffy towels and bathrobes. Touches of Philippe Starck punctuate the decor, plasma screen TV's with internet access, spacious terraces and "turn-down" service. Technophobes should note free wi-fi in the lobby plus you can get your e-mails via the TV! The mind boggles don't it cherie.
All eleven storeys are now renovated, including the top floor suites with wide decks, Jacuzzis and sensational views over Cannes, Le Suquet and the Lerins Islands. The architects 3Bis (who also did The Carlton and The Meurice, Paris) say: "We have combined practicality, comfort with a modern design, keeping the 60's zeitgeist for which the hotel is famous".
With the 60's in mind The Grand decided to throw an extravagant bash unveiling their new look. A cute band who call themselves The Beatlovs, dead Ringos for the Beatles (www.thebeatlovs.com)  had 800 guests rocking round the incredible food posts and giant revolving bar. Food was by the talented chef Patrick Mayencon who learned his craft with Louis Outhier at L'Oasis, La Napoule.
Mayencon's been at The Grand since 1991, creating great food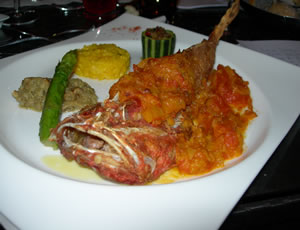 at Le Pre Carré, eat inside or out on the spacious terrace. Tartare de Tomate Mousse de Saint Maure with tiny Nice Olives, Roast Guinea-Fowl with confit of tomatoes and olives. Chapon, a fragrant local fish, is also roasted with fennel and tomatoes, and risotto served with plump juicy gambas, tagliatelli topped with asparagus and fresh truffles. Finish with ice-cream millefeuille, layered with pain d'epice, drink Chateau Rasque rosé from the region (30€). 
And don't forget the plage, under parasols nibble a Mariage de crabe and crevettes, a dish of antipasti, a juicy filet of beef with chips, finish with a classic ice-cream and frothy chantilly coupe. Relax on a sunbed, beachside, watch le tout Cannes having fun in

the sun.
Le Grand Hotel,
49 La Croisette, Cannes
www.grand-hotel-cannes.com
Rooms from €200 – €2700
Le Pre Carré – Average spend 38€ + wine and A La Carte.
Piano bar – Friday, Saturday, Sunday
Beach
 
---
---