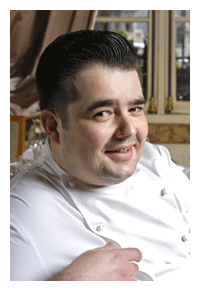 He's 33, is Jean-Francois Piège, looks like a Rugby prop-forward, has shoulders wide enough to carry off his post as Executive Chef at the magnificent Hotel de Crillon. Not only Les Ambassadeurs, the former 2-star Michelin restaurant, but also L'Obelisk, Le Jardin d'Hiver and all the other private functions that are part and parcel of catering to the rich and famous.
There's no doubt Piège gets pick of the bunch from the Crillon's L'Ecole des Fleurs for his table and restaurant décor. As a child his earliest memory is of desperately wanting to be a gardener, so he'll no doubt be growing/brewing up a tisane or two for the Fitness Centre. Working out makes one so thirsty – n'est pas?
Suddenly everyone's heading for The Crillon, the landmark at Place de la Concorde. Not only is it a fabulous place to meet, the palace (commissioned by Louis XV as a little home away from home) is now headed by the dynamic Franka Holtmann (ex-Plaza Athénee) who is the General Manager and whose brilliant idea it was to hire Piège as the Prince to awaken a Sleeping Beauty. For reasons best known to Michelin, Les Ambassadeurs lost one of its ** last year. Go figure. But in the restaurant business in France, you have to figure fast if you want to keep your reputation and Piège is determined to win back the fallen * and then one.
Piège, who hails from the Drome region of France (south-east), is sort of coming home, having already worked at The Crillon with that legend-in-his-own-lifetime, Christian Constant. "It all began at the Chabichou, in the ski resort of Coucheval," he recalls one lunchtime last week, after the service. More of that later; right now you need to know the lad's pedigree:
Piège worked at Château Eza, on the Côte d'Azur under Bruno Cirino (who now owns Hostellerie La Jerome at La Turbie) who got him the original gig at The Crillon. Military service included a stint at L'Elysée Palace, from there he went to join Cirino again, who was at the time chef at the chic Elysées Vernet in the Hotel Vernet, Paris. From there he went to the Louis XV, Monte Carlo, where Alain Ducasse honed his talent and considered the lad good enough to head the kitchens at The Plaza Athenée in 1996. And yes, it was tough to leave system Ducasse, but the Crillon seemed too good an opportunity to miss, Piège is ready for evolution and revolution, "to re-interpret history my way." Full of admiration for his protégée, Ducasse says: "Piège embodies French savoir-faire and the French art of living."
"I'm young and understand what the new generation want, but my aim is to revive the taste and memory of home cooking." He insists, "We all have the taste of home cooking embedded in our memories." (Huh, I'll never forget my mother's lumpy custard!)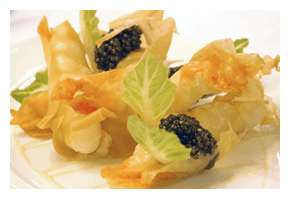 The menu "Histoire de Cuisine" is short and to the point, designed so the diner can have "the freshest possible seasonal products." If you want to taste everything, order half-portions. "The menu changes daily, is as fresh as the kitchen's ingredients," promises Piège. Using what he calls "fragments" of tastes, Piège creates concentrates and even compressions of flavour that explode on the palate—as in his signature Caviar Oscietre, nage corsée, langoustines (100€), in the cloud of Blanc a manger d'oeuf, truffe noir (80€). It's like eating heaven, trust me. Araignée de mer (spider crab) is layered in a glass, lightly dressed with "Manni" oil, basil and lemon (65€). Asparagus from Mr. Blanc is served three different ways, including a light broth (75€). Pigeon is de-boned, re-formed and served with foie gras and jus a l'olive. Sensational. Desserts are by Jerome Chaucesse (ex-Boyer, Reims, Meneau and Michel Guérard). Wild strawberries, lait concentré facon Chabrot, chocolate cake with grilled coffee beans, to match with a dessert wine. Infusions are dispensed from a trolley sprouting mint, camomile, parsley, sage rosemary and thyme. Cheese? Of course, but who has space; next time.
Piège's cooking is technical, recipes gleaned from his collection of 3,000 first-edition cookbooks. "Tradition revised and corrected, but not to the extent that the client is confused. For nothing to change, everything must change," he explains. And his favourite dish? "My mother's stuffed tomatoes, bien sûr."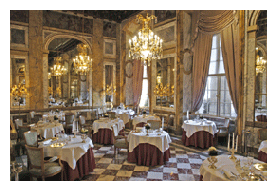 The restaurant is a mythical mirrored marbled marvel, once the ballroom. The décor's changed, been lightened up by Sybille de Margerie—still the wonderful view over Place de la Concorde, but through champagne-coloured drapes. (After all, Taittenger owns the place.) Baccarat crystal chandeliers are overhead. The staff, wearing designer suits by Mercedes Calderon, look delighted (they probably wear them off-duty, too). The spirit is young and professional, led by restaurant manager, Patrice Willems, and with the expertise of chef sommelier David Biraud, whose award-winning wine knowledge knows no bounds. He'll happily discuss a glass or a jeraboam with total enthusiasm, make you feel like you are the pro. "It's very nice 'ere, n'est pas," grinned Jean Paul Gaultier as we floated out onto the Place. And it is.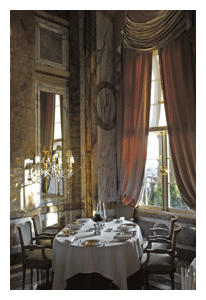 Les Ambassadeurs,
Hotel de Crillon,
10 place de la Concorde, 8th (Metro Concorde)
T: 01 44 71 16 16

www.crillon.com
Lunch 70€ + A La Carte
---

Born in Britain and now based in Paris, Margaret Kemp graduated from The Cordon Bleu and spent a year working and watching in the kitchens of top chefs from Sydney, Australia via Bangkok, Hong Kong, California, New York and France. Realising she would never win the coveted 3-Michelin stars, she decided to write about the people who do, the "disciples of Escoffier."