Do any alert readers know who was the first ever Michelin *** chef? Of course you do: Fernand Point.
All 1.92 meters and 165 kilos of the man they called "Magnum". Not after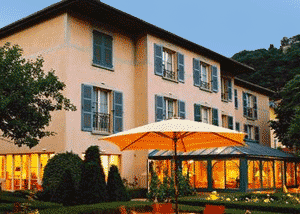 the ice cream, or Clint, darling, they were not yet invented in 1933, but because he downed a magnum of champagne daily! Ah those were the days, n'est pas?
Point
was created in 1922 by Fernand's father Auguste. When the old boy hung up his coppers Fernand took over, renamed it La Pyramide, because of the tall stone Pyramide fronting the restaurant, the marker point for Roman chariot races about 2,000 years ago.
Point
attracted quite a few keen apprentices, you may recognize some of the names, Thulier, Bocuse, Chapel, the Troisgros brothers, Outier, Bise! Point's cuisine was in the traditional Escoffier style. Truffled Bresse chicken: almond stuffed trout, braised in port wine, pigs trotters in puff pastry and the famous Marjolaine which took years to perfect (light almond hazelnut spong cake filled with three different creams: chocolate, butter, praline). "Garnishes must be as harmonious as a symphony and as well constructed as a Norman cathedral", he taught his boys.
When Point died in 1955 his wife Mado continued until her death in 1987. oday, the young and talented Patrick Henriroux and his wife Pascal  (ex-George Blanc,
La Ferme de Mougins) have transformed La Pyramide into a modern Relais & Chateaux.  To mark fifty years since the death of Point, Henriroux has invited twenty grand chefs to join him in paying homage to the man who maintained that "the most difficult preparations are often those that seem the easiest. A béarnaise sauce may only be an egg yolk, a shallot, a little tarragon vinegar, and butter, but takes years of practice to perfect!"