Gourmet Buzz: Fou de France
A friend happened to be visiting Troisgros, the 3-star Michelin pile recently transformed beyond recognition. He met Michel Troisgros and, being a bit of a name-dropper, managed to get in that he had spent quality time with Alain Ducasse, working on a book. Troisgros immediately dropped his pots and pans, invited my friend to lunch, demanded to know everything that had passed between them—more or less down to, "Does Ducasse wear his Y-fronts tucked into his vest, or loose"!   We agreed, my friend and I, that to mention the D-word in gastromondo is magic. I was musing on this while watching Ducasse at the Plaza Athénee during last week's Fou de France lunch. Slick and trim in a designer suit, he was letting his protégée François Gagnaire (no, no relation, I'll explain later) wear the whites, take the applause. "Gagnaire's cuisine is full of new ideas and flavours which means he's cooking the dishes of tomorrow while staying faithful to his roots. That doesn't mean he's shut himself off from outside ideas, which could easily happen when a chef is cooking in a small village like Le Puy-en-Velay," Ducasse insists.   Gagnaire, skinny and fit as a fiddle, takes up the story: "I was born in Puy-en-Velay, inspired to cook by my mother, who loved to entertain, and by the aromas in my grandmother's kitchen where I spent my school holidays." After came Lycée Hotelier, a daunting establishment where the rules "rigueur, discipline, propreté" where drummed into his head and, "it was so tough, but, there are no regrets, the lessons have stayed with me, helped me run my professional and private life."   Working at Alain Chapel, his first "grosse maison" was a big step in the young maverick's evolution, until that dreadful day in 1990 when "driving along the autoroute, I heard on the radio that my maitre had died suddenly. I was gutted!" Gagnaire stayed on six months then went to the Imperial Palace, Annecy, spent time in Luxembourg, and in 1992 was accepted at Pierre Gaganire's eponymous restaurant then based in Saint Etienne. That's where the name comes in. "We both come from the same region, where the name is quite common," he explains.   When Pierre Gagnaire won his third Michelin star, "It was fantastic, but boy we were under terrific pressure! In the kitchen it was chaos, like working with a mad-man, he did, and does, everything spontaneously, there was absolutely no organisation. I stayed two years because I really respected his avant-garde approach. Moving on to La Tour Rose, Lyona href="http://www.autoeurope.com/showspecial.cfm?aff=bonjourparis" mce_href="http://www.autoeurope.com/showspecial.cfm?aff=bonjourparis" target="_blank" rel="nofollow"> , I met my wife Isabelle who was the receptionist!"   But the lure of Gagnaire was strong, and when he moved to Paris in 1996, guess who was there? Isabelle worked with him, luckily, because, "I think we used to eat together maximum twice a month", he recalls. "From 8am to midnight, I was in the kitchens, but we won back that third star, docked when they moved to Paris! To us it was winning the World Cup twice!"   At the beginning of 2000 Gagnaire and Isabelle returned to Puy (yes, that's where the best lentils in the world are from), where he worked in a local restaurant, got to know the Auvergne locals, and most important the local producers, "with a view to opening my own restaurant". Restaurant François Gagnaire opened in 2001, with a very difficult first year. But, slowly word of mouth got round about his sensational agneau de Velay, fresh gathered wood mushrooms, wild berries and his way with the local green lentils as in "velouté de lentilles de noisette, haricot coco & escargot du Moulin de Jouatou, which Gagnaire describes as a mix "entre tradition and modernité". A soothing confit of lamb shanks with orange and coriander is worth the trip to Puy, and you can stay in one of 20 chic rooms, decorated by Isabelle. And before you leave beg, borrow or steal some Tarte soufflé à la Verveine Verte du Velay with crème glacée "lentille" et jus de myrtilles sauvages. It's wicked!   And don't just take BUZZ's word for it. Gagnaire is "Laureat de l'Année" 2004 – Opération Ducasse: Fou de France and, the venerable Pope of Guide Books, Marc Champérard dubs him "Chef de l'Année Auvergne" in the just-published Guide Champérard 2005.   (By the way: Alert readers will recall I introduced the Fou de France concept last year. It's Ducasse's retort to those who say that France is no longer the centre of the universe, gastronomically speaking. He's gone out there, found talented chefs, who've stuck their necks out opening restaurants in regional France, because they are passionate about their metier and their products.)   As for Ducasse, he left the Plaza for Moscow, then Beirut, where he opens Tamaris, Restaurant de Desserts, a huge space located on the top floor of the Patchi Building, dedicated to Just Desserts. Then to Tokyo and Beige, the restaurant that alert readers will remember is located on top of the Peter-Marino-designed Ginza Chanel building. Why Beige? "Because it was Coco Chanel's favourite colour," Ducasse explains. "And Beige melts gently in the mouth, like the perfect harmony of delicious food." And how about this? Uniforms are by Kaiser Karl! On to Las Vegas where he opens Mix, his biggest project yet, on the 43rd floor of the The Mandalay Bay Hotel. Expect to be amazed by the view, the world's biggest chandelier and the cactus-shaped bar. But attention, open for dinner only.   Back in Paris, no doubt he'll be keeping an eye on the newly opened non-professional, for the likes of you and me, cooking school. Watch this BUZZ space, Michel Troisgros! We'll tell you all you need to know about Ducasse.   Restaurant…
SUBSCRIBE
ALREADY SUBSCRIBED?
BECOME A BONJOUR PARIS MEMBER

Gain full access to our collection of over 5,000 articles and bring the City of Light into your life. Just 60 USD per year.

Find out why you should become a member here.

Sign in

Fill in your credentials below.
A friend happened to be visiting Troisgros, the 3-star Michelin pile recently transformed beyond recognition. He met Michel Troisgros and, being a bit of a name-dropper, managed to get in that he had spent quality time with Alain Ducasse, working on a book. Troisgros immediately dropped his pots and pans, invited my friend to lunch, demanded to know everything that had passed between them—more or less down to, "Does Ducasse wear his Y-fronts tucked into his vest, or loose"!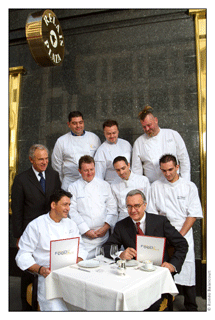 We agreed, my friend and I, that to mention the D-word in gastromondo is magic. I was musing on this while watching Ducasse at the Plaza Athénee during last week's Fou de France lunch. Slick and trim in a designer suit, he was letting his protégée François Gagnaire (no, no relation, I'll explain later) wear the whites, take the applause. "Gagnaire's cuisine is full of new ideas and flavours which means he's cooking the dishes of tomorrow while staying faithful to his roots. That doesn't mean he's shut himself off from outside ideas, which could easily happen when a chef is cooking in a small village like Le Puy-en-Velay," Ducasse insists.

Gagnaire, skinny and fit as a fiddle, takes up the story: "I was born in Puy-en-Velay, inspired to cook by my mother, who loved to entertain, and by the aromas in my grandmother's kitchen where I spent my school holidays." After came Lycée Hotelier, a daunting establishment where the rules "rigueur, discipline, propreté" where drummed into his head and, "it was so tough, but, there are no regrets, the lessons have stayed with me, helped me run my professional and private life."

Working at Alain Chapel, his first "grosse maison" was a big step in the young maverick's evolution, until that dreadful day in 1990 when "driving along the autoroute, I heard on the radio that my maitre had died suddenly. I was gutted!" Gagnaire stayed on six months then went to the Imperial Palace, Annecy, spent time in Luxembourg, and in 1992 was accepted at Pierre Gaganire's eponymous restaurant then based in Saint Etienne. That's where the name comes in. "We both come from the same region, where the name is quite common," he explains.

When Pierre Gagnaire won his third Michelin star, "It was fantastic, but boy we were under terrific pressure! In the kitchen it was chaos, like working with a mad-man, he did, and does, everything spontaneously, there was absolutely no organisation. I stayed two years because I really respected his avant-garde approach. Moving on to La Tour Rose, Lyona href="http://www.autoeurope.com/showspecial.cfm?aff=bonjourparis" mce_href="http://www.autoeurope.com/showspecial.cfm?aff=bonjourparis" target="_blank" rel="nofollow">

, I met my wife Isabelle who was the receptionist!"

But the lure of Gagnaire was strong, and when he moved to Paris in 1996, guess who was there? Isabelle worked with him, luckily, because, "I think we used to eat together maximum twice a month", he recalls. "From 8am to midnight, I was in the kitchens, but we won back that third star, docked when they moved to Paris! To us it was winning the World Cup twice!"

At the beginning of 2000 Gagnaire and Isabelle returned to Puy (yes, that's where the best lentils in the world are from), where he worked in a local restaurant, got to know the Auvergne locals, and most important the local producers, "with a view to opening my own restaurant". Restaurant François Gagnaire opened in 2001, with a very difficult first year. But, slowly word of mouth got round about his sensational agneau de Velay, fresh gathered wood mushrooms, wild berries and his way with the local green lentils as in "velouté de lentilles de noisette, haricot coco & escargot du Moulin de Jouatou, which Gagnaire describes as a mix "entre tradition and modernité". A soothing confit of lamb shanks with orange and coriander is worth the trip to Puy, and you can stay in one of 20 chic rooms, decorated by Isabelle. And before you leave beg, borrow or steal some Tarte soufflé à la Verveine Verte du Velay with crème glacée "lentille" et jus de myrtilles sauvages. It's wicked!

And don't just take BUZZ's word for it. Gagnaire is "Laureat de l'Année" 2004 – Opération Ducasse: Fou de France and, the venerable Pope of Guide Books, Marc Champérard dubs him "Chef de l'Année Auvergne" in the just-published Guide Champérard 2005.

(By the way: Alert readers will recall I introduced the Fou de France concept last year. It's Ducasse's retort to those who say that France is no longer the centre of the universe, gastronomically speaking. He's gone out there, found talented chefs, who've stuck their necks out opening restaurants in regional France, because they are passionate about their metier and their products.)

As for Ducasse, he left the Plaza for Moscow, then Beirut, where he opens Tamaris, Restaurant de Desserts, a huge space located on the top floor of the Patchi Building, dedicated to Just Desserts. Then to Tokyo and Beige, the restaurant that alert readers will remember is located on top of the Peter-Marino-designed Ginza Chanel building. Why Beige? "Because it was Coco Chanel's favourite colour," Ducasse explains. "And Beige melts gently in the mouth, like the perfect harmony of delicious food." And how about this? Uniforms are by Kaiser Karl! On to Las Vegas where he opens Mix, his biggest project yet, on the 43rd floor of the The Mandalay Bay Hotel. Expect to be amazed by the view, the world's biggest chandelier and the cactus-shaped bar. But attention, open for dinner only.

Back in Paris, no doubt he'll be keeping an eye on the newly opened non-professional, for the likes of you and me, cooking school. Watch this BUZZ space, Michel Troisgros! We'll tell you all you need to know about Ducasse.

Restaurant François Gagnaire
4 Avenue Clément Charbonnier, 43000 Le Puy en Velay,
T: 04 71 02 75 55. Fax: 04 71 02 18 72
e:mail Franç[email protected]
www.François-gagnaire-restaurant.com

Read all about it: Petites Histoires de Gout by François Gagnaire
Diffusion Seuil-Volumen (23€)

Ecole de Cuisine Alain Ducasse
55 boulevard Malesherbes, 8th. (Metro: Madeleine)
T: 01 40 90 90 00
Fou de France at the Relai
s
Plaza
Athenee
21 avenue Montaigne, 8th (Metro: Alma-Marceau or FD Roosevelt)
T: 01 53 67 64 00
www.plaza-athenee-paris.com
---
Born in Britain and now based in Paris, Margaret Kemp graduated from The Cordon Bleu and spent a year working and watching in the kitchens of top chefs from Sydney, Australia via Bangkok, Hong Kong, California, New York and France. Realising she would never win the coveted 3-Michelin stars, she decided to write about the people who do, the "disciples of Escoffier."
---
---