"Can I offer you some ice-cream?" Come in, come in. What a genial welcome from Confiserie Florian's director Nathalie Fuchs. It's a hot summer afternoon in Tourettes-sur-Loup, a sleepy postage stamp of a picture-postcard village, located on the long and winding road between Grasse and Nice. And Ms Fuchs is not offering just any old Ben & Jerry's. Florian's is made with fresh lavender, jasmine, rose, violet, thyme and verveine. Think Charlie and the Chocolate Factory as you "enter a world of mystic and marvellous surprises". Florian will amaze you as you seek out the equivalent of "Whipple-Scrumptious Fudgemallow Delight" or "Cavity-filling caramels" or "Strawberry-Juice Water Pistils". I didn't see any "Edible Wallpaper for Nurseries", but maybe that's still to come! Confiserie Florian is a former flour mill, a formidable Victorian looking construction (circa 1868) the creation of Eugene Fuchs, whose great-grandchildren now run the place. "It's the microclimate that means we can grow everything we need here," explain Ms Fuchs. Enter the factory after having a look around the parlour/museum stuffed with antique Provencal furniture and black and white photos, which visually explain how it was in the good/bad old days. Then into the Charlie bit. Watch artisans, wearing surgical whites, make jellied fruits and candies, and the fresh fruit jams (clementine included) that grace the tables of all the palaces on the Riviera. For the crystallised flowers, the violets are made with fresh ones (Tourettes, where the factory is located, is the world capital of violets), the rose flowers made with fresh rose petals. Oh, it's delish, and they don't stop offering tasters. If you're thirsty they'll give you a refreshing sirop à la rose, violet, orange, poppy or melon. You can buy the rest of the goodies (sugar fruits de Nice, calissons, nougat, bonbons, truffle chocolates) in the boutique, then sit in the landscaped Jardins d'Agrumes, where kumquat trees and fragrant plants and flowers grow in splendid profusion. You don't even need a ticket; Charlie did! "I've used Florian fruits and flowers as inspiration for many recipes over the years," says Jacques Chibois of La Bastide Saint Antoine, the 2-star hotel/restaurant in Grasse. In fact, Chibois is the inspiration for the magnificent coffee-table tome "Des Fruits et des Fleurs" 25 chefs cuisinent en Provence the ultimate cook-book that just hit bookshelves here. The tome (worth buying for the photos alone) took two years to complete and originally was an idea by Ms Fuchs and Chibois, but "when the other chefs heard what we were doing, they all wanted to contribute," explains Ms Fuchs. Alain Llorca's Terrine of Macaroni is flavoured with rose petal and raspberry jam. Jacques Chibois' strawberry dessert uses jasmine flower jam, and Christophe Cussac at Restaurant Joel Robuchon, Hotel Metropole, Monte Carlo, makes a mouthwatering crumble of foie gras with bergamote jam. The 25 chefs use Florian products for starters, mains and desserts. "No need to add sugar; the fruits are sweet and speak for themselves," says Chibois. Christian Willer at La Palme d'Or, Cannes does brochettes of sole roasted with jasmine chutney, served with thick spiced macaroni. Erotic, n'est pas? Oh! I can't go on, I'm getting too hungry. "La vie est un fleur, l'amour en est le miel."—Victor Hugo. Des Fruits et des Fleurs, 25€25 chefs cuisinent en ProvenceEditions Rom Confiserie Florian des Gorges du LoupLe Pont du Loup, 06140. Tourettes-sur-LoupT: 04 93 59 32 91
www.confiserieflorian.com
Open daily 9-12 & 14h-18.30. Parking. And also in old Nice at14 quai Papacino, 06300. NiceT: 04 93 55 43 50. A la semaine prochaine Born in Britain and now based in Paris, Margaret Kemp graduated from The Cordon Bleu and spent a year working and watching in the kitchens of top chefs from Sydney, Australia via Bangkok, Hong Kong, California, New York and France. Realising she would never win the coveted 3-Michelin stars, she decided to write about the people who do, the "disciples of Escoffier."
SUBSCRIBE
ALREADY SUBSCRIBED?
BECOME A BONJOUR PARIS MEMBER

Gain full access to our collection of over 5,000 articles and bring the City of Light into your life. Just $60 a year.

Find out why you should become a member here.

Sign in

Fill in your credentials below.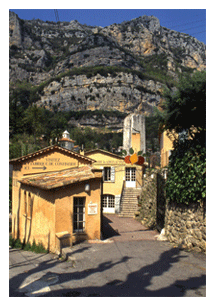 "Can
I offer you some ice-cream?" Come in, come in. What a genial welcome
from Confiserie Florian's director Nathalie Fuchs. It's a hot summer
afternoon in Tourettes-sur-Loup, a sleepy postage stamp of a
picture-postcard village, located on the long and winding road between
Grasse and Nice.

And Ms Fuchs is
not offering just any old Ben & Jerry's. Florian's is made with
fresh lavender, jasmine, rose, violet, thyme and verveine. Think
Charlie and the Chocolate Factory as you "enter a world of mystic and
marvellous surprises". Florian will amaze you as you seek out the
equivalent of "Whipple-Scrumptious Fudgemallow Delight" or
"Cavity-filling caramels" or "Strawberry-Juice Water Pistils". I didn't
see any "Edible Wallpaper for Nurseries", but maybe that's still to
come!

Confiserie Florian is
a former flour mill, a formidable Victorian looking construction (circa
1868) the creation of Eugene Fuchs, whose great-grandchildren now run
the place. "It's the microclimate that means we can grow everything we
need here," explain Ms Fuchs. Enter the factory after having a look
around the parlour/museum stuffed with antique Provencal furniture and
black and white photos, which visually explain how it was in the
good/bad old days.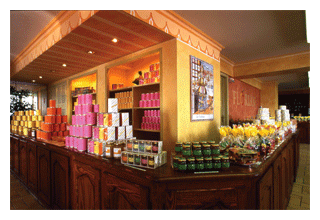 Then
into the Charlie bit. Watch artisans, wearing surgical whites, make
jellied fruits and candies, and the fresh fruit jams (clementine
included) that grace the tables of all the palaces on the Riviera. For
the crystallised flowers, the violets are made with fresh ones
(Tourettes, where the factory is located, is the world capital of
violets), the rose flowers made with fresh rose petals. Oh, it's
delish, and they don't stop offering tasters. If you're thirsty they'll
give you a refreshing sirop à la rose, violet, orange, poppy or melon.
You can buy the rest of the goodies (sugar fruits de Nice, calissons,
nougat, bonbons, truffle chocolates) in the boutique, then sit in the
landscaped Jardins d'Agrumes, where kumquat trees and fragrant plants
and flowers grow in splendid profusion. You don't even need a ticket;
Charlie did!
"I've used Florian
fruits and flowers as inspiration for many recipes over the years,"
says Jacques Chibois of La Bastide Saint Antoine, the 2-star
hotel/restaurant in Grasse. In fact, Chibois is the inspiration for the
magnificent coffee-table tome "Des Fruits et des Fleurs" 25 chefs
cuisinent en Provence the ultimate cook-book that just hit bookshelves
here. The tome (worth buying for the photos alone) took two years to
complete and originally was an idea by Ms Fuchs and Chibois, but "when
the other chefs heard what we were doing, they all wanted to
contribute," explains Ms Fuchs.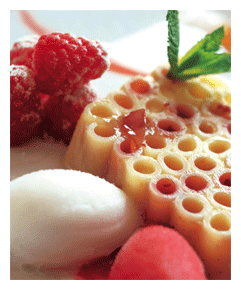 Alain Llorca's Terrine
of Macaroni is flavoured with rose petal and raspberry jam. Jacques
Chibois' strawberry dessert uses jasmine flower jam, and Christophe
Cussac at Restaurant Joel Robuchon, Hotel Metropole, Monte Carlo, makes
a mouthwatering crumble of foie gras with bergamote jam. The 25 chefs
use Florian products for starters, mains and desserts. "No need to add
sugar; the fruits are sweet and speak for themselves," says Chibois.
Christian Willer at La Palme d'Or, Cannes does brochettes of sole
roasted with jasmine chutney, served with thick spiced macaroni.
Erotic, n'est pas? Oh! I can't go on, I'm getting too hungry.
"La vie est un fleur, l'amour en est le miel."—Victor Hugo.
Des Fruits et des Fleurs, 25€
25 chefs cuisinent en Provence
Editions Rom
Confiserie Florian des Gorges du Loup
Le Pont du Loup, 06140. Tourettes-sur-Loup
T: 04 93 59 32 91
www.confiserieflorian.com
Open daily 9-12 & 14h-18.30. Parking.
And also in old Nice at
14 quai Papacino, 06300. Nice
T: 04 93 55 43 50.
A la semaine prochaine
---
Born
in Britain and now based in Paris, Margaret Kemp graduated from The
Cordon Bleu and spent a year working and watching in the kitchens of
top chefs from Sydney, Australia via Bangkok, Hong Kong, California,
New York and France. Realising she would never win the coveted
3-Michelin stars, she decided to write about the people who do, the
"disciples of Escoffier."
---
---