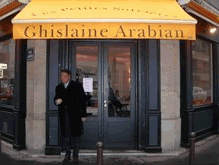 Ghislaine's wearing a neck brace. "What happened?" "The first day we opened I fell down the trap behind the bar into the cellar, ended up in hospital", she laughs. "That's what comes from buying a bistro called Les Petites Sorciéres, other strange things have happened too, but it's good for me I've always needed stress, it's my adrenalin".
Ghislaine's taking lunch orders, Thierry Cambier's in the kitchen, as he's always been for the last 20 years. The 37-seater bistro (with room for 14 in a rear salle for private dining) is filling up fast, it's full midi and soir, some complain tables are too close. "Just because tables are spaced apart doesn't make it a great restaurant, at home you don't sit 10 meters from your guests do you?" she smiles that beautiful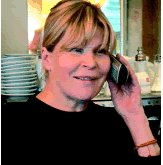 blonde smile. Ghislaine's lovely looks come not from botox but from beer! A daily dose of Trois Monts, "for energy, vitamins and to revive the palate there's nothing finer". Ghislaine's grandparents were Belgian brewers, her cuisine inspired by beer, and there's beer on tap behind the bar as well as a small selection of wine in the cellar beneath – now Ghislaine checks the trap-door is firmly shut! By day Emma the journalist friend helps with the service, at night it's daughter Margaux and friends.  Thomas, her son the computer wiz, donned painter's overalls to help out with the décor. "It's all good", she grins.
At lunch four starters, four mains and four desserts. Soothing pumpkin soup, perfectly marinated herrings, croquettes of grey shrimp with parsley, tete de veau marinated,posed on a bed of salad. Or foie gras. Dishes with Flamande influences include Waterzoi de coquilles saint Jacques. Cod cooked in biére de garde, fried onions and spinach. Roast duck, with baked apple and brown sugar. Peppery piéce du butcher, chips (beg for them, they're her signature, probably the reason she once had 2 Michelins) and herbs. A chunk of poached plaice with hollandaise, or vol au vent of free-range chicken (what else could it be?). And talking stars, Le Petit Lebey des bistros Parisien (Albin Michel) names Les Sorciéres, bistro de l'annee 2008. Bravo!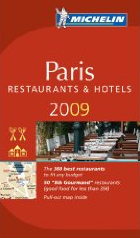 Cheese from Aurelie Obadia, salad from Claude and Catherine Galienne, Neuville.
The butcher is Monsieur Fornelos at Frépillon, Val d'Oise, and when Ghislaine's not making the pudds they're from Carl Marletti in the 5th. Could be Parfait glacé à la chicorée with white saboyan. Belgian waffles with vanilla ice cream. Carl's Religieuse Café or Pistache, Fruit salad with mint and lime sorbet. Drink biere at 2.50€ a glass. Wine at 6€ or a bottle of Sancerre blanc Crochet 32€. "It's great to be here", she says. "To have contact with my clients again, some have come because they remember me from Ledoyen", pas mal eh?"
Are French chefs sexy? That was the topic of conversation between some ladies who do (and two gobsmacked gents) around a table at Garnier, the classic and excellent sea-food brasserie. "Alain Passard isn't but his legumes certainly are. The beau baker Jean-Luc Poujauran is as sexy as his bread, "I know if its' his bread by the aroma, I love to sniff it", confessed one of the gents. Gerald Passedat (who gets *** in the 2008 Michelin, not yet published, but everybody knows) is romantic sexy.  Albert Corre too bling, but his Truffle Oil is super-sexy. Pop in and buy some now (Le Petit Pergolese, 01 45 00 23 66) is Corre France's answer to Paul Newman? If so he's sexy.
"Food is sexy, so the chefs that cook it are, bien sur", decided the ladies and 2 gents. "Gagnaire does it for me", sighed Marie, all agreed Guy Martin was once drop-dead, but is looking a bit tired lately. Jean Louis Nomicos gets the high-sign and Piége now he's shed all those kilos. Yannick Alleno didn't really ring anyone's bell, and crazy genius Jacques Maximin is. once said he preferred a Porsche Turbo to a piece of turbot!

Lunch is sexy at Garnier. "Gillardeau" de Marennes-Oleron oysters (nudge, nudge) then phallic aubergines and langoustine served in a womb-like box. Sole with citrons confits, purée of rattes potatoes in copper pots. The chef once worked for Robuchon, who is definitely not sexy, but his purée was voted v.sexy, "his texture's wild", screamed the ladies.
Dessert, mango tart tatin with caramel and ginger. All in all enough to make the ladies who do rush off with Garnier's chef Ludovic Schwartz, he popped his head out of the kitchen, and mais oui, he is, in an earthy way, especially when he says "I like to play with ze fishes, roast, grill, fry, poach, steam zem. There's nothing better in the world than a fat tuna laid out in front of me." Mmmm. Time to book in for a session chez Garnier, n'est pas? Let BUZZ know what you think.
Address Book:
Ghislaine Arabian, Les Petits Sorcieres,
12 rue Liancourt, 14th (Metro:Denfert Rochereau)
T: 01 43 21 95 68
Shut:
Lunch – Starter + Main or Main + dessert 20€
3 courses – 25€
A la Carte for dinner about 34€ + wine
111, rue Saint Lazare (Metro: Saint Lazare)
T: 01 43 87 50 40
Open 7/7 Dinner from 7pm open til late
After the theatre or opera
Menu du Marché 31€
A la Carte 50€+ wine