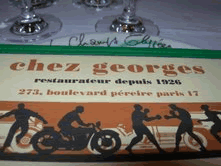 Chez Georges, French traditional cooking pur et dur. Located at the angle of Boulevard Pereire, opposite the carbuncle that is the Palais de Congres and facing Le Relais de Venise, but you'll have to line up to get a table at Venise. The food's not great, a bit school dinners.
Georges is more, I've got my MBA and don't do lines. Recently acquired by the brothers Menut, either Georges or Bertrand will be there to welcome you, no it wasn't  an impulse buy to pander to George Menut's ego, because it's called Chez Georges, but a passionate desire to revise and correct a fading bistro.
Chef Benoit Pineau, comes from La Grande Cascade (also owned by the bros, as is Garnier, Le Ballon des Ternes, Le Bellagio). "I'm not playing with the cuisine here, but on real authenticity, sturdy daily dishes such as Blanquette de Veau a l'ancienne (Mon), Navarin d'Agneau aux petits legumes (Tues)  Hare Stew (Wed) Pot-Au-Feu(Thurs) Coquuilles Saint-Jacques à la Provençal (Fri) Petit Salé au lentilles vertes de Puy (Sat) Roast chicken (Sun)", explains Pineau. There's also tartare of beef, AAAAA sausage from chez Duval with moutarde à l'ancienne, casserole of kidneys. Or just pop by on Sunday night for a platter of Oysters or dish of steamed vegetables followed by Quatrehomme cheeses, mille feuille à la graine de vanilla, baba au rhum or the finest Oeufs à la neige you'll ever taste, wash down with Côtes de Brouilly "Chez George" 2005 (29€). The décor's a tad tatty Edith Piaf, but Georges, or is it Bertrand, say they plan to give the place a facelift when they close for the mois d'Aout. If you want to tap into the zeitgeist of a genuine French bistro, buzzing with the French (Sunday lunch is a great time) this is it.
For an altogether different eating experience the just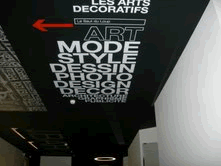 open "Le Saut du Loup" ticks many boxes. At least five years in conception, located inside the Musée des Art Décoratifs on two state-of-the-art levels.

On the upper floor, a long Corian bar to suit the long thin salle. Décor is by Philippe Boisselier (Spoon, Carthage) with brilliant play on mirrors and perspectives. The Eiffel Tower is omnipresent, exciting at night when it sparkles, majestic by day, ask for Table 200 you'll see why when you get there! Lovely outside terrace opening soon; inside pure design, Charles Eames chairs, sexy tables and table-ware, good ideas to copy.
"The cuisine brings together grand classics and my creations, a contrast of flavours, simple and interesting", explains chef Pascal Bernier (Lasserre, Clovis, Dalloyau, Roland Garros, L'Atelier Renault). In the salle Jean-Pierre Bourhis takes your order and Camille Artiguau-Fournets suggests matching wines. Discuss over his signature cocktail, if you don't want the Krug Rosé (600€) a glass of Moet is 14€. Saint Julien Fiefs de Lagrange 2001 78€ or 12€ the glass; very nice too. 
Bocal de legumes oubliés aux truffles, scrambled eggs with truffes, caviar and pommes rattes, carrot and cumin soup, jambon Ibérique Bellota, are just some of the starters. Follow with Hamburger (posh, not MacDo darling) and a cornet of thick frits, roast chicken and purée, Plat du jour, tartare de boeuf, all delicious, uncomplicated, service with a smile. Oh! Club sandwiches, pastas and penne then Riz au Lait, Crème de mon Enfance, Apple crumble, Ice creams, sorbets and Coupes such as Cappuccino & Expresso, plus a tray of Ladurée patissserie. Something to please even the most jaded palates, give you strength to do the expos in the Musées. "Le Saut du Loup, what does it mean? C'est the frontiere invisible, le fosse protecteur, qui permet la parfait continuité des jardins du Carrousel au restaurant. (It's the gravel strip just before you get to the Carrousel gardens – I think!) Voila! Eat and learn French at the same time: your two favourite pastimes.
"Where can we get the best oysters?"  BUZZ is often asked. Head straight for Brasserie Lorraine, another "brothers" operation by the Freres Blanc. During March, at the newly tarted up Lorraine they're featuring "Tour de France des Huitres" so you can taste Belons from Brittany, delicate small Ile de Re oysters, Bouzigues AOC, from Normandy, Bay d'Isigny, Courseulles. From Brittanny – Cancale and from the Charentes Marenne-Oléron. They get through 3 tonnes of fresh juicy oysters (maybe with pearls) each month in the Blanc's brasseries dotted around town. "No lemon, just a touch of white pepper", suggests Jean Pierre Blanc who says he was born in an oyster shell. In each Brasserie a different variation of delicate oyster amuse-bouches, cooked and natural, created by Bernard LePrince (MOF). The cheeky side dish that comes with, say, The Royal Platter, is a fricassee of pigs trotters, small sausages and fried shellfish!" Royal! "Ah Oysters, small and rich, looking like little ears enfolded in shells, and melting between the palate and tongue like salted sweets". Guy De Maupassant.
Address Book:
Chez Georges,
177 Boulevard Péreire, 17th (Metro: Porte Maillot)
T: 01 45 74 31 00
Open 7/7
Plat du jour 22€
Average Spend 40€ + wine
Valet parking
Le Saut du Loup,
107 rue de Rivoli 1st (Metro: Palais Royal/Tuileries)
T: 01 42 25 49 55
Entrée + Main + Pudd 30€ + wine
Menu Degustation 95€
Closed Sunday
Valet Parking
La Lorraine,
2 place des Ternes, 8th (Metro:Ternes)
T: 01 56 21 22 00
Website
Average spend
Oyster Plateau 28.50 with amuse bouches
Open 7/7 Valet Parking