Gaultmillau 2007 Buzz Extra
And the winner is: JEAN-FRANCOIS PIEGE. The 36-year old superchef at Les Ambassadeurs, Hotel de Crillon, is to-day named Chef of the Year in GaultMillau's (35th) 2007 Edition. Piege, a burly looking bruiser, runs his kitchens (70 players) with the precision of a rugby team said: "I'm very happy, I was not born with a silver spoon in my mouth, my life has not been easy, this is a great honour and I'm very proud". Piege says he's influenced by the flavours and savours he remembers from childhood. "Never any cans in our house, the mushrooms were grown by Grandfather who also bred snails, my mother's ris-de-veau is still the best". The other big influence in Piege's life is Alain Ducasse, for whom he worked at The Plaza Athenee. In 2001 The Plaza won its' third Michelin star and at the time Piege said: "My boss is Formula 1, I may be the driver but he gets up on the podium and takes credit for what he's created. In 2004, with Ducasse's blessing, Piege left The Plaza for Le Crillon, was elected chef of the Year Champerard 2005 and won two Michelin stars. In 2006 alert readers will remember he was Pudlo's Chef of the year and, he's the only 4 star in Bottin Gourmand. The GautMillau award is the icing on the cake for Piege, whose "l'oeuf coque sans coque a la truffe d'Alba" costs 105€, is a favourite of Madonna when she's staying in The Crillon's Bernstein Suite (15,000€ a night). "There's not only caviar in my life, I never forget where I come from and I'll stop when I'm no longer inspired, but that day is a long time away, he assures BUZZ. So what else is new in GaultMillau 07? 11 of the 12 19/20 keep their ratings, such as Gagnaire, Ducasse at The Plaza Athénee, Roellinger, Guérard, Passard, Barbot, Guy Savoy, Thierry Marx etc. Talking Ducasse, he's the only one who goes down a rating, to 18/20, for Le Louis XV, Monaco "not for the quality of the products, but because there's nothing new". Crazy, don't they know at GM that you can't improve on perfection? Mean! And the Louis XV is probably the most perfect restaurant in the world. Other 18's include Villa de Lys, Cannes, L'Ambroisie, Le Pre Catalan, Le Bristol, Paris and Le Chateau de la Chevre d'Or, Eze. Up goes Les Elysees de Vernet (17) and down comes Michel Rostang (17). They really love manic
Marc Veyrat who keeps his 20/20 for La Ferme de Mon Pere, which BUZZ heard is closing so the black-hatted shepherd can open in Paris, and for his, mortage your maison, flagship pile La Maison de Marc Veyrat, Annecy. The revelation of the year is young talent Maruro Colagreco, chef at the picturepost-card, Mirazur, Menton. And, there's now a separate section for "icons" which includes Jacques Maximin at Vence, Alain Chapel at Mionnay, L'Auberge de l'ill, Illhaeusern, Paul Bocuse, La Tour d'Argent, Alain Senderens, Laserre and Laurent. 22 young talents are highlighted as "the Greats of tomorrow" such as L'Oustau de Baumaniere's talented disciple of Ducasse, Sylvestre Wahid. Sommelier of the year is the 25-year old Alexandre Duliere but you'll have to schlep to Bruno Cirino's Hostellerie de la Jerome, La Turbie to test his skills. And Jean-Jacques Chaveau who was directing Le Pré Catalan, Bois de Boulogne the year Duliere was born is Directeur de Salle de l'Année. Read all about 3,500 restaurants, 1,500 hotels, 660 hotels de charme, maps. They do everything but eat it for you. GaultMillau2007 1312 pages. 29€ www.gaultmillau.fr  
SUBSCRIBE
ALREADY SUBSCRIBED?
BECOME A BONJOUR PARIS MEMBER

Gain full access to our collection of over 5,000 articles and bring the City of Light into your life. Just 60 USD per year.

Find out why you should become a member here.

Sign in

Fill in your credentials below.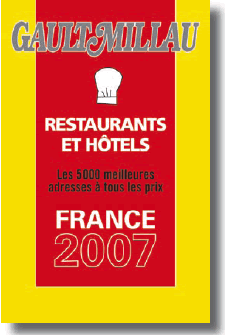 And the winner is: JEAN-FRANCOIS PIEGE. The 36-year old superchef at Les Ambassadeurs, Hotel de Crillon, is to-day named Chef of the Year in GaultMillau's (35th) 2007 Edition. Piege, a burly looking bruiser, runs his kitchens (70 players) with the precision of a rugby team said: "I'm very happy, I was not born with a silver spoon in my mouth, my life has not been easy, this is a great honour and I'm very proud".
Piege says he's influenced by the flavours and savours he remembers from childhood. "Never any cans in our house, the mushrooms were grown by Grandfather who also bred snails, my mother's ris-de-veau is still the best". The other big influence in Piege's life is Alain Ducasse, for whom he worked at The Plaza Athenee. In 2001 The Plaza won its' third Michelin star and at the time Piege said: "My boss is Formula 1, I may be the driver but he gets up on the podium and takes credit for what he's created.
In 2004, with Ducasse's blessing, Piege left The Plaza for Le Crillon, was elected chef of the Year Champerard 2005 and won two Michelin stars. In 2006 alert readers will remember he was Pudlo's Chef of the year and, he's the only 4 star in Bottin Gourmand.
The GautMillau award is the icing on the cake for Piege, whose "l'oeuf coque sans coque a la truffe d'Alba" costs 105€, is a favourite of Madonna when she's staying in The Crillon's Bernstein Suite (15,000€ a night).
"There's not only caviar in my life, I never forget where I come from and I'll stop when I'm no longer inspired, but that day is a long time away, he assures BUZZ.
So what else is new in GaultMillau 07?
11 of the 12 19/20 keep their ratings, such as Gagnaire, Ducasse at The Plaza Athénee, Roellinger, Guérard, Passard, Barbot, Guy Savoy, Thierry Marx etc. Talking Ducasse, he's the only one who goes down a rating, to 18/20, for Le Louis XV, Monaco "not for the quality of the products, but because there's nothing new". Crazy, don't they know at GM that you can't improve on perfection? Mean! And the Louis XV is probably the most perfect restaurant in the world. Other 18's include Villa de Lys, Cannes, L'Ambroisie, Le Pre Catalan, Le Bristol, Paris and Le Chateau de la Chevre d'Or, Eze. Up goes Les Elysees de Vernet (17) and down comes Michel Rostang (17).
They really love manic
Marc Veyrat who keeps his 20/20 for La Ferme de Mon Pere, which BUZZ heard is closing so the black-hatted shepherd can open in Paris, and for his, mortage your maison, flagship pile La Maison de Marc Veyrat, Annecy.
The revelation of the year is young talent Maruro Colagreco, chef at the picturepost-card, Mirazur, Menton. And, there's now a separate section for "icons" which includes Jacques Maximin at Vence, Alain Chapel at Mionnay, L'Auberge de l'ill, Illhaeusern, Paul Bocuse, La Tour d'Argent, Alain Senderens, Laserre and Laurent. 22 young talents are highlighted as "the Greats of tomorrow" such as L'Oustau de Baumaniere's talented disciple of Ducasse, Sylvestre Wahid. Sommelier of the year is the 25-year old Alexandre Duliere but you'll have to schlep to Bruno Cirino's Hostellerie de la Jerome, La Turbie to test his skills. And Jean-Jacques Chaveau who was directing Le Pré Catalan, Bois de Boulogne the year Duliere was born is Directeur de Salle de l'Année.
Read all about 3,500 restaurants, 1,500 hotels, 660 hotels de charme, maps. They do everything but eat it for you.
GaultMillau2007
1312 pages. 29€
www.gaultmillau.fr
 
---
---