For fifteen years Jacques Gantie has published an annual Guide to Provence-Cote d'Azur, Ligurie and Piedmont. A journalist at Nice-Matin, the local rag, Gantie knows every kitchen down south, uses them as his own, and is tremendously welcome wherever he lays his knife and fork. It's said that France has Michelin and Pudlowski: the South has Gantie. And the good news is that Gantie, for some years now, publishes a colourful English version of his excellent guide. "No one could be more qualified to open your eyes to Southern cuisine than Gantie, an award winning culinary observer and long time champion of local product-centered cuisine", observes the guide's translator, William Fennie. So for those who love, or would like to explore, an astonishing region, the opportunities range from small family restaurants like La Salla à Manger, Salon-de-Provence, to gastro-greats Ducasse's Louis XV,  Monaco, or Alain Llorca's Moulin de Mougin. "You don't have to be a prince to eat like one", insists Gantie. "However, if you know where to look, you're half way to heaven", he adds. His guide is more than restaurant listings, think a window for exploring the South of France's unique cuisine and spirit. "The restaurant industry is thriving", writes Gantie. "Never have we listed as many changes, transfers of chefs, restaurateurs who've thrown in the T-towel, others who change course or try adventures elsewhere. Restaurants are awarded four olive branches for Exceptional Tables, three for "Grande Tables", Two for "Quality Tables" and One for "looks promising".  Even if there's no rating, you can rest assured  you'll eat well if it's listed here, say, Bijou Plage, Juan-les-Pins (www.bijou.plage.free.fr) which should have one olive branch but, there you are. Too late for publication, are Hermance Carro, the talented volatile young star of M6's fly on the wall documentary, Madame Le Chef,  who now has her Relais d'Oléa at Seillans, in the Var, up and running. And the most awaited event in the south of France, Jouni Tourmanen who opens his La Reserve concept, by the Port of Nice, in October. Makes any other gastro-opening, anywhere, pale into insignificance. Gantie goes by department and then town, giving the option of exploring whichever regions you want: or helping to make up your mind. In the section "Sources of the South" excellent references to artisan food shops selling wines, olive oils, ice cream, breads, pasta, home made jams. Some excellent bed and breakfasts are noted such as the delightful Un Ange Passe, located on a
sun-drenched hillside at La Colle sur Loup. (www.unangepasse.fr). Even a mini-dictionary of food terms: Gateau Opéra, how many people know the ingredients? Read Gantie and discover, discover, discover. Once you have, you'll feel as if you've been on vacation, even if you haven't. Jacques Gantie's Gourmet Tables, (English) Treasures of Provence, 2006. Editions Rom 20€ www.guidegantie.com Guide Gantie, Provence-Cote d'Azur (French) Editions Rom 22€ www.rom.fr  
SUBSCRIBE
ALREADY SUBSCRIBED?
BECOME A BONJOUR PARIS MEMBER

Gain full access to our collection of over 5,000 articles and bring the City of Light into your life. Just $60 a year.

Find out why you should become a member here.

Sign in

Fill in your credentials below.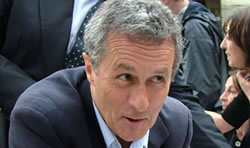 For fifteen years Jacques Gantie has published an annual Guide to Provence-Cote d'Azur, Ligurie and Piedmont. A journalist at Nice-Matin, the local rag, Gantie knows every kitchen down south, uses them as his own, and is tremendously welcome wherever he lays his knife and fork.
It's said that France has Michelin and Pudlowski: the South has Gantie. And the good news is that Gantie, for some years now, publishes a colourful English version of his excellent guide. "No one could be more qualified to open your eyes to Southern cuisine than Gantie, an award winning culinary observer and long time champion of local product-centered cuisine", observes the guide's translator, William Fennie.
So for those who love, or would like to explore, an astonishing region, the opportunities range from small family restaurants like La Salla à Manger, Salon-de-Provence, to gastro-greats Ducasse's Louis XV,  Monaco, or Alain Llorca's Moulin de Mougin.
"You don't have to be a prince to eat like one", insists Gantie. "However, if you know where to look, you're half way to heaven", he adds. His guide is more than restaurant listings, think a window for exploring the South of France's unique cuisine and spirit. "The restaurant industry is thriving", writes Gantie. "Never have we listed as many changes, transfers of chefs, restaurateurs who've thrown in the T-towel, others who change course or try adventures elsewhere.
Restaurants are awarded four olive branches for Exceptional Tables, three for "Grande Tables", Two for "Quality Tables" and One for "looks promising".  Even if there's no rating, you can rest assured  you'll eat well if it's listed here, say, Bijou Plage, Juan-les-Pins (www.bijou.plage.free.fr) which should have one olive branch but, there you are. Too late for publication, are Hermance Carro, the talented volatile young star of M6's fly on the wall documentary, Madame Le Chef,  who now has her Relais d'Oléa at Seillans, in the Var, up and running. And the most awaited event in the south of France, Jouni Tourmanen who opens his La Reserve concept, by the Port of Nice, in October. Makes any other gastro-opening, anywhere, pale into insignificance.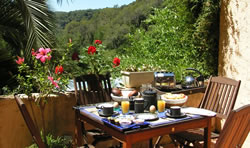 Gantie goes by department and then town, giving the option of exploring whichever regions you want: or helping to make up your mind. In the section "Sources of the South" excellent references to artisan food shops selling wines, olive oils, ice cream, breads, pasta, home made jams. Some excellent bed and breakfasts are noted such as the delightful Un Ange Passe, located on a
sun-drenched hillside at La Colle sur Loup. (www.unangepasse.fr). Even a mini-dictionary of food terms: Gateau Opéra, how many people know the ingredients? Read Gantie and discover, discover, discover. Once you have, you'll feel as if you've been on vacation, even if you haven't.
Jacques Gantie's Gourmet Tables, (English)
Treasures of Provence, 2006.
Editions Rom 20€
www.guidegantie.com
Guide Gantie,
Provence-Cote d'Azur (French)
Editions Rom 22€
www.rom.fr
 
---
---