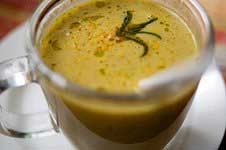 RECIPES from LA CUCINA di TERRESA 
I must confess that I'm enamored of vegetables and fruits, and thus the recipes I post are all plant-based, seasonal, and hopefully savory. I can't guarantee that you'll be able to whip them up, as fresh fruits, vegetables, and legumes do demand a bit of loving attention. As Isabel Allende puts it in her wonderful book Aphrodite: A Memoire of the Senses, "Handling food joins the sense of touch with the basic pleasure of satisfying the appetite." Yes, cooking is a patient occupation! So here is this simple – yet demanding in patience – Chestnut Soup recipe. Go out and buy some fresh chestnuts – it's the season! (they'll probably be from Italy since chestnut trees are now quite rare in the States due to a blight suffered at the beginning of the 20th century) and sit around the table with friends and/or family to get them ready to bake then peel before turning them into this velvety, succulent liquid dish.
Fresh Chestnut Soup – serves 4  
1 3/4 lbs fresh chestnuts in shells
1/2 cup each celery, carrot, onion, finely chopped
3 fresh flat-leaf parsley sprigs, chopped 
2 fresh bay leaves
1 rosemary sprig
3-4 tBsp extra-virgin olive oil
1/4 cup Madeira 
Unrefined sea salt and freshly ground black pepper
Orange-rosemary olive oil
Zest of 1 orange
20 rosemary leaves
4-5 tBsp extra-virgin olive oil 
Carve an X on the flat side of each chestnut with a sharp paring knife. Put chestnuts in a large bowl, cover with water and let soak for 1/2 – 1 hour. Drain and spread chestnuts in a roasting pan with a thin film of water and roast in oven preheated to 400 °F for 15-20 minutes, or until the shells are brittle and have curled back from the X incision. Remove from oven. When just cool enough to handle, peel off outer shells and inner brown skins of chestnuts with a knife. Crumble them and set aside.
Heat olive oil in large saucepan over low heat; stir in celery, carrot, and onion. Cover surface of vegetables with a piece of wax paper and let vegetables sweat for 10 minutes. Remove wax paper. Add 1 liter (4 1/2 cups) water, bay leaves, and bring to a boil. Reduce heat and simmer covered for 10 minutes. Add crumbled chestnuts and rosemary sprig and simmer covered for another 10 minutes. Add Madeira and simmer uncovered for 3 minutes. Remove from heat, add parsley, and stir. Purée soup in a blender (be careful to hold down the blender lid as hot liquids like to splurt). Add salt and pepper to taste, and more hot water if soup is too thick.
For seasoned olive oil:
Heat olive oil over low flame till nicely warm to the touch but not boiling; pour over orange zest and rosemary leaves in a small bowl or ramekin. Set aside to cool slightly.
Garnish soup with a drizzle or two of the seasoned oil and freshly ground black pepper. 
Bon appetit! La Cucina di Terresa  
And please take a look at my website: La Cucina di Terresa.  Feel free to subscribe to my newsletter.
zChocolat: "World's Finest Chocolates by World-Champion Chocolatiers." zChocolat's selection is handmade by world-champion French chocolatiers following a 400-year-old tradition of passion and zealous adherence to purity. A single bite is an instant of pure seduction and sensory bliss one has never experienced before.
Wine.com has one of the biggest selections of wine on the internet, with everything on offer at a great price!