A French Dip: Learning French in a French Wine Town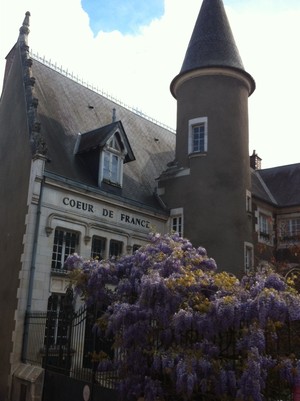 In a burst of positive "can-do" thinking, I registered for a two-week French immersion language course in Sancerre, a delightful wine town two hours south of Paris. I had never studied French as a kid and I couldn't say much more than "Merci beaucoup" and "C'est magnifique" until a year or so ago. Even then, I acted suddenly on my longtime desire to learn French when I happened onto someone teaching the language, one-to-one, in a café near my home. I signed up and spent a year with this tutor struggling through grammar, conjugations, pronunciations, and sentence construction, but still felt totally flummoxed. I had words but couldn't put them together, and I couldn't understand much of anything. Clearly, I needed a breakthrough. Hence, my two-week plunge into French 'totale' at
Coeur de France
(CDF), an immersion language school located in a 16th century chateau in Sancerre. The rules are NO ENGLISH, EVER! Even for beginners like me. From the moment I was collected from the nearby train stop (in Cosne sur Loire, about 15 minutes away), we spoke nothing but French. The other students were more advanced and I began to wonder if I was going to make it through fourteen days. Even though I'm in my 70's, I found that I could indeed learn. The CDF learning approach is totally intuitive and you are working with dedicated teachers determined to help you get it. I learned so much in the first week, I could not believe it. The first two days I was lost, then suddenly a few days later I was listening to others discuss a point of grammar and realized I understood everything they were saying. It was thrilling! Marianne and Gérard Chartrand own the school and Marianne leads the instruction. She herself is an inspired teacher and her teaching methods are incredibly sound and straightforward. In addition to four-hour morning classes daily, several additional hours during the week are devoted to pronunciation. Everyone tries everything and you keep at it until it sounds right. For comprehension, my instructor would keep explaining to me in French. If I still didn't understand, she would do anything including jumping up and down or acting out on the floor or whatever until I understood. English is not an option. Classes are small – not more than seven. On my second visit some months later, there was a full complement of children who put us all to shame with their galloping progress.  On my first two-week visit, I shared a class with three students. During my recent stay in May, I studied with a private teacher for the week, resulting in more amazing results pour moi. Afternoons offered extra experiences, a visit to a vineyard; tasting out in the fields; my muddy feet attesting to how dug in we got! Another day we headed to the goat farm, the chevrerie. Here we saw up close the fascinating process of making goat cheese, in this case the 'to die for' regional specialty, Crottin de Chavignol. The goats are funny – curious and with lots of personality. They check you out with a not-so-cautious nibble whenever you get close. One evening was devoted to cooking a French dinner together; so you even have a cooking class as part of the CDF experience. You are living in a village of less than 1800 people, and are off to the shops daily, buying bread, cheese and other provisions. You live in your own appartement, either in the Chateau or nearby. You have to feed yourself so you are constantly shopping. I fell totally in love at the boulangerie, choosing my baguette and croissant for the next day. Then there is the fromagerie stop for cheese, the charcuterie for deli tidbits and the all-important patisserie. The small Petit Casino has groceries and a bit of everything else you might need. Not to mention the wine shops which are everywhere in Sancerre. Restaurants too, of course, as befits a proper wine town; outstanding are Auberge La Pomme d'Or, the more casual L'Ecurie, and the Michelin-starred La Tour. Once a week we visit the supermarket in a nearby town, presenting more challenges in speaking, understanding and purchasing. We stop at La Poste to buy stamps and mail postcards, all part of our lessons. Everyone in the village is encouraging because they know you are studying at CDF. At my favorite Café des Arts on the square, they got to know me and checked out my progress daily. Seeing the same people around the village every day is both fun and instructive. I could not believe how welcoming and patient they were as I struggled. The bakery-owner at the boulangerie welcomed me on my second visit in six months; "vous êtes de retour!" he exclaimed in amazement. And the language simply takes over your life; you start thinking in French, even dreaming in French. Middle of the night, I would often wake with a start to check on a translation or a verb conjugation. The chateau itself is over 400 years old, constructed about 1590. Classrooms and a large day room are on the first floor, with student apartments above. I grew to love my cozy chamber with an
angel
painted on my ceiling. You have your own small kitchen and every convenience. Your apartment is furnished with good Wi-Fi, CD and DVD players, television (for movies in French only, of course), or to watch the news and other French programming. CDF has a full library of books and DVDs to borrow. I have been at CDF twice this year and can't wait to go back again. When I last left, I could stroll through the village and actually converse, making myself understood and understanding in return. For me, a beginner, this is a triumph. My French idée fixe experiment has turned into a beloved obsession. # # # Note: Merle Minda is a journalist and freelance…
SUBSCRIBE
ALREADY SUBSCRIBED?
BECOME A BONJOUR PARIS MEMBER

Gain full access to our collection of over 5,000 articles and bring the City of Light into your life. Just 60 USD per year.

Find out why you should become a member here.

Sign in

Fill in your credentials below.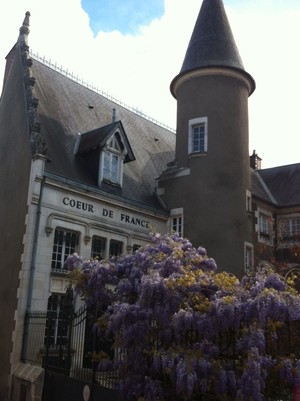 In a burst of positive "can-do" thinking, I registered for a two-week French immersion language course in Sancerre, a delightful wine town two hours south of Paris. I had never studied French as a kid and I couldn't say much more than "Merci beaucoup" and "C'est magnifique" until a year or so ago. Even then, I acted suddenly on my longtime desire to learn French when I happened onto someone teaching the language, one-to-one, in a café near my home. I signed up and spent a year with this tutor struggling through grammar, conjugations, pronunciations, and sentence construction, but still felt totally flummoxed. I had words but couldn't put them together, and I couldn't understand much of anything. Clearly, I needed a breakthrough.
Hence, my two-week plunge into French 'totale' at Coeur de France (CDF), an immersion language school located in a 16th century chateau in Sancerre. The rules are NO ENGLISH, EVER! Even for beginners like me. From the moment I was collected from the nearby train stop (in Cosne sur Loire, about 15 minutes away), we spoke nothing but French. The other students were more advanced and I began to wonder if I was going to make it through fourteen days.
Even though I'm in my 70's, I found that I could indeed learn. The CDF learning approach is totally intuitive and you are working with dedicated teachers determined to help you get it. I learned so much in the first week, I could not believe it. The first two days I was lost, then suddenly a few days later I was listening to others discuss a point of grammar and realized I understood everything they were saying. It was thrilling!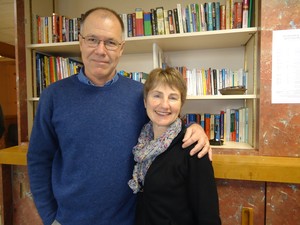 Marianne and Gérard Chartrand own the school and Marianne leads the instruction. She herself is an inspired teacher and her teaching methods are incredibly sound and straightforward. In addition to four-hour morning classes daily, several additional hours during the week are devoted to pronunciation. Everyone tries everything and you keep at it until it sounds right. For comprehension, my instructor would keep explaining to me in French. If I still didn't understand, she would do anything including jumping up and down or acting out on the floor or whatever until I understood. English is not an option.
Classes are small – not more than seven. On my second visit some months later, there was a full complement of children who put us all to shame with their galloping progress.  On my first two-week visit, I shared a class with three students. During my recent stay in May, I studied with a private teacher for the week, resulting in more amazing results pour moi.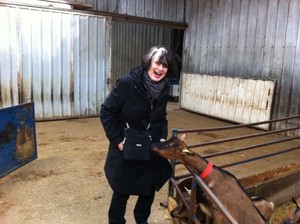 Afternoons offered extra experiences, a visit to a vineyard; tasting out in the fields; my muddy feet attesting to how dug in we got! Another day we headed to the goat farm, the chevrerie. Here we saw up close the fascinating process of making goat cheese, in this case the 'to die for' regional specialty, Crottin de Chavignol. The goats are funny – curious and with lots of personality. They check you out with a not-so-cautious nibble whenever you get close.
One evening was devoted to cooking a French dinner together; so you even have a cooking class as part of the CDF experience.
You are living in a village of less than 1800 people, and are off to the shops daily, buying bread, cheese and other provisions. You live in your own appartement, either in the Chateau or nearby. You have to feed yourself so you are constantly shopping. I fell totally in love at the boulangerie, choosing my baguette and croissant for the next day. Then there is the fromagerie stop for cheese, the charcuterie for deli tidbits and the all-important patisserie. The small Petit Casino has groceries and a bit of everything else you might need. Not to mention the wine shops which are everywhere in Sancerre. Restaurants too, of course, as befits a proper wine town; outstanding are Auberge La Pomme d'Or, the more casual L'Ecurie, and the Michelin-starred La Tour.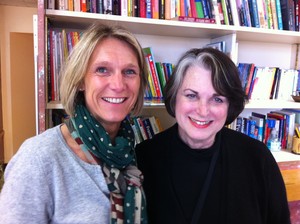 Once a week we visit the supermarket in a nearby town, presenting more challenges in speaking, understanding and purchasing. We stop at La Poste to buy stamps and mail postcards, all part of our lessons. Everyone in the village is encouraging because they know you are studying at CDF.
At my favorite Café des Arts on the square, they got to know me and checked out my progress daily. Seeing the same people around the village every day is both fun and instructive. I could not believe how welcoming and patient they were as I struggled. The bakery-owner at the boulangerie welcomed me on my second visit in six months; "vous êtes de retour!" he exclaimed in amazement.
And the language simply takes over your life; you start thinking in French, even dreaming in French. Middle of the night, I would often wake with a start to check on a translation or a verb conjugation.
The chateau itself is over 400 years old, constructed about 1590. Classrooms and a large day room are on the first floor, with student apartments above. I grew to love my cozy chamber with an angel painted on my ceiling. You have your own small kitchen and every convenience. Your apartment is furnished with good Wi-Fi, CD and DVD players, television (for movies in French only, of course), or to watch the news and other French programming. CDF has a full library of books and DVDs to borrow.
I have been at CDF twice this year and can't wait to go back again. When I last left, I could stroll through the village and actually converse, making myself understood and understanding in return. For me, a beginner, this is a triumph. My French idée fixe experiment has turned into a beloved obsession.
# # #
Note: Merle Minda is a journalist and freelance writer in the Minneapolis, MN. She co-authored and published "Famous Crimes: Stories of Law & Order in Minnesota" in 2008, and continues to publish numerous freelance articles on travel, people, and historic places in many regional publications, including Delta SKY Magazine, the Star Tribune, Mpls. St. Paul Magazine and others. Minda's opinionated travel blog is can be found on this link.
More in Coeur de France, French classes, french immersion, French language, learning French
---
---