April 4-10, 2011 BonjourParis France News Daily
Newest entries are on the top for current week, Monday-Sunday.
Sunday, April 10:
Paris Marathon 2011 in Photos
BonjourParis French News
By Dali Wiederhoft
Paris, April 10—Kenyan men and women dominate at scenic 2011 Paris Marathon finish.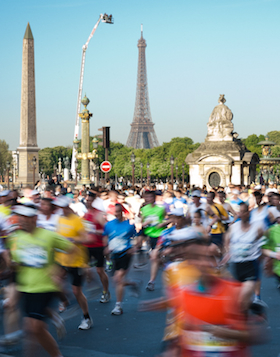 Kenyan runners took top places in the 2011 Paris Marathon in perfect weather conditions that drew thousands of cheering bystanders.
The 35th annual Paris Marathon route was packed with fans who watched nearly 33,000 runners pass the world's most recognizable landmarks, including le Tour Eiffel, Musée du Louvre, Place de la Bastille, Place de la Concorde and Champs-Élysées.
As usual, the action was not limited to the sidelines; more than a few bottles of French vin rouge were enjoyed by the crowd and even a few runners.
Benjamin Kiptoo of Kenya won with a men's top score of 2:06; two male Kenyans followed for second and third places. Priscah Jeptoo, also Kenyan, won the women's division. Hans Frei of Switzerland was first to arrive via wheelchair with a time of 1:29.
Photos courtesy of: Chloe Lodge Photography
Belgian Johan van Summeren topples cycling titan, wins his first Paris-Roubaix in stunning upset
BonjourParis French News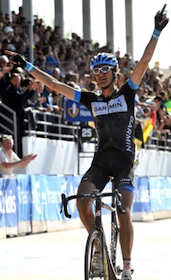 By Dali Wiederhoft
Paris, April 10—Belgian Johan Van Summeren upstaged cycling fan favorites to claim his biggest career in win at Paris-Roubaix today.
Advance bluster and chatter forecast Swiss Fabian Cancellara as the repeat winner, but instead he, Allesandro Ballan of Italy and Norway's Thor Hushovd were denied the win in the race subtitled "Hell of the North" for its rough cobblestone sections.
Van Summeren of team Garmin-Cervélo cruised to victory with a 19 second winning margin over second-place finisher Cancellara. Teammate Thor Husholvd may have sacrificed his own chances for a win by clashing with old rival Cancellara.
Viewers were treated to spectacular crashes that knocked out favorites like Tom Boonen, who wiped out shortly after recovering from a mechanical mishap.
Van Summeren finished in 6 hours, 7 minutes, 28 seconds.
French Group Pernod Ricard pledges 525,000 euro to Japanese Red Cross Society after tsunami and related disasters

BonjourParis French News
By Dali Wiederhoft
Paris, April 10—Group Pernod Ricard of France said three of its subsidiaries have pledged to donate 525,000 euro (¥60 million) to support the Japanese Red Cross Society in response to the recent earthquake, tsunami and nuclear leaks.
The three companies, Pernod Ricard Japan, Pernod Ricard Holding and Pernod Ricard Asia, employ 160 people who work in seven Japan locations, including a plant in Sendai, one of the most devastated cities. Pernod Ricard Japan was established in 1990 and is today a leading distributor of premium spirits and wine, including top brands Chivas Regal and Perrier-Jouët.
Pernod Ricard has a history of making donations after natural disasters.  In the past the company donated to relief programs after Hurricane Katrina (2005) and a 2004 tsunami in Thailand. In the 1960s the company was a leader in anti-pollution programs, first ending the formerly accepted practice of dumping production waste into the Mediterranean Sea. The company later started the Oceanographical Institute and related marine environment programs on the island of Les Embiez in 1966.
In France, Pernod Ricard is known mostly for its Ricard pastis and for generous donations to arts entities like Pompidou Centre, Musée du Quai Branly and individual French artists of all ages and skill levels.
Saturday, April 09:

Reproduction of Charlotte Perriand's UNESCO "Teahouse" now at le Bon Marché

BonjourParis French News
By Dali Wiederhoft
Paris, April 9—A reproduction of modernist design innovator and architect Charlotte Perriand's Japanese "Teahouse" is on display at Paris department store Le Bon Marché until June 11. Perriand's original plans were used to construct a replica of the teahouse and bamboo gardens.
The original Maison de Thé de Charlotte Perriand was built at the request of the Japanese delegate to UNESCO. Perriand (1903-1999) was greatly influenced by Japanese design style and she is revered in Japan. The teahouse was installed at UNESCO rooftop gardens in Paris in 1993, but has since been dismantled.
Visitors pass through the meditation garden of bamboo trees and smooth stone trails surrounding the teahouse. Thirty of Perriand's photographs, original "Teahouse" renderings, personal notes and other effects are displayed within the bamboo forest.
At the edge a relaxing salon de thé serves a selection of teas and desserts.
The Bon Marché exhibit is a spin-off of the major exhibition "Charlotte Perriand, from photography to design" at le Petit Palais Musee des Beaux-Arts from April 7 to September 18.
The Teahouse of Charlotte Perriand exhibition and salon de thé close June 11 at le Bon Marché, 2nd floor, 24, rue de Sevres, Paris 7e.
Friday, April 08:

Louvre Exhibition in Paris explores death, dying and the French funeral industry
BonjourParis French News
By Dali Wiederhoft
Paris, April 8—Practical, psychological and philosophical matters about death can be explored in an exhibition now at the Louvre Museum in Paris.
"Salon of Death" is all about death and dying, with a mock funeral parlor staged with coffins, cremation urns, resin death masks and information about organ donation and embalming techniques. Visitors can even climb into a coffin as a macabre rehearsal for the inevitable.
"Salon de la Mort" is only open this weekend and 25,000 visitors are expected. With an annual death rate in France that tops 550,000, we expect visitors are dying to get in. Source: Louvre
Élysée Palace in Paris will soon be heated with sewer gas
By Dali Wiederhoft
BonjourParis French News
Paris, April 8—The French are very keen on "going green" with renewable energy programs and even the occupants of the Élysée Palace in Paris will soon join other French residents living in homes heated by Paris sewer gas.
Engineers behind the plan to convert 30 percent of the city's energy use to green methods say the process of purifying wastewater from Paris sewers is safe, clean and—most importantly—does not smell.
Such claims will likely cause debate among passengers of Métro lines placed alongside odiferous sewer pipes beneath the Seine and those who have trekked in the dreck at Les Égouts, the Paris sewer tour popular with tourists.
Residents of Élysée Palace, the Sarkozys, were not quoted in the original news content Reuters via Yahoo News
Thursday, April 07:
Spectacular Château de Versailles dinner raises funds for Japanese Red Cross Society and UNESCO heritage food program
April 7, Paris—Last night 650 guests attended a fundraising event featuring 60 internationally acclaimed chefs at the Palace of Versailles near Paris.
Tickets cost 890 euro per person, which included private tours of the Palace and a gastronomic feast prepared by celebrity chefs. Michel Troisgros, Hélène Darroze and Edouard Loubet represented France, joined by chefs from Austria, Germany and Japan.
The "Who's Who" list of chefs with Michelin stars presented entrees and beverages named Caviar d'Aquitaine, Breton Lobster, Challans Duck, Port-en-Bessin Scallops, Moët-Hennessy Dom Pérignon Champagne, Hennessy Paradis Cognac and Nespresso Grand Crus coffees.
By the numbers, 60 chefs, 72 servers and 22 sommeliers poured 200 magnum bottles of Champagne and 310 bottles of wine into 5,300 glasses.
Some of the funds raised will be donated to the Japanese Red Cross Society and a French heritage food program with UNESCO status.
The dinner was hosted by French organizations Les Grandes Tables du Monde and Relais & Châteaux.
Sources: Nouvel Observateur , AFP and  Neo Restauration
ADDENDUM:
The NY Times reviewer was not amused: "By most accounts, even [the chefs'] collective talent could not overcome the logistical hurdles. Most of the raw materials had to be pre-cooked and prepared off-site by the caterer Potel et Chabot. The chefs were asked to offer inspiration from their signature dishes, but their task was less to cook than to slice, dice, heat and accessorize food wheeled in on metal racks or stacked in white boxes. . . . ". Continued at Source: NYT: Sixty Chefs in the Palace, and Still 'Just Average'
Deals on OpenSkies All-Business Flights from Newark & DC To Paris Orly
Forbes Magazine reports that OpenSkies has partnered with French TGV (fast train) for air and rail ticket packages that include free shuttle service from Orly airport in Paris to Massy TGV station to move on via TGV to Bordeaux, Lille, Metz/Nancy, Strasbourg or your choice of 14 cities in total.  Book round-trip air on Open-Skies by April 30, travel by June 15 and get the TGV valued at up to $455 USD for free. Source: Forbes
Don't just take a tour, take a participatory walking seminar with scholars and specialists who lead in-depth walking seminars for small groups of intellectually curious travelers. Check out our partner, Context Travel

Wednesday, April 06:
French cobblestone roads tended by 200 international volunteers, "Les Amis de Cyclisme," in preparation for Paris-Roubaix cycling race this weekend
By Dali Wiederhoft
BonjourParis French News
Paris, April 6—This weekend's Paris-Roubaix cycling race is a favorite with most serious cyclisme fans looking for potential Tour de France (TDF) standouts with a shot at winning TDF sprints or even the whole enchilada or profiterole, if you prefer.
Started in 1896, one of the roughest of all international cycling competitions, Paris-Roubaix 2011, covers over 250km of road with 27 sections of uneven cobblestones starting in Paris and flying through and past Nord-Pas de Calais region villages and fields to the Roubaix finish. Just the sight of speeding riders jostling over cobblestones is enough to excite serious fans and novices alike. But, really, the best part of every Paris-Roubaix is watching the crashes with broken bikes and battered riders smacked down hard onto chunks of granite. How fitting that the Paris-Roubaix slogan is "Welcome to Hell."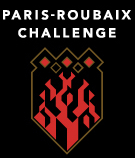 But another passionate group of fans will be watcing—not the riders alone but the cobblestones. Maintaining cobblestones abused by harsh weather is beyond what local villagers can afford. So for the past 25 years an international collection of volunteers has assembled annually to do what's necessary to preserve precious cobblestone roads vital to the sport of cycling.
This year 200 volunteer members of Les Amis de Paris-Roubaix will once again fund and perform the back-breaking labor required to groom and repair about 55km of cobblestone roads.
If you'd like to support the group by donating labor or perhaps merely buying a chunk of real French granite cobble, check out their website here: Les Amies de Paris-Roubaix
For more about the race itself, click here: "Welcome to Hell"  Paris-Roubaix Challenge 2011
Palace of Versailles acquires Marie Antoinette's priceless desk
Acquisition of the desk made by Riesener—see photo slide-show at Source
The Public Establishment of the Palace, Museum and National Estate of Versailles has acquired the desk made by Riesener for Marie-Antoinette. Like all the other furniture of Versailles, this desk was sold in the Revolutionary auctions of 1793-94. Thus it returns to Versailles after 217 years.
The desk was delivered to the queen's Garde-Meuble (furniture storehouse) for the Trianon estate. Absolutely perfect in its execution, it impresses by the elegance of its proportions, the refinement of its exotic wood veneering and, especially, by the stunning quality of its gilt bronze decoration in the antique style or with floral motifs, so revealing of the queen's taste. It bears the circular mark of the queen's private Garde-Meuble, as well as the crowned CT reserved for this residence. Moreover, it bears a number in ink: No.84, which indicates its precise destination. This number corresponds to the salon of the queen's house in her Hamlet. This room was also furnished with four magnificent corner tables by Riesener, now on display in several American museums.
Continued at Source: Chateau Versailles web news
Tuesday, April 05:
Flea Market Finds Lead to Antiquing Adventure
" . . . The second adventure was inspired by a 3" inch pewter pitcher with a "braided" handle, purchased for a few dollars. Again the mark was elusive: a double-headed eagle with only an "RE.AN" readable. Months later, in perusing an article about Angers, the famous pewter-producing town in France, I saw the mark in its entirety – the imprint of master Louis Alegre! Could it be? I sent an inquiry with pictures to Musées d'Angers and received documentation from the Chief Conservator. He confirmed that Alegre was active between 1800 and 1835, that this was his mark, and that I had a pitcher of beautiful quality ("votre pichet est de belle qualite"). . . ". Source: Technorati
Carla Bruni CV
"Carla Bruni has carved out an impressive CV during her career, as a model, singer, First Lady and now an actress.
Age: 43
Educated: School in France. Finishing school in Switzerland. Briefly studied art and architecture in Paris
Family: Daughter of pianist Marysa Borini and her lover Maurizio Remmert. Heiress to the Ceat tyre fortune
Career: Signed with a model agency aged 19. Debut album sold two million copies.
Personal life: Married to Nicolas Sarkozy, the French president. Has one son, Aurélien, with philosopher Raphaël Enthoven
During the 1990s she was among the 20 highest paid models, earning $7.5 million a year.  . . ."
Continued at Source: The Telegraph
World literature tour: France
"We asked for suggestions of your favourite books and authors from or about France. Here are the results." Bookmark and save this list with over 150 French literature titles.
Source: Guardian
Monday, April 04:
Paris Marathon 2010: 42.195 km and 40 000 runners
"42,195 km, is the official price of this legendary race, which takes place this Sunday, April 10. In 2010, 31,566 runners were on the starting line. This year, no fewer than 40,000 listings already on the meter display. And you, where will you be this weekend? All information about the Paris Marathon, his career and roads." Source: Paris Mayor's Office–text and video
"What's In Store: Paris:" Chic shopping options, by Grant Thatcher
" . . . The area around Rue Charlot has prime picks of contempo galleries and unique boutiques specialising in the coolest design and fashion. So, purses out, and let's start the Parisian way with a pavement coffee at people-watching hipster hang Café Charlot (00 33 1 44 54 03 30) at 38 Rue de Bretagne. Then cross Rue de Bretagne for a saunter down Rue Charlot . . .." Source: Independent

Eiffel Tower introduces online advance tickets sales with receipt on your digital smartphone/reader or printed
"The ticket office at the foot of the Eiffel Tower is open every day, but why not save time by buying your tickets on line? Simply follow the instructions step by step, and consult the online help service for additional information if needed! Buy your tickets online…The electronic ticket—which you can print out at home or save on your mobile 'phone—means that on the date and the time you've chosen, you can go straight to the queues for people with tickets. You buy it in advance, on the day before your visit at the latest."