Looking back, I had no need to be worried so about locating the car as I stood waiting in front of the Opera Garnier that afternoon.  I was briefed solely with the information that I would 'recognize it' when I saw it.  I only had had time to spy a fuzzy picture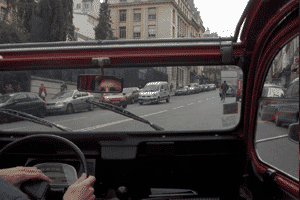 on the internet that morning, and I wondered aloud, "Isn't that a Volkswagen Beetle?"  Apparently, it most definitely isn't.  Again that look from my partner.  I laughed it off as yet another glaring signpost leading to my abrasively American ignorance.
As a more well-cultured person than I (you already have brownie points for being on this well-cultured site), you dear reader might already know something of this car, but just in case: The 2CV is the retro-hallmark of French automotive design, a widely recognized symbol of the 'good old times' for many many French folk.  My tour guide, whose unexpected job it was to induct me with a background to the vehicle in which we were riding, explained that this sturdy and loyal buggy first came on the market after World War II, when Citroen presented it at the French automobile exhibition to the "stupefied eyes of the general public."  It then went on to be the hottest selling item around this side of croissants, and in the 60's, there was a waiting list as Citroen couldn't make enough to meet the demand.  After a healthy career the 2CV finally released its last models in the 90's.  Mathieu, my driver, explained that this car was first conceived to meet the needs of the farmers and middle class, and thus has become popularly recognized as a model of durability and hardiness. 
It was true that I began noticing people signaling, waving, passing close by, and laughing as we drove slowly by the Tuesday afternoon pedestrians, but that might have only been once he mentioned that it happens all the time during the tours.  We had one monsieur come up asking about tour prices, and my driver spoke to him through the open top.  It was one of the blessed few colder days this October in Paris (those of you traveling right now have really lucked out), and it served as a quiet but firm warning that in the coming months, tour customers will
want to be numerous, as in 4, so as to guard body warmth and toastiness in the car.  Frequent coffee stops are also allowed and in fact encouraged by the guides in order to warm up; this is, after all, Paris.
Of course, the open top makes for an excellent tour with 4 roues sous 1 parapluie.  Driving down the rue des Ecoles in the 5th arrondissement or in the Ile de la Cité is simply not the same when you're able to peer up at the edifices that hang lazily overhead as you amble along in the back seat.  But more than that, you can really feel the city as you drive through it in this car.  For all the talk of its sturdiness, in a 2CV there is a lot less of a separation between the viewer and that which is being viewed through the car window. In the age of boat- or missile-like cars that course down highways at breakneck speeds, I tend to have the feeling that I am not even there, in transit, that asphalt is not running at 70 mph barely a few inches below my feet.  But in this automobile, you feel the cobblestones, the turns, and the winding streets with a physicality that is actually charming.  And yes, Paris is chock-full of winding streets.  Narrow, winding streets.  Mathieu took me down hairpin passages in my own neighborhood (the Marais), nearer to the river, that I had not known existed.  This excellent accessibility is not to be taken lightly, as those huge double-decker tour buses that now barrel through all the world capitols are at a clear disadvantage here in Paris. 
If you know Paris, the best part is that the tourguides, mostly students, can supply you with a slice of their own lives.  That, and they seem to be exceedingly flexible.  If you're not too psyched about driving past the Eiffel Tower again, no bother, he'll just take another route, hopefully narrower and more interesting!
On the Essential Tour, you get just that: depending on the traffic, the Trocadéro, the Eiffel Tower, the Invalides, the Opéra Garnier, Place Vendôme, the Louvre, Notre-Dame, Ile de la Cité, Place de la Concorde, the Champs-Elysées, and the Arc de Triomphe.  This tour lasts about 1:30 hrs and costs 50 € per person with a minimum of 2 people.
The complete tour of Paris with 4 roues sous 1 parapluie comprises a visit that will take you to the most beautiful and/or notable areas of the capital, plus the essentials just listed: the Moulin Rouge, Montmartre (Sacré Coeur and Place du Tertre), Place des Vosges (Victor Hugo's home), Place
de la Bastille, the Panthéon, St Sulpice, and St Germain des Prés.  Duration: about 3 hrs, with a price of 95 € per person (minimum of 2 people).
And for 20 euros more per person, you can put that flexibility into practice: design your own excursion, itinerary, time of departure, and the duration of your tour (3 hours minimum).  Contact the very well-put-together website for more information, and be sure to watch the adorable mini-movie!  www.4roues-sous-1parapluie.com
For Premium Members only… get a 10% discount for your Paris with 4 roues tour!