Some people were born with the "art de reçevoir". Meet Eric Trompier owner of the very exclusive La Marée, you'll know what I mean. The immaculate suit (wonder what he wears to the beach), the slick hair, manicured nails and the perfect welcoming smile. His father Marcel had that smile, his mother, the incredibly elegant Madame Elizabeth still does. So it was with joy that "le tout Paris" packed into La Marée restaurant recently to celebrate forty years of making each and every guest feel special. Chef Gérard Sallé, nipped neatly in and out of the crowd, offering miniature jewels of, say, Croustillant de crabe au curcuma, Foie gras de canard aux quatre épices. "Taste these gambas, just steamed with a touch of citronelle, I bought them in the market this morning, superb!" smiled Sallé. There were warm oysters in champagne sauce, went down a treat with the Dom Pérignon, flowing like, well Dom Perignon! As did the Moules d'Espagne au pistou, the Tartare de thon frais a l'huile d'olive, tiny chicken wings drizzled with sauce gribiche, and the Langoustines au chutney de mangue. And the pudds! Don't ask: The famous dessert Farandole in all its' glory, macaroons "tous parfums La Marée". Historic!  Just like La Marée, where all the crowned heads of Europe eat, as did Churchill, Coco Chanel and the Duke and Duchess of Windsor, when Eric Trompier was knee high to a grasshopper. Trompier's lovely boys, Maxime and Adrien, "both rather shy", were holding their own, flogging raffle tickets for the tombola to help kids with heart problems. No, neither of them thought they wanted to follow father into the restaurant business: but nor did father until push came to shove, and look what a great career move he made boys! "I've been coming here for 20 years", said Pierre Arditti, the most Parisian of actors. "I love the atmosphere, chefs for me are as mysterious as musicians and La Màree is my fetish symphony. There's a dish called
"Les Demoiselles de Cherbourg", mmmm….try it next time you're here", he suggests.  Is Maitre Cornette de St-Cyr the smoothest auctioneer ever? Bien sur darling! He's terrific as he seduces guests into bidding fortunes for an exquisite Baume et Mercier watch. VIP tickets for Johnny's concert next June. Cigars by Mellerio, a backgammon set, 12 bottles given by La Marée including Petrus 75, Calon Segur 47, La Conseillante etc. Weekends for 2, Beauty products. Oh la la c'est magnifique.  All proceeds to Le Mecenat Chirurgie Cardiaque Enfants du Monde. People gave 'til it hurt, by the end of the evening even Fabrice Santoro's tennis racquet, the very same bat with which he won the doubles at Roland Garros, last June, was auctioned – to Pierre Arditti. "No, he doesn't play tennis", said his wife. "He's just a very generous man!"  Departing into the warm starry night, having helped demolish the biggest birthday cake "Le gateau chocolat Etages", Figaro's Meurice Beaudoin said, "I'm looking forward to the 80th, this is a restaurant where you eat good food, without pretension". "Me too, I'm looking forward to the 80th, giggled the ever elegant Madame Elizabeth. And don't forget you can celebrate with the Trompiers, for 40 days, at lunch it's 40€ + wine. You can't afford not to.Dinner from 130€ + wine. La Marée,258 Faubourg St. Honoré, 8th (Metro: Ternes)T: 01 43 80 20 00Shut: Saturday lunch, Sunday & August
www.lamaree.com
SUBSCRIBE
ALREADY SUBSCRIBED?
BECOME A BONJOUR PARIS MEMBER

Gain full access to our collection of over 5,000 articles and bring the City of Light into your life. Just 60 USD per year.

Find out why you should become a member here.

Sign in

Fill in your credentials below.
Some people were born with the "art de reçevoir". Meet Eric Trompier owner of the very exclusive La Marée, you'll know what I mean. The immaculate suit (wonder what he wears to the beach), the slick hair, manicured nails and the perfect welcoming smile. His father Marcel had that smile, his mother, the incredibly elegant Madame Elizabeth still does.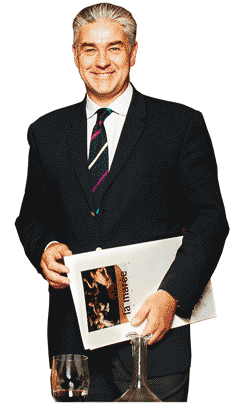 So it was with joy that "le tout Paris" packed into La Marée restaurant recently to celebrate forty years of making each and every guest feel special. Chef Gérard Sallé, nipped neatly in and out of the crowd, offering miniature jewels of, say, Croustillant de crabe au curcuma, Foie gras de canard aux quatre épices. "Taste these gambas, just steamed with a touch of citronelle, I bought them in the market this morning, superb!" smiled Sallé. There were warm oysters in champagne sauce, went down a treat with the Dom Pérignon, flowing like, well Dom Perignon! As did the Moules d'Espagne au pistou, the Tartare de thon frais a l'huile d'olive, tiny chicken wings drizzled with sauce gribiche, and the Langoustines au chutney de mangue. And the pudds! Don't ask: The famous dessert Farandole in all its' glory, macaroons "tous parfums La Marée". Historic!
 
Just like La Marée, where all the crowned heads of Europe eat, as did Churchill, Coco Chanel and the Duke and Duchess of Windsor, when Eric Trompier was knee high to a grasshopper. Trompier's lovely boys, Maxime and Adrien, "both rather shy", were holding their own, flogging raffle tickets for the tombola to help kids with heart problems. No, neither of them thought they wanted to follow father into the restaurant business: but nor did father until push came to shove, and look what a great career move he made boys!
 
"I've been coming here for 20 years", said Pierre Arditti, the most Parisian of actors. "I love the atmosphere, chefs for me are as mysterious as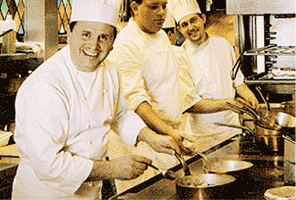 musicians and La Màree is my fetish symphony. There's a dish called
"Les Demoiselles de Cherbourg", mmmm….try it next time you're here", he suggests.
 
Is Maitre Cornette de St-Cyr the smoothest auctioneer ever? Bien sur darling! He's terrific as he seduces guests into bidding fortunes for an exquisite Baume et Mercier watch. VIP tickets for Johnny's concert next June. Cigars by Mellerio, a backgammon set, 12 bottles given by La Marée including Petrus 75, Calon Segur 47, La Conseillante etc. Weekends for 2, Beauty products. Oh la la c'est magnifique.  All proceeds to Le Mecenat Chirurgie Cardiaque Enfants du Monde. People gave 'til it hurt, by the end of the evening even Fabrice Santoro's tennis racquet, the very same bat with which he won the doubles at Roland Garros, last June, was auctioned – to Pierre Arditti. "No, he doesn't play tennis", said his wife. "He's just a very generous man!"
 
Departing into the warm starry night, having helped demolish the biggest birthday cake "Le gateau chocolat Etages", Figaro's Meurice Beaudoin said, "I'm looking forward to the 80th, this is a restaurant where you eat good food, without pretension". "Me too, I'm looking forward to the 80th, giggled the ever elegant Madame Elizabeth.
 
And don't forget you can celebrate with the Trompiers, for 40 days, at lunch it's 40€ + wine. You can't afford not to.
Dinner from 130€ + wine.
 
La Marée,
258 Faubourg St. Honoré, 8th (Metro: Ternes)
T: 01 43 80 20 00
Shut: Saturday lunch, Sunday & August
www.lamaree.com
---
---