Five Kinds of French Lovers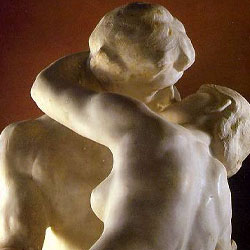 Love comes in all forms, doesn't it? It's possible to love a person, an animal, a mineral and a vegetable. I fell in love with France when I first visited. Every time I return to the country, I make new discoveries, and I fall in love all over again. In honor of Valentine's Day, and to celebrate love, I thought it might be interesting to explore some of the different kinds of love that have come from my favorite country. Some of these couples are well known, but their stories are all lovely and romantic in their own, unique way. Napoléon and Josephine Napoléon Bonaparte was quite short, but his legacy stretches for centuries. As the French general who became Emperor of France in the aftermath of the French Revolution, he is responsible for many of the French institutions that exist today. Although he was a fighter (during Napoleon's reign France was constantly at war), he was also a lover. Marie-Joseph-Rose Tascher was renamed Josephine when Napoleon met and fell in love with the widow after the French Revolution. After a brief courtship, they married. With Napoleon off at war in Italy, Josephine became a somewhat desperate housewife, and took a lover. When Napoleon discovered her deception, he was devastated. They reconciled and were crowned Emperor and Empress in 1804, however their happiness was short lived. Josephine could not produce an heir, and was divorced by Napoleon for the 19-year old Archduchess Marie Louise of Austria. But Napoleon always had a passion for his Empress. As an homage to Josephine after her death, he carried violets (her favorite flower) in a locket until his death. Jean-Paul Sartre and Simone de Beauvoir Existentialist philosophers have been described as those who think the world is an absurd universe, and human beings have to create their own meaning to life. Can you imagine the pillow talk of two of the world's most well known existentialists? Jean-Paul Sartre and Simone De Beauvoir met when she was studying philosophy at the Sorbonne in 1929. Their friendship and relationship lasted until his death in 1980. Although passionate lovers, neither was monogamous. Existentialism emphasized freedom, and the couple lived out that belief by taking other lovers. In fact, there was at least one ménage à trios, which was chronicled in de Beauvoir's book She Came To Stay. Simone was the ultimate pragmatist, and did not have an expected female approach to romance. Her final words on Sartre's death, taken from her novel and diary Adieux: A Farewell to Sartre were, "My death will not bring us together again. This is how things are. It is in itself splendid that we were able to live our lives in harmony for so long." Camille Claudel and Auguste Rodin Some children play with dolls. Others engage in sports, or other adventures. Camille Claudel was enamored of stone and soil as a child. A French sculptor, Claudel studied at the Academie Colarossi, and was renting a workshop in 1883, with several other women, when she met a man who would transform her life as a woman and an artist. Auguste Rodin, a maverick artist and sculptor of the time, created the well known The Thinker and The Kiss sculptures. Rodin began teaching Camille, but she soon became his muse and lover. It was a turbulent relationship. There never was The Marriage. Rodin, while involved with Claudel, was reluctant to end his 20-year relationship with Rose Bueret. Rodin was an equal opportunity cad. Rose suffered, too. Rodin waited 53 years after their first meeting to marry her! It has been speculated that Claudel and Rodin had two children together, but nothing has been proven. Frustrated and angry, Claudel ended her intimate relationship with Rodin in 1892. As her work became more successful, Claudel's mind became more deranged. Claudel later accused Rodin of stealing her ideas and of leading a conspiracy to kill her. There is no evidence to support her claim, but to me, it sounds like something Rodin would do. Jean-Paul Belmondo and Jean Seberg in "Breathless" Son of the French sculptor Paul Belmondo, Jean-Paul Belmondo became one of the leading men of French New Wave cinema after appearing in
À pied, à cheval et en voiture
. Jean Seberg's background couldn't have been more different. She hailed from Marshalltown, Iowa. Together, they sizzled in Jean-Luc Goddard's classic film, Breathless. Belmondo plays Michel, a thug who idolizes Humphrey Bogart and mimics his every move. The Breathless story takes off quickly. After an unfortunate incident shooting a policeman, Michel tries to persuade his American girlfriend Patricia, played by Seberg, to run away with him and escape from the police. Belmondo is the original bad boy, and we know how irresistible that is for women. Seberg is torn between her love for him and her realistic assessment of their future together. Watch the film to see how it all turns out, but please get the original French version, not the awful American remake. Gérard Depardieu and Food and Wine One of France's national treasures, Gérard Depardieu started his acting career at the small traveling theatre "Cafe de la Gare." His success is renowned. He's starred in more than 150 films, and has been twice awarded a César as Best Actor for
The Last Metro
and
Cyrano de Bergerac
. His appetite for wine and food is famous as well. An accomplished winemaker, he began making wine in the 1980s, before it became a stylish celebrity fad. His vineyards, in Bordeaux, Languedoc, Spain, Morocco and Argentina, are now producing more than seven wines. Happily coupled in wine partnership with winemaker Bernard Magrez, Depardieu says "I can be happy on this earth with very little, but I like to have a lot in my glass." French women may not get fat, but Depardieu does. Over the years, he has packed on the pounds, and the actor had to undergo an emergency quintuple heart bypass surgery following a heart attack in 2000. As…
SUBSCRIBE
ALREADY SUBSCRIBED?
BECOME A BONJOUR PARIS MEMBER

Gain full access to our collection of over 5,000 articles and bring the City of Light into your life. Just 60 USD per year.

Find out why you should become a member here.

Sign in

Fill in your credentials below.
Love comes in all forms, doesn't it? It's possible to love a person, an animal, a mineral and a vegetable. I fell in love with France when I first visited. Every time I return to the country, I make new discoveries, and I fall in love all over again. In honor of Valentine's Day, and to celebrate love, I thought it might be interesting to explore some of the different kinds of love that have come from my favorite country. Some of these couples are well known, but their stories are all lovely and romantic in their own, unique way.
Napoléon and Josephine
Napoléon Bonaparte was quite short, but his legacy stretches for centuries. As the French general who became Emperor of France in the aftermath of the French Revolution, he is responsible for many of the French institutions that exist today. Although he was a fighter (during Napoleon's reign France was constantly at war), he was also a lover. Marie-Joseph-Rose Tascher was renamed Josephine when Napoleon met and fell in love with the widow after the French Revolution. After a brief courtship, they married. With Napoleon off at war in Italy, Josephine became a somewhat desperate housewife, and took a lover. When Napoleon discovered her deception, he was devastated. They reconciled and were crowned Emperor and Empress in 1804, however their happiness was short lived. Josephine could not produce an heir, and was divorced by Napoleon for the 19-year old Archduchess Marie Louise of Austria. But Napoleon always had a passion for his Empress. As an homage to Josephine after her death, he carried violets (her favorite flower) in a locket until his death.
Jean-Paul Sartre and Simone de Beauvoir
Existentialist philosophers have been described as those who think the world is an absurd universe, and human beings have to create their own meaning to life. Can you imagine the pillow talk of two of the world's most well known existentialists? Jean-Paul Sartre and Simone De Beauvoir met when she was studying philosophy at the Sorbonne in 1929. Their friendship and relationship lasted until his death in 1980. Although passionate lovers, neither was monogamous. Existentialism emphasized freedom, and the couple lived out that belief by taking other lovers. In fact, there was at least one ménage à trios, which was chronicled in de Beauvoir's book She Came To Stay. Simone was the ultimate pragmatist, and did not have an expected female approach to romance. Her final words on Sartre's death, taken from her novel and diary Adieux: A Farewell to Sartre were, "My death will not bring us together again. This is how things are. It is in itself splendid that we were able to live our lives in harmony for so long."
Camille Claudel and Auguste Rodin
Some children play with dolls. Others engage in sports, or other adventures. Camille Claudel was enamored of stone and soil as a child. A French sculptor, Claudel studied at the Academie Colarossi, and was renting a workshop in 1883, with several other women, when she met a man who would transform her life as a woman and an artist. Auguste Rodin, a maverick artist and sculptor of the time, created the well known The Thinker and The Kiss sculptures. Rodin began teaching Camille, but she soon became his muse and lover. It was a turbulent relationship. There never was The Marriage. Rodin, while involved with Claudel, was reluctant to end his 20-year relationship with Rose Bueret. Rodin was an equal opportunity cad. Rose suffered, too. Rodin waited 53 years after their first meeting to marry her! It has been speculated that Claudel and Rodin had two children together, but nothing has been proven. Frustrated and angry, Claudel ended her intimate relationship with Rodin in 1892. As her work became more successful, Claudel's mind became more deranged. Claudel later accused Rodin of stealing her ideas and of leading a conspiracy to kill her. There is no evidence to support her claim, but to me, it sounds like something Rodin would do.
Jean-Paul Belmondo and Jean Seberg in "Breathless"
Son of the French sculptor Paul Belmondo, Jean-Paul Belmondo became one of the leading men of French New Wave cinema after appearing in À pied, à cheval et en voiture. Jean Seberg's background couldn't have been more different. She hailed from Marshalltown, Iowa. Together, they sizzled in Jean-Luc Goddard's classic film, Breathless. Belmondo plays Michel, a thug who idolizes Humphrey Bogart and mimics his every move. The Breathless story takes off quickly. After an unfortunate incident shooting a policeman, Michel tries to persuade his American girlfriend Patricia, played by Seberg, to run away with him and escape from the police. Belmondo is the original bad boy, and we know how irresistible that is for women. Seberg is torn between her love for him and her realistic assessment of their future together. Watch the film to see how it all turns out, but please get the original French version, not the awful American remake.
Gérard Depardieu and Food and Wine
One of France's national treasures, Gérard Depardieu started his acting career at the small traveling theatre "Cafe de la Gare." His success is renowned. He's starred in more than 150 films, and has been twice awarded a César as Best Actor for The Last Metro and Cyrano de Bergerac. His appetite for wine and food is famous as well. An accomplished winemaker, he began making wine in the 1980s, before it became a stylish celebrity fad. His vineyards, in Bordeaux, Languedoc, Spain, Morocco and Argentina, are now producing more than seven wines. Happily coupled in wine partnership with winemaker Bernard Magrez, Depardieu says "I can be happy on this earth with very little, but I like to have a lot in my glass." French women may not get fat, but Depardieu does. Over the years, he has packed on the pounds, and the actor had to undergo an emergency quintuple heart bypass surgery following a heart attack in 2000. As the owner of two restaurants in Paris, Depardieu's latest release is My Cookbook, with 220 pages of recipes and photographs. Depardieu has another love which seems a bit lighter on the calorie count, French actress Carole Bouquet.
---
---